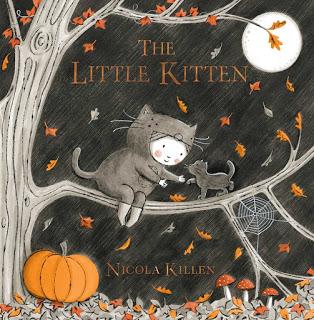 The Little Kitten
by Nicola Killen
About the book: From beloved author-illustrator Nicola Killen comes a charming autumnal story about a little girl who must return a lost kitten to its home, lovingly told and illustrated in limited color with lovely foil and interactive die-cut pages.
Ollie and her cat Pumpkin are out frolicking on a beautiful fall day when they come upon a tiny kitten shivering in a pile of fallen leaves. Ollie warms up the kitten, and the three become fast friends. But when Ollie sees "Lost Kitten" posters hanging on the trees in the forest, she knows she has to help her new friend get home. As Halloween draws nearer, magic is afoot, and Ollie's good deed is rewarded in an unexpected way.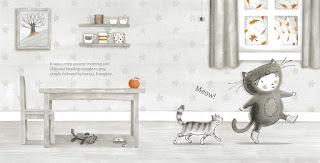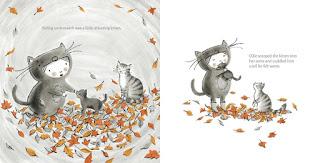 My review:
Fall begins this month, and what better way to celebrate than by reading a lovely autumn-themed picture book together!
The Little Kitten,
written and illustrated by Nicola Killen, is a charming tale of a little girl, Ollie, who helps a kitten find his way home. In the meantime, she loses track of her own cat, Pumpkin, and gets lost herself! Fortunately, Ollie keeps her cool, and Pumpkin shows up to lead the way home. This story even has a magical Halloween twist at the end, and young readers will notice that Ollie is wearing a kitty costume throughout the book. The pages are beautifully illustrated with sparkly orange leaves and a calming orange-and-gray color palette.
The Little Kitten
is sure to become a classic and enjoyed by children over and over again.
About the author and illustrator:
 Nicola Killen has always loved drawing and still likes nothing better than taking her sketchbook to the zoo to draw her favorite animals: rhinos and penguins. She designed cards before starting an MA in children's book illustration at Cambridge School of Art, and since then she has been working on her own books, including
The Little Reindeer
, which was called "an original and entertaining Christmas story with its own understated charm" in a starred review by
Kirkus Reviews
and "magical" by
Publishers Weekly
.
The Little Reindeer
was named a Horn Book Holiday High Note. Nicola Killen lives and works in Cambridge, England.   
Disclosure: I received a complimentary copy of this book to facilitate my honest review. This post contains my Amazon affiliate link, and I will receive a small commission on purchases made through this link.