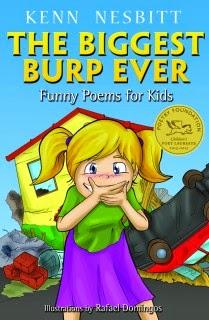 I remember getting a call a few years ago from one of my boys' teachers asking me if I would make an "author visit" to the classroom. Since the books I had published were not intended for children, I wondered what I could read to them. Then my sister, an elementary school teacher, reminded me that I had a written a bunch of silly poetry. I read my poems about fat cats, loose teeth and chocolate cake to the kids, and they were a huge hit! This experience taught me that children love goofy poetry. That's why I highly recommend Kenn Nesbitt's new book, The Biggest Burp Ever: Funny Poems for Kids. Nesbitt was named the Children's Poet Laureate by the Poetry Foundation, so his poems are way better than mine (no surprise there)! He writes about things that kids love to do, such as jump on the bed, text and play video games, eat spaghetti, play with pets and, of course, burp! Here's one that may describe your child…
Captain Talkalot
They call me Captain Talkalot.I really don't know why.I only talk when I'm awake.I'm such a quiet guy.
It's true I talk from sunrisetill the moment I'm in bed,then spend the evening dreamingof the things I should have said.
But, really, I don't talk too much.I just say what I think,which could be while I'm chewing food,or guzzling a drink.
I'm sure I sometimes raise my voice,and now and then I yell.But that's to be expectedwhen you've got a tale to tell.
I'd never interrupt someoneif they were speaking first,unless, of course, I had to,or I felt like I would burst.
I'm simply not that talkative.I'll show you all the waysand tell you all the reasonsthough it could take several days.
And when I'm done explaining,then perhaps you'll tell me whythey call me Captain Talkalot.I'm such a quiet guy.
CLICK HERE to read more poems from The Biggest Burp Ever!
I had the privilege of meeting Kenn Nesbitt a few years ago when he visited our elementary school for his own author visit, and he had the children rolling in laughter on the cafeteria floor! (Yes, it was gross, but they didn't seem to mind.) Kenn understands kids' humor, and all of his books are fabulously popular with children. Visit www.poetry4kids.com to learn more about Kenn Nesbitt, his humorous books, and writing poetry! You can find Kenn on Facebook and Twitter, too. And be sure to pick up a copy of The Biggest Burp Ever today ~ available in print or digital.



This post contains my Amazon affiliate link.