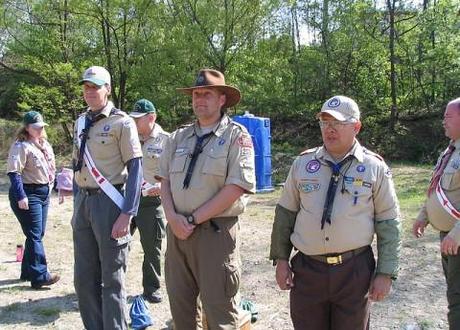 A 2009 Boy Scouts of America Spring Camporee. Photo credit: USAG-Humphreys
http://flic.kr/p/6io8ow
The background
The Boy Scouts of America is bracing itself for a torrent of bad publicity as decades of records of confirmed or alleged child molesters within the US organisation are expected to be released in coming weeks, reported Reuters. On 16 September, a hard-hitting expose in The Los Angeles Times reported that the organisation failed to report allegations of sex abuse of scouts by adult leaders and volunteers to police in hundreds of cases between 1970 and 1991. In some cases, the Boy Scouts helped the accused "cover their tracks," the paper said.
The story was based on the reporters' review of 1,600 internal Boy Scouts case files that detailed accusations against confirmed or alleged child molesters within the youth organisation. The files will be released within three to four weeks. The Boy Scouts of America said in a statement on Sunday that while it regrets past incidents where scouts were sexually abused, its current policies require even suspicions of abuse to be reported directly to law enforcement, reported Reuters.
Abuse brushed under the carpet?
In the majority of cases, the Scouts learned of alleged abuse after it had been reported to authorities, acknowledged The Los Angeles Times. "But in more than 500 instances, the Scouts learned about it from boys, parents, staff members or anonymous tips. In about 400 of those cases — 80% — there is no record of Scouting officials reporting the allegations to police. In more than 100 of the cases, officials actively sought to conceal the alleged abuse or allowed the suspects to hide it, The Times found."
Volunteers and employees linked to possible abuse were allowed to leave the organisation citing such far-fetched excuses as 'chronic brain dysfunction' and duties at the Shakespeare festival, noted The Daily Mail, in a piece mulling the Los Angeles Times' expose.
Reputation on the line
"In the wake of revelations about systemic child sex abuse within the Catholic Church and the recent Penn State sex abuse scandal, the files threaten to damage the reputation of one of America's most trusted institutions," said Reuters.
Wave of litigation
Lawyers for the Boy Scouts have been working hard to keep the 'perversion files,' which the organization has used since 1919, out of the public eye, said Slate. "Yet as more of them become public, the Boy Scouts could soon face a wave of litigation across the country, although in many states statutes of limitation will prevent the victims from suing."