July 16, 2014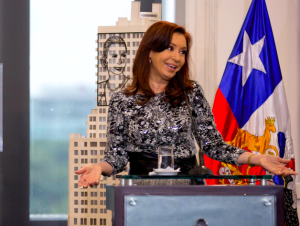 "My bad!"
Via Business Insider: When Lionel Messi and the rest of the Argentine World Cup team got home from Brazil, likely dejected after their loss, their president dealt them another cruel blow.  "As you know, I'm no soccer fan," said President Cristina Fernandez de Kirchner, while standing next to Messi and Argentina manager Alejandro Sabella. "I didn't see a single match, not even the one yesterday (on Sunday). Even so, I called Alejandro (Sabella) because for me, and for 40 million Argentines, they had won the match.
Jesus Christ lady, even if you missed the match.  Even if you had to watch it the next day on TiVo.  Even if you simply had one of your minions re-enact the game to you while you went over public policy, the least you could have done is NOT ADMITTED YOU DIDN'T WATCH THE GAME.  What the hell is wrong with this woman.  Look I'm sure Obama doesn't get to sit down and watch every championship this country has.  I'm sure the WNBA finals doesn't make the "live" cut, but I'm sure this guy takes the time to at least catch up on the games and at least know a thing or two about what was going on.  But the World Cup?  The event that happens every four years and captivates countries all of the world.  The tournament where you have to out last 31 of the best teams in the world by playing seven games in a month and coming out on top?  The sport that Argentinians live and breathe by?   And oh, by the way, you currently have the best player in the world on your team and you didn't think at any point, man, I know i don't watch soccer, but maybe I should check out this Messi guy and his teammates to see if they can win one of the most prestigious championships in the world….NAH, I need to read these meeting notes and play with my pets.
God damned chicks.  Only a chick President would skip its country's chance to make history and then admit it to the world.
PS, worst part of that quote above – "I didn't see a single match, not even the one yesterday."  The one yesterday?  You mean the World Cup Final, broad?  Get your shit together.
Post navigation
← Not Surprised Bud Selig and the MLB chose not to honor Tony Gwynn at the All-Star Game last night.