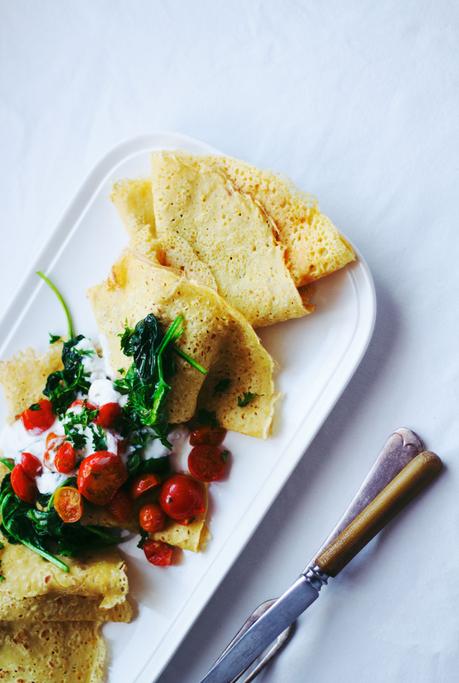 I'm loving this week so far!
And let me tell you that I can't wait for this upcoming weekend to begin. Weekends are the most precious days of the week, right?... For us mean to slow down and to do things one step at a time. Waking up late and have a nice late breakfast in our pajamas!
While preparing our breaky-lunch (I think it sounds cheerful than brunch, don't you think so too?!) on weekends, we enjoy food that can satisfy our taste buds but also foods that are load with nutrients, that way we know will get the energy our body need to feel great throughout the day.
Trust me simple + wholesome ingredients can make a huge difference to feel nourished inside and out! But "Simple Ingredients" with a

'
kick' of power
, full of rich nutrients that can be delicious too.
Chickpea Crepes!
Protein rich, fibre, iron,
potassium
…just to name a few amazing properties of chickpeas. Plus completely gluten-free and a great substitute for
all-purpose flour and wheat flour. We love preparing these on weekends with sauteed tomatoes, vegetables and adding natural or Greek yogurt, ricotta or pesto. But you can also serve these crepes with a fresh or warm salad too. They're extremely satisfying and so good!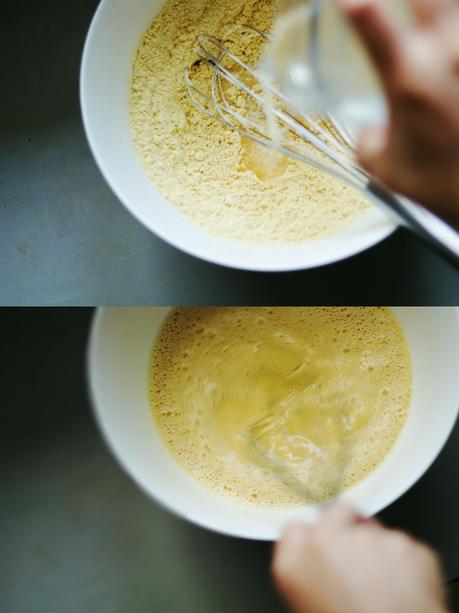 CHICKPEA CREPES with SAUTEED CHERRY TOMATOES + SPINACH (VEGAN) (GLUTEN-FREE)
1 C. Chickpea Flour (aka garbanzo flour or Besan flour)
1 tsp. Salt
1 1/2 C. Water
1 Tbsp. Olive oil

To Cook the Crepes:
To cook the crepes you can use coconut butter, olive oil or unsalted butter.
Preparation:
> In a bowl add chickpea flour and the teaspoon of salt. Mix well.
> Add the tablespoon of olive oil to the water. Now, start by slowly adding the water + oil to the flour and mix vigorously.
> Heat an 20 cm frying pan over medium-high heat, add butter or oil and 
swirl around until frying pan is evenly coated with it.
> Add scoop /pour 1/4 cup batter into the pan and with a circular motion coats the surface of the pan evenly with the batter. Cook (one side) for about 20 seconds or until lightly golden, then using a spatula turn over and cook the other side for a further 20 second. Transfer to a plate and repeat with the rest of the batter
For The Sauteed Cherry Tomatoes and Spinach:
Cherry Tomatoes or Regular Tomatoes 
Spinach Leaves
1 Garlic clove, optional
Olive oil
Salt to taste
Pepper to taste, optional
Preparation:
In a frying pan heat oil over medium high heat, add tomatoes and season with salt and pepper to taste. Saute shaking frying pan frequently or using a wooden spoon. After a couple of minutes add chopped garlic and cook for a couple more minutes, until tomatoes are soft and skin start to wrinkle. Add spinach leaves and cook briefly (no more than 30 seconds). And is ready!