Chickpea and potato curry (or channa aloo) is made with tender potato and garbanzo beans in a spicy sauce, done in the style of Trinidadian cuisine.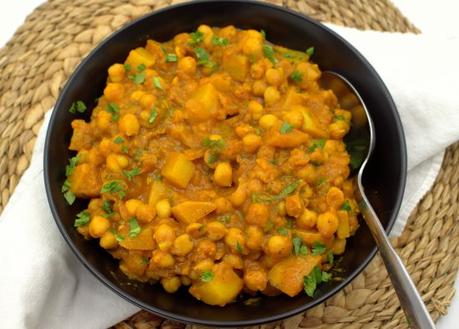 Chickpea and Potato Curry (Trinidad Channa Aloo)
By Sue Lau | Palatable Pastime
My recipe of the day is for a Trinidad style chickpea and potato curry (or Channa Aloo). Channa stands for the chickpea dal and aloo means potato. It is called the same thing in Indian cuisine, except the flavors will be slightly different.
Scotch Bonnets
What happens when using Trinidad curry powder is that the flavor changed somewhat. And also, using the scotch bonnet or Trinidad scorpion pepper in it changes the flavor as well.
You may just think of them as being blazingly hot, but there is a flavor component to it too. Both of those peppers are from capsicum chinense which do taste different from other types such as capsicum annuum or capsicum fruitescens.
Other Peppers
Annuums are commonly of the type such as jalapeno. Fruitescens are in the range of piri piri or Thai hots. Chinense are all about the habanero group, which are the hottest types in the world (the Carolina reaper being the current record holder).
In this recipe we just use a little bit of the sauce- you can use which type you prefer and in the amount you want. I don't find the amount I used to be exceptionally spicy, but you can try half the amount and see. If you want more, just add- it spices instantly.
Trinidad Curry Powder
I used the Chief brand of curry powder which is marketed in Trinidad. It is a different formulation than Jamaican curry powder or madras curry powder. I will show the list of ingredients below so you can compare.
Chief Trinidad Curry Powder: coriander, turmeric, cumin, fenugreek, salt, fennel, ground chiles.
Madras Curry Powder: Ground Coriander, Ground Turmeric, Mustard Powder, Bengal Gram (Black Chickpea), Ground Cumin, Ground Chilli, Ground Fenugreek, Ground Black Pepper, Garlic Powder, Iodised Salt, Ground Fennel.
Jamaican Curry Powder: ground turmeric. ground coriander seeds, cumin seeds, allspice, ground ginger, dry yellow mustard seeds, ground fenugreek seeds, white or black pepper.
So as you can see, the Trini curry powder will not have some of the flavors of the Jamaican or Indian curry powders. In case you need to hand mix your own.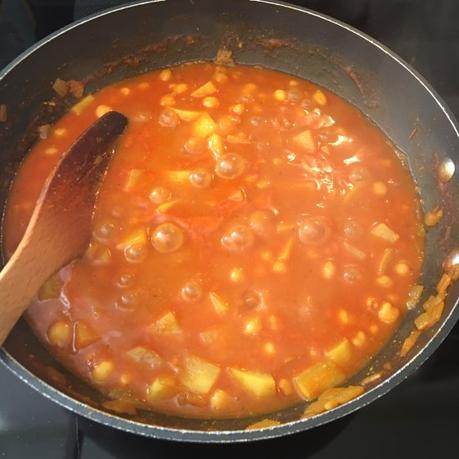 The curry is a bit soupy from the tomato and coconut when it starts cooking. But by the time the potatoes are tender, it should be nicely thick.
Of course, if you find your flame was too high you can add a little water. But if you keep the lid on it will probably be too loose since not enough liquid could evaporate. Try not to do that.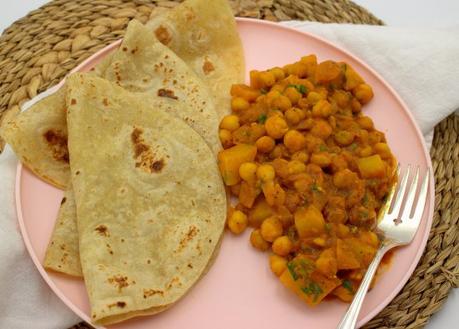 What is Shado Beni?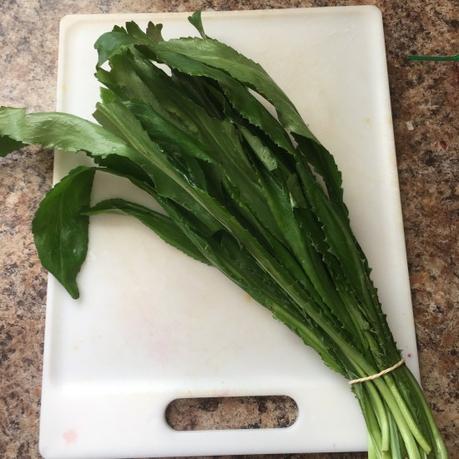 Shado Beni is the Trinidad name for culantro or sawtooth herb. It is quite similar in flavor to cilantro, but a bit less delicate in leaf than cilantro is. Shado beni also has a more pronounced flavor than cilantro.
If you find you can't obtain this herb, feel free to substitute cilantro, just up the amount a little bit to compensate.
Unless you hate cilantro, in which case you are out of luck because you probably wouldn't care for shado beni either.


I served my curry as a vegan main dish with griddled roti bread.
You can also make doubles, which is a fried bread commonly served with this (there is one in the roundup) although I did not. I am cutting back on fried things this month and as well, I had bought a pack of ready to cook roti which I like so I can just cook a few.
The roti remind me of the uncooked tortillas you might find sometimes. Into the skillet on high heat, and they cook and blister quickly.
The other bread is said to be like Indian bhatura which is often paired with choley (same kind of curry). None of the pictures I saw of doubles remotely resembled bhatura although they are both fried breads. I think maybe the doubles are more like Indian (American) fry bread with different seasoning. We could debate it. Maybe there are different recipes.
But enjoy the roundup- we've got some interesting titles here. I can't wait to try some of them myself.

Also, I am posting this recipe today as part of Eat the World, where each month a group of adventurous bloggers takes on making a recipe from a different part of the globe. This month, the topic was Trinidad & Tobago.
Destination: Trinidad & Tobago
Check out all the wonderful Trinidad & Tobago dishes prepared by fellow Eat the World members and share with #eattheworld. Click here to find out how to join and have fun exploring a country a month in the kitchen with us!
Palatable Pastime Chickpea and Potato Curry (You are Here!)
Culinary Adventures with Camilla: Chicken Curry, Trini-Style
Pandemonium Noshery: Trini Spiced Macaroni Pie
Sneha's Recipe Doubles Chickpea And Potato Curry With Urad Bara #EattheWorld
Making Miracles: Pelau
Kitchen Frau: Peanut Butter Stuffed Prunes
The Schizo Chef: Phulourie - Split Pea Fritters
A Day in the Life on the Farm: Trinidadian Stir Fry Shrimp
Cultureatz: Trinidadian Corn Pie Recipe
Amy's Cooking Adventures: Trini Macaroni Pie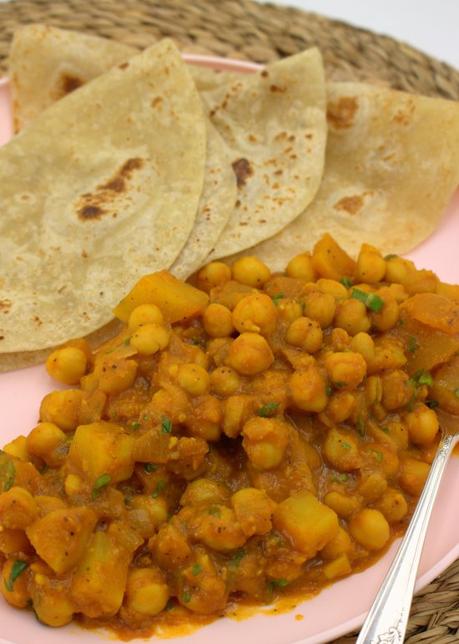 You Might Also Like: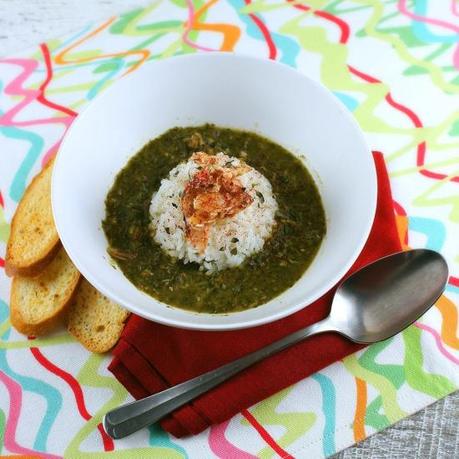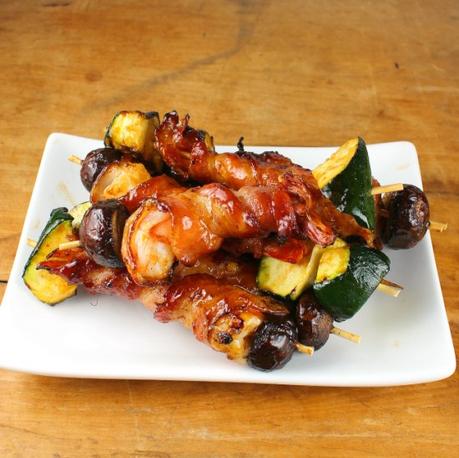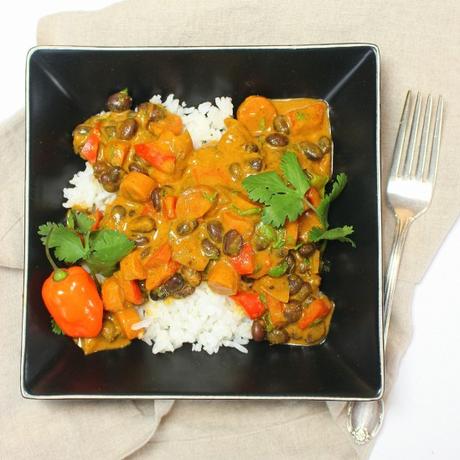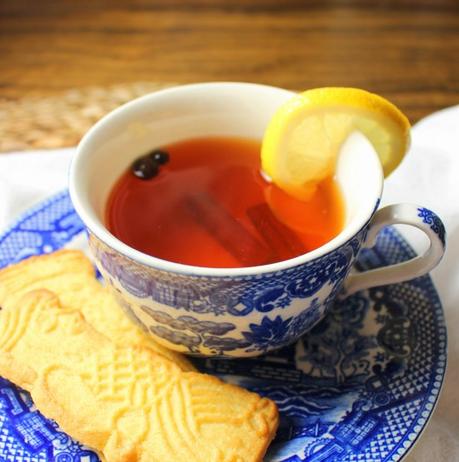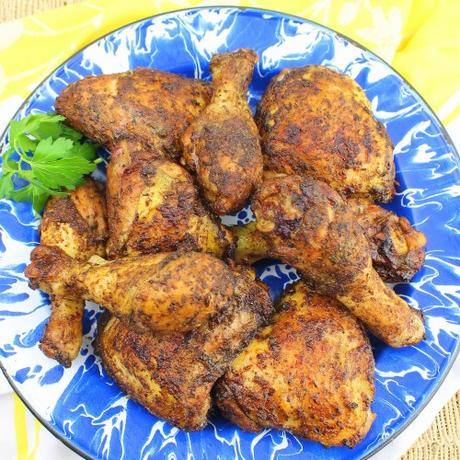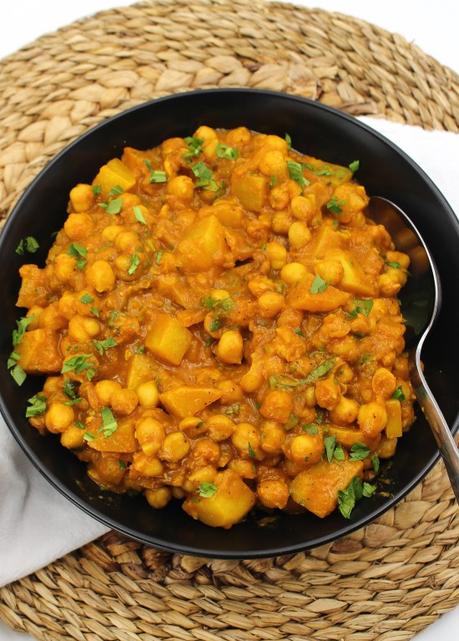 Chickpea and Potato Curry