I make chicken all the time. It's easy and quick for weeknight dinners – but after years and years of making chicken a few times a week, I need to up my game from time to time! So Pinterest to the rescue! I knew I was going to buy fresh pitas from a restaurant near my office. Naf Naf Grill – if you are in the Chicago area, you must check them out. Great food! But they also sell their fresh made pitas in a six pack for $3.99! Score!
So I searched pita on Pinterest and one of the recipes that popped up was for a feta and ricotta cheese whipped dip. The recipe comes from THIS BLOG. I had all the ingredients to make it too!
[amd-zlrecipe-recipe:90]
I had some chicken breasts, so I sliced those thin, and added sliced red peppers and onions. Add the chicken and peppers and onions to a hot skillet. Add 1 tablespoon olive oil and 1-2 tsp. ground oregano, the juice of half a lemon and salt and pepper to taste. Cook until browned.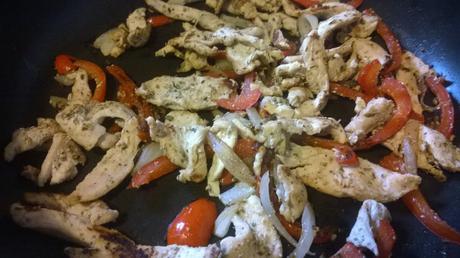 I warmed the pitas in a 350 degree oven for 5 minutes. Remove from the oven and smear the ricotta/feta cheese whip spread over the pita, then add the cooked chicken and onions. SO GOOD!!!
I should mention, except for the pita bread all of the items for this recipe I got at Aldi Foods!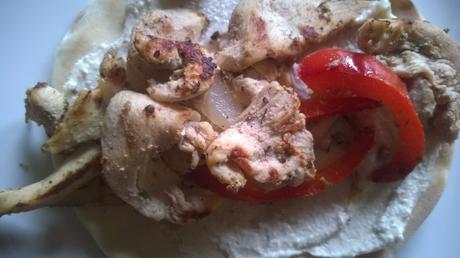 I will definitely be making that ricotta feta cheese whip spread again! You could serve it with crackers, mixed veggies, or spread it garlic bread – the possibilities are endless!
Do you go to Pinterest to get meal ideas???