Yesterday was my son's 21st birthday.  I know it's hard to keep track of all the birthdays and special occasions around here.  My birthday was a little over 2 weeks ago, my third son's birthday was last week, my second son's birthday was yesterday, Mother's Day was this past Sunday, and my anniversary is coming up on the 25th.  All that craziness coupled with the regular end-of-school insanity makes for fun times in our house.  But I wouldn't have it any other way.
Of course, I add to the craziness by making whatever my kids what for their birthday dinner. It's a fun tradition which my kids look forward to.  The only requirement for the meal is that it has to be something I can actually make (no restaurant meals).  It can be something the birthday boy loves and everyone else hates.  It's their choice.  Sometimes the birthday boy goes for a complicated dish (like Chicken Tikka Masala, which takes hours), and other times, like last night, my son went for Chicken Enchiladas, American style.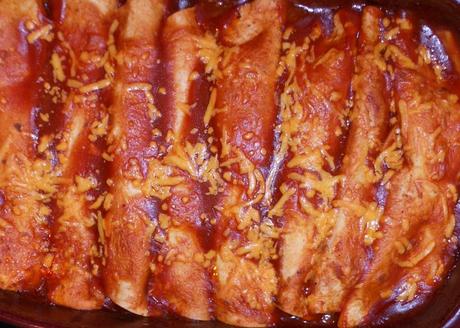 Enchiladas!
What do I mean by American style?  There is no ounce of authenticity in these.  NOT ONE!  But they're quick and easy to make, and they taste good.  Everyone can eat them, except for my husband who has a hard time with cheese.  But it was my son's birthday, and if 5 out of the 6 family members can eat dinner, I consider it a success.  Usually, I would feel bad if my husband (and sole financial provider) can't eat what I make for dinner.  But it was youth night at church, and we usually eat out for youth night.  So he grabbed a burger at In-N-Out and was quite happy with it.  Problem solved.
How do I make these little gems?  Let me tell ya!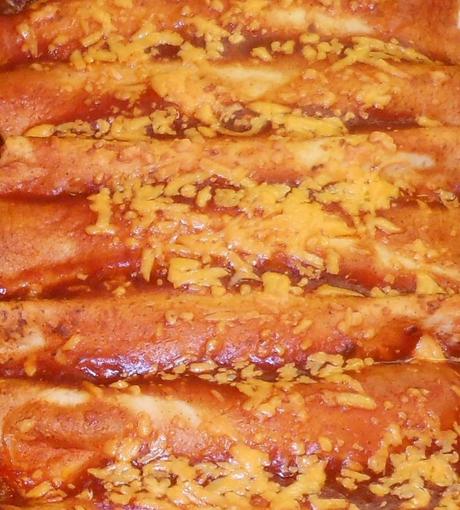 Easy, Delicious Americanized Enchiladas
Chicken Enchiladas
Adapted from a recipe by Rachel Anderson
Flour or Corn Tortillas, soft taco size (8 per 9×13 pan)
Chicken (I use chicken breast, about 1 pound per 9×13 pan)
Oil (I use olive oil)
Cheese (I use sharp cheddar and, occasionally, Monterrey jack – use at least 2 cups per 9×13 pan)
Enchilada sauce, homemade or canned (I use Old El Paso or Great Value Brand, mild.  I don't like it too spicy.)
Salt and pepper, to taste
Cut up chicken into small pieces and cook over medium high heat in a skillet (with oil).  Season with salt and pepper.  Set aside when chicken is cooked through.  Pour a small amount of the  enchilada sauce into a 9×13 pan, then pour remaining sauce into a flat dish which will allow you to dip the tortillas in the sauce.  Remove one tortilla from the package, dip both sides into the enchilada sauce, then set it in the pan.  Fill with chicken and cheese, then roll it up with the seam down.  Continue until all enchiladas are rolled.  Pour remaining sauce on top of the enchiladas and sprinkle with remaining cheese.  Bake at 350 degrees Fahrenheit for 30 minutes.  Serve and Enjoy!
Here's my photo step-by-step.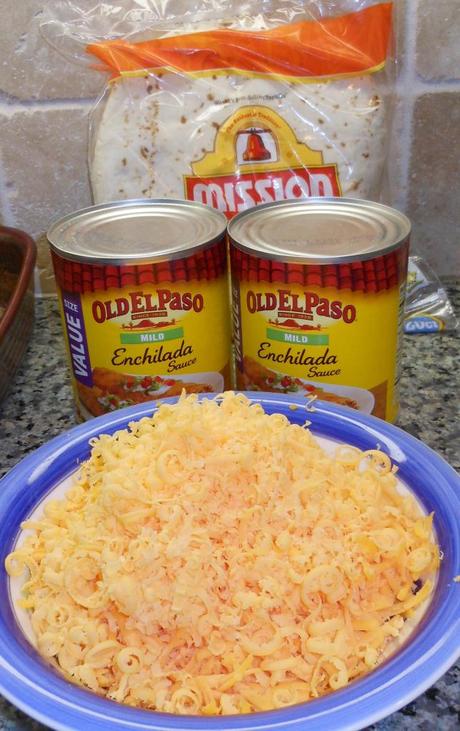 All ingredients assembled, except for the chicken…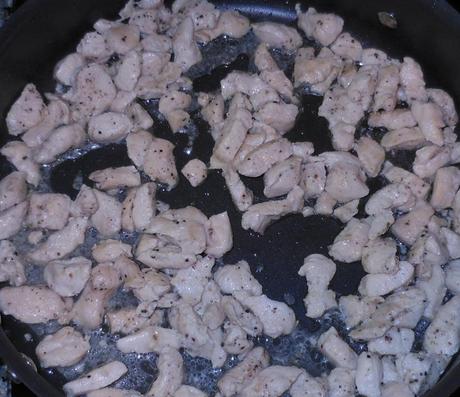 Which I cooked in a non-stick skillet with olive oil and seasoned with salt and pepper.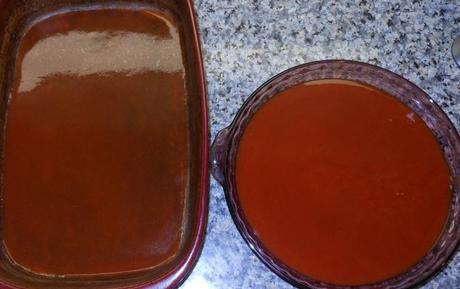 I prepped my 9×13 casserole dish by pouring a little enchilada sauce in the bottom of the pan, then I poured the remaining sauce into a pie tin. I find it is the perfect size and shape for dipping the tortillas in the sauce.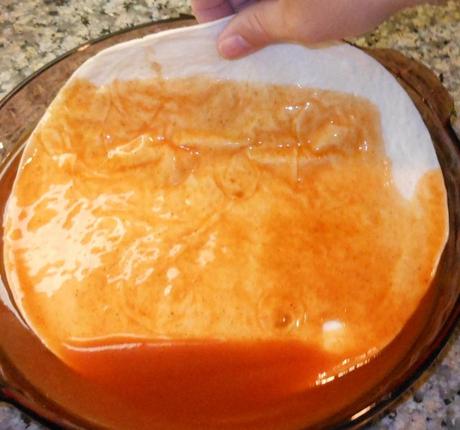 See? It fits perfectly. I dipped both sides of the flour tortilla, leaving the edge sauce-free to keep my hands cleaner.  I know that flour tortillas are not traditional for enchiladas, but I said these were Americanized, didn't I?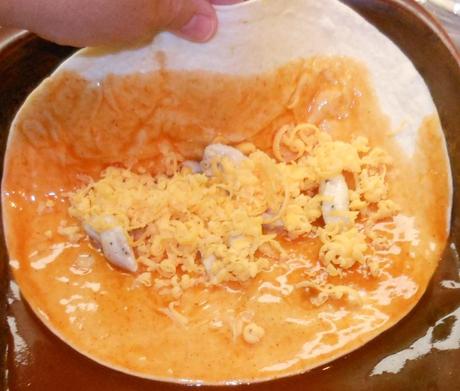 Next, I transferred the tortilla to the pan and filled it with chicken and cheddar cheese.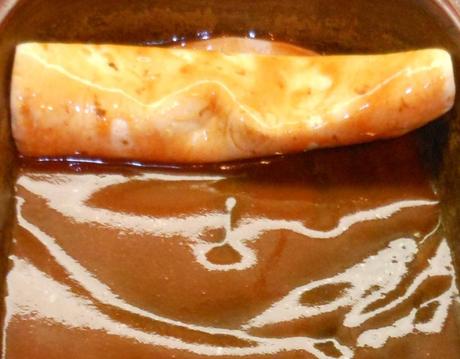 Then, I rolled it up with the sauce-free side of the tortilla on the outside (since the sauce in the pan would coat it). Then I placed it in the pan with the seam side down.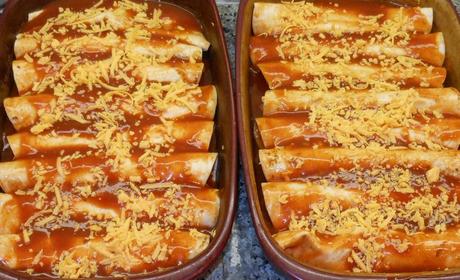 It took less than 10 minutes to roll all of these and get them ready for the oven by pouring the extra sauce over the enchiladas and sprinkling them with cheese. Next, I popped them in a 350 degree Fahrenheit oven for 30 minutes.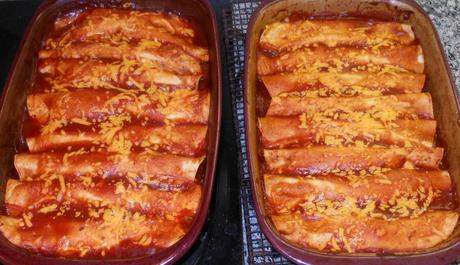 And, Voila! My son's favorite dinner was served!
I think there are only 2 enchiladas left this morning, so dinner was a great success.  This little tradition helps make birthdays special and I love it!  It's quite a bit of fun for me to let one of my sons be "king for the day," or at least for dinner.
What birthday traditions do you have in your house?  Please share them!
Also, DON'T FORGET!  Enter to win a great prize in my May giveaway

here

.