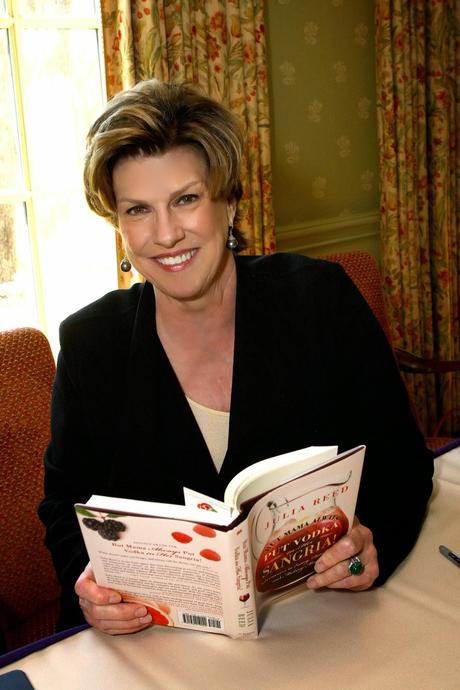 Julia Reed
The good news about Dallas, is that there are so many different charities and organizations doing good in our community. The bad news about Dallas, is that there are so many different charities and organizations doing good in our community that I can't possibly attend every luncheon, gala, trunk show and party I get invited to! It's a good problem to have...
So, this year I've made a conscious effort to attend events I've never been to before and get to know new organizations. One of those organizations is
Community Partners of Dallas
. They invited me to attend their annual
Chick Lit Luncheon
at Brook Hollow Golf Cub. With a name like "Chick Lit Luncheon" I knew it would be an enjoyable day.
Boy, was I right.
The day started out as any luncheon would. CPD president and CEO
Paige McDaniel
came to the stage to recognize committee members, sponsors and attendees, including honorary chair
Jennifer Altabef
and luncheon chair
Jennifer Morris
. Morris followed by recognizing this year's Partners for Children Award recipient, the Junior League of Dallas.
McDaniel came back to the stage asked guests to don the birthday tiaras that were placed on their chairs and sing Happy Birthday in honor of CPD's twenty-fifth anniversary this year (
you know I love a tiara! I kept mine on throughout the entire luncheon
!), before showing a commemorative video highlighting the importance of volunteers throughout its history. Morris returned to the stage with a beautifully wrapped "birthday present" that was debuted to the audience as a pair of brightly colored stiletto heels, providing the perfect visual for the announcement that Community Partners of Dallas would be the 2015 beneficiary of Stiletto Strut sponsored by Neiman Marcus.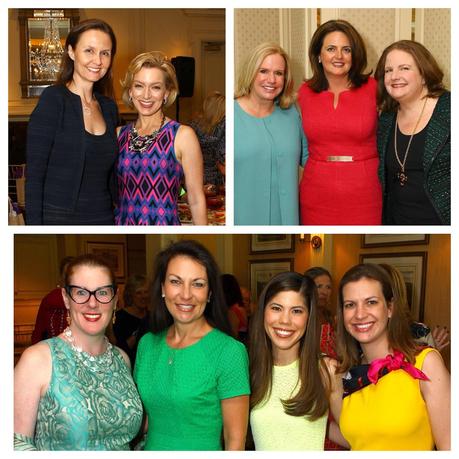 (top left) Skye Brewer and Kate Rose Marquez (top right) Jennifer Altabef, Jennifer Evans Morris, Paige McDaniel (bottom) Anne Stodghill, Angela Nash, Lara Tafel, Melissa Johnston
Here's where it turned from ordinary luncheon to an event I am still thinking about...
Julia Reed
took the stage and in 15 minutes had enchanted every woman in the room and had us all wishing our BFF's were as cool as she was. Not familiar with the name? For 20 years, Reed was senior writer and contributing editor at Vogue, where her profile subjects included George and Laura Bush, Bill and Hillary Clinton, Oscar de la Renta, Carolina Herrera, Robert de Niro, and Drew Barrymore. She contributes regularly to The New York Times, London's The Spectator, and Southern Accents. Her BFF's include
Andre Leon Talley
from Vogue (need I say more about her coolness). Reed regaled the crowd with stories and experiences as a Southerner and introduced guests to her recent book titled "But Mama Always Put Vodka in Her Sangria!: Adventures in Eating, Drinking, and Making Merry." I bought that book book, plus one titled "Queen of the Turtle Derby and Other Southern Phenomen". I am taking them on vacation with me in a couple of weeks and can't wait to get lost in them.
Since 1989, Community Partners of Dallas has ensured safety and restored dignity and hope to abused and neglected children by providing crucial resources and support to the caseworkers of Dallas County Child Protective Services. Celebrating their 25th anniversary, Community Partners of Dallas provides items such as winter coats, diapers and formula, holiday gifts, school uniforms, personal hygiene products, food and more, to send the abused children in our community the message that someone does care. Congrats to for raising $260,000 through this year's event! For more information on Community Partners of Dallas, visit https://www.cpdtx.org.
photo by Dana Driensky provided by CPD
This post sponsored by The Woman's Center for Cosmetic and Plastic Surgery: