With the Chicago White Sox already parting ways with longtime pitcher Mark Buehrle, and trading closer Sergio Santos to the Toronto Blue Jays, it will be interesting to see what other moves GM Kenny Williams makes during this offseason of admitted rebuilding.
Despite Buehrle pitching over 200 innings in each of the last 11 seasons, the White Sox let Buehrle walk away for a $58 million pay-day from the Miami Marlins. Santos, who emerged as the White Sox closer last year, notching 30 saves, wasn't a huge burden on the White Sox's payroll, however. Santos did have incentives that may have driven his salary higher, and with prospect Addison Reed looking to be an MLB-ready closer, Santos was expendable in the White Sox's eyes.
The Sox did receive a solid starting pitching prospect for Santos, in Nestor Molina. In five minor league seasons, Molina has an earned run average of 2.21, and a WHIP of 1.03.
With a recent trade sending San Diego Padres pitcher Mat Latos (3.37 career ERA, 1.15 WHIP) to the Cincinnati Reds for two former first round draft picks, Yonder Alonso and Yasmani Grandal, as well as pitcher Edinson Volquez, the White Sox may be holding out for more in return for some of their players who are on the trading block.
What has not been a secret this offseason has been Williams' interest in dealing pitchers John Danks and Gavin Floyd. Both pitchers may command top prospects, with teams such as the Boston Red Sox, New York Yankees, and Toronto Blue Jays showing interest. Both players are expected to earn $8 million and $7 million in 2012, respectively.
Another frequent name mentioned in trade talks is outfielder Carlos Quentin. Like Danks, Quentin was just recently tendered a contract for the White Sox, and is set to earn $7 million in 2012.
Reliever Matt Thornton and infielder Gordon Beckham have also popped up in trade talks this offseason. While White Sox trade rumors have been relatively quiet over the last week, spring training is still a couple of months away, and the White Sox have plenty of talent to offer teams. Here is a look at the Sox players who may have different addresses in 2012.
John Danks, SP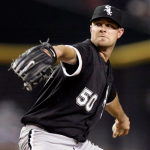 Danks saw his numbers dip a bit in 2011 as he battled through some injuries. He still managed an ERA of 4.33, and WHIP of 1.33. Danks did have one of his better control seasons, posting a career best 2.93 SO/BB ratio. He also averaged 7.1 strikeouts per nine innings. Danks was also the victim of the White Sox's early bullpen troubles, not notching his first win until June 6.
Danks is being sought after by many teams. As a left-handed starter who is only 26, he has the potential to be a number one pitcher for most teams, and can be a great number two or three for almost any team in either league.
Gavin Floyd, SP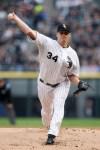 Like most of the Chicago White Sox, Gavin Floyd had a sub-par season in 2011. His ERA was his highest since 2007 at 4.37, and he was inconsistent.
Floyd is still relatively young at 28, and did experience some improvements last year. His WHIP was a career low at 1.16, and he improved his strikeout-to-walk ratio by almost a full point (3.36). If Floyd can continue to improve his control, along with mastering his plus curve ball, he could be a potential number two starter on many teams.
Matt Thornton, RP

Coming off of his first All Star appearance in 2010, Matt Thornton was called on to be the White Sox closer in 2011. The hard throwing, left-handed setup specialist was confident that he could nail down that important role for the Sox. Unfortunately, it didn't work out, as Thornton and the defense around him helped blow numerous gut-wrenching saves in April, 2011. Thornton eased back into his seventh and eighth inning role, posting an ERA of 3.32, and a SO/9 ratio of 9.5
Mostly because of his closer-role disaster, the 35-year old Thornton showed a statistical decline across the board in 2011. Only a year removed from his 2010 season when he posted a SO/9 of 12, Thornton still has a live left-handed arm, making him a coveted reliever by most MLB teams.
Thornton may be more difficult to move because of his advanced age, as well as his somewhat hefty salary for a reliever. He will make $5.5 million in 2012, as well as 2013.
Carlos Quentin, OF

With his powerful bat, Carlos Quentin would be an attractive option for most teams in need of a slugging outfielder. With his somewhat limited defensive skills, he could also be a nice option at designated hitter as well.
Quentin has not lived up to his stellar 2008 season, which was cut short due to his hot temper. Despite injuring his wrist in early September of that year, Quentin finished the season with 36 home runs and an OPS of .965.
With continued injury struggles, it has been hard to rely on Quentin as a consistent everyday producer. He did have some brilliant spurts in 2011, finishing the season with 24 home runs and a slugging percentage of .499.
If Quentin isn't dealt this offseason, he could attractive to teams in the playoff hunt late in the season, assuming the White Sox are out of contention. If the Sox do have playoff aspirations late in 2012, Quentin's big bat could help the team, assuming he remains healthy.
Gordon Beckham, 2B

White Sox second baseman Gordon Beckham has been linked to a few deals this offseason, including being dealt to the Toronto Blue Jays, who seem to have Kenny Williams' ear this winter.
Beckham has yet to match his promising 2009 rookie season when he had an OPS of .808, and knocked out 14 home runs in just 103 games. Beckham showed improvement at second base last year, only making eight errors in 149 games.
His hitting struggles continued in 2011, however, after Beckham had a wins above replacement mark of -0.2 in 2010. Beckham posted a poor on-base percentage of .296 in 2011, and showed little power and plate discipline as well, notching only 35 walks in 557 plate appearances, and a slugging percentage of .337.
Beckham does have some positives to draw in 2012, those being a good glove, youth, and potential. It boils down to the White Sox having faith in his potential ability, which will determine his status in 2012.
With the Blue Jays, Yankees, and other rumored suitors having top farm systems, the White Sox could receive some top future talent in return for trading any of the above mentioned players. If some of the White Sox's top-paid veteran talent have bounce-back seasons in 2012, the rebuilding phase may not be too hard on Sox fans, and the next couple of years could yield some future stars.