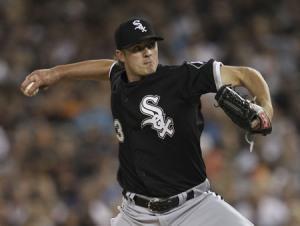 With the departure of closer Sergio Santos last week, in a trade to the Toronto Blue Jays, the Chicago White Sox will go into their second consecutive opening day next year without a proven closer.
Santos won the closer role last May after Matt Thornton, Chris Sale, and others failed to consistently nail down the ninth inning role on the team. Thornton and Sale appear to be most effective in setup roles, and if new White Sox manager Robin Ventura goes with either of them, or Jesse Crain, the Sox could have a repeat of their disastrous April, 2011.
While GM Kenny Williams made it clear that the team is looking to dump payroll in favor of prospects, Thornton's time with the team may be coming to an end. Santos was traded last week for pitcher Nestor Molina of the Blue Jays. The 22-year old Molina may have an immediate impact as a starter for the team in 2012, but the Sox already have a gaping hole in the back of their bullpen with Santos leaving for Toronto.
A potential candidate for the closer role in 2012 may be the White Sox's 2010 third round draft pick, Addison Reed. Reed, who pitched on San Diego State's college baseball team along with the Washington Nationals Stephen Strasburg, showed off his talents as a late-season call-up for the Sox at the end of 2011.
While Reed gave up three runs in 7.1 innings of relief work with the Sox, his strikeouts-per-9-innings ratio was a mind blowing 14.7. Reed only walked one batter in his four relief appearances.
Reed, who was also a starter in college, tops out at about 92 mph when in the starting pitching role. When relieving, he can hit as high as 96 mph on the radar gun.
Reed's late season performance with the Sox might not have been a fluke. He tore it up on multiple minor league levels, pitching in 56 games for the White Sox minor league affiliates, between 2010 and 2011.
During his stint in the minors, Reed has maintained a miniscule WHIP of 0.74, and a SO/9 of 12.9. He has struck out 155 batters, while walking 20.
How that will translate long-term in the big leagues remains to be seen, but nobody could argue that Reed has, to this point, dominated his minor league competition.
With the rebuilding mantra likely to be repeated by the media, and possibly by the Sox front office, Robin Ventura might be more willing to take a chance on a rookie than try to make Thornton or Crain a closer. Ventura has been quoted as saying he does not subscribe to the closer-by-committee practice.
While there may be some dark days ahead for White Sox fans if their underachieving veterans (Peavy, Dunn, and Rios) continue to struggle, the promise of a new star closer might make the rebuilding process a little easier to swallow in 2012.
-James Kries
Statistics courtesy of baseball-reference.com