Holy Smokes!!
Earlier last week I was sitting in front of the TV, my wife on the couch next to me and received a phone call.  It was an unknown number, and I thought it would be someone trying to sell me advertising space for KCVI because I seem to get those all the time, so I just let the call go to my voicemail.  When I went to listen to the voicemail, the message I got was from the artistic director of the Sugar Creek Opera Festival inviting me to be part of their production of the Daughter of the Regiment.  As soon as I heard the word "invite", I turned to Dusti and without saying a word, held out my hand, palm facing her face, and waited for a high five.  Ok, perhaps that was awkward, but she put her hand up to mine, tilted her head, squinted her eyes and wrinkled her eyebrows, so as to say "what in the world is happening?".  I finished listening to the voicemail, forgetting that my hand was still reaching out to her face because I was trying to concentrate on the details.  I hung up the phone and slowly lowered my hand ending an awkwardly long high five.
I never really planned out how I would react to something like this, but I'm sure if I did, it wouldn't involve a Heisman stiff-arm.  Nevertheless, I was very excited to win an spot as one of the apprentice artists for the Sugar Creek Opera Festival.  If you remember, I was very happy with how my audition went for them.  Here is a link to my post about my audition in New York for their company.  I do not know too many details yet, only that I will be playing either a small role or covering for a lead role.  The opera festival is just south of downtown Chicago in Watseka, IL and I will be there from July 20 through August 7.
Like I said earlier, I will be in La fille du régiment (the Daughter of the Regiment).  This is particularly important for tenors because of a little aria called Pour mon ame.  If you don't know already, it is famous for its 9 high c's and has been the signature aria for several of the world's most famous tenors including Pavarotti, and currently the world's biggest tenor superstar, Juan Diego Florez, who became the first person in 74 years to sing an encore at La Scala, one of the cathedrals of opera, after he sang this aria.  Take a listen to why this aria is such a big deal.
Also, I can't help but be excited for the upcoming KC Lyric Opera season and especially the KC Symphony season.  Both are going to be having incredible events for the inaugural season in the new Kauffman Center for the Performing Arts.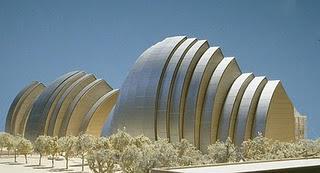 It will be one of the world's largest performing arts centers including a state of the art opera house and symphonic concert hall.  The Kansas City Symphony recently released their performing schedule for their first season and I am SO excited. It will feature Yo-Yo Ma, Joshua Bell, and Joyce DiDonato.  They will be performing Respighi's Pines of Rome, Saint-Saens Symphony No. 3 using their new pipe organ, Mozart's Jupiter Symphony, Tchaikovsky's Sixth Symphony, and Dvorak's New World Symphony.  These alone would make an incredible season, but that's not even the best part. I was on the fence about auditioning for the Symphony Chorus, but now I absolutely have to do it.  The symphony will also be performing several pieces with choir, and they are beasts of symphonic rep.MessiahMahler's Resurrection Symphony
(YOU MUST WATCH LEONARD BERNSTEIN GO CRAZY WITH THIS!)(Oh my gosh, I'm getting more and more excited............)Brahms German RequiemThe sixth movement of this is undoubtedly one my favorite pieces of music of ALL TIME!I don't really know what would top it.WHAT!?  NO WAY!BEETHOVEN SYMPHONY NO. 9I have had this entire thing memorized since I was in middle school!  I can hum all 90 minutes of it from beginning to end.  If anything can beat Brahms German Requiem - probably the only thing that can is this.  If you have never listened to it, you will recognize it for sure when you hear it, but please take your time and listen to the finale.  Can you believe that Beethoven was deaf when he wrote this and it just happens to be one of the most important pieces in music history! Incredible!
Just listening to these makes me so happy. I don't know how anyone would not get emotional, waiting to hear the chorale explode from near silence.  What an incredible moment!  I hope I am able to be part of their programs from the next season, because many of these pieces are ones that are on my bucket list, let alone all in one season.
Ok, I have to settle down now, but I'm really excited to see the opera schedule for their inaugural season in the Kauffman Center.  I am sure it will be a spectacular season as well.I have also been working extremely hard preparing for the 33rd Summer Choral Institute.  I was in Manhattan last week for a meeting and I had a great time seeing all of my friends.  I have also been working hard on preparing Don Giovanni in March.  I will have much more to talk about when rehearsals start, but I am anxious to begin piecing things together.On a final note, I would like to let you all know who I have been talking to in Topeka recently.  I am thrilled that so many of you have shown your support and have been writing letters to representatives and joining others on facebook, voicing your opinion.  If you don't know already, the Governor of Kansas is poised to cut public funding for the arts, for no apparent reason besides "budget concerns".  Unfortunately, it is a very partisan debate, but thankfully, many legislators on both sides of the isle have been showing their support for the arts, however I am told by one that it may be a close vote.  Earlier today I heard from John Vratil who is the State Senate Vice President and he acknowledged my concern with eliminating the Kansas Arts Commission.  He said that he does indeed support public funding for the arts and thought that continuing to fund them was important for Kansans.  Unfortunately, he didn't make any promise to support the KAC and said that when the topic is discussed in the Ways and Means Committee, that he will be fair in their decision.  If you haven't already, please click here and take just a couple of minutes to contact your representatives and voice your support for funding the arts, public television, and public radio in the state of Kansas.  Now is the time to get involved.  It just takes two minutes!And to give just a little more light on the importance of the arts in Kansas, and since the Sesquicentennial of the state of Kansas this week, I am going to start a little segment highlighting Kansans who are or who have been influential in the greater artistic world.This week's Incredible and Artistic Kansan is Clare Vanderpool from Wichita, KS who last week was awarded the Newbury Medal for her first novel "Moon Over Manifest".  The Newbury Medal is awarded to the "author of the most distinguished contribution to American literature for children".  Clare has lived her entire life in Kansas and undoubtedly has benefited from public arts programs and education.  Kansas has lot to be proud of!