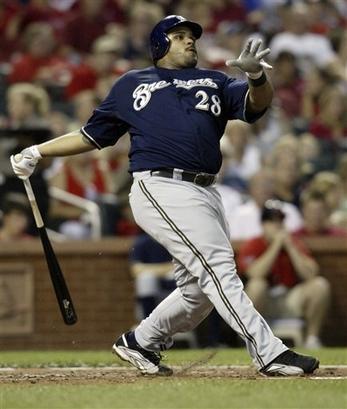 While the Chicago Cubs have been named frequently as potential suitors for free agent first baseman Prince Fielder, it appears that the Seattle Mariners, Washington Nationals, and Baltimore Orioles are all pursuing Fielder as well.
Accoring to Jon Heyman of CBSSports.com, the three teams are the latest to either make offers to Fielder, or to show interest in negotiating with the slugging first baseman.
Also according to Heyman and those close to the Fielder talks, Fielder would prefer to remain either in the Midwest, or the East Coast.
This offseason has been unique because the big free agent signings have not involved either the New York Yankees or the Boston Red Sox. The Yankees and Red Sox are set at first base with long-term deals in place for Mark Texiera and Adrian Gonzalez. The two AL East powerhouses also sat out the Albert Pujols derby, as well as other top free agents that may have been pursued in years past, including C.J. Wilson, Mark Buehrle, and Jose Reyes.
The Cubs had reportedly offered Pujols a relatively short-term deal, but with more money per season than most teams had been offering the MVP first baseman. It's possible that the Cubs are taking the same approach to the younger Prince Fielder, but it has been widely reported that Fielder is looking for a 10-year deal, similar to the one that Pujols signed with the Anaheim Angels.
The Cubs have already made lower-profile trades this offseason, bringing center fielder David DeJesus, and third baseman Ian Stewart to the club.
The rumors around baseball concerning Fielder and the Cubs may just be a case of team president Theo Epstein, and GM Jed Hoyer, throwing a conservative offer at Fielder to see if he might accept.
The previous Cubs front office, led by former GM Jim Hendry, frequently overbid for talent, and locked up players to long-term deals with no-trade clauses attached.
How the Fielder sweepstakes play out will be watched closely by baseball fans this winter, with the amount of interested parties seemingly growing by the week.