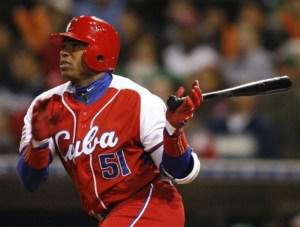 The Chicago Cubs have apparently shown the most interest of the teams currently pursuing Cuban slugging star Yoenis Cespedes. This is according to Cespedes himself, who has helped spark recent MLB rumors by telling the Associated Press that officials from the Cubs have recently had dinner with Cespedes on a couple of occasions.
There has been a buzz around MLB as the recently defected Cuban has announced his plans for playing in the major league if there are any takers. Cespedes recently told reporters that there are six teams interested in him, and that a deal is imminent.
Cespedes is a Cuban-born outfielder who had recently broken the Cuban league's home run record for a single season. He is a 26-year-old, five-tool player who has also played on the Cuban national team, and participated in the 2009 World Baseball Classic and Baseball World Cup, as well as the 2007 Pan American Games, playing for Cuba.
Cespedes has caught the eyes of many hot stove baseball fans with his promotional videos that have showed up on YouTube in recent months. The footage shows some game action, along with Cespedes working out.
The news that the Cubs are pursuing Cespedes comes as a bit of a surprise. Cespedes, while posting impressive numbers during his Cuban career, turns 27 in October, and is reportedly seeking a deal in excess of $50 million.
Since hiring team president Theo Epstein in 2011, the Cubs have been trading players with expiring contracts, and supplanting them with either prospects or inexpensive veterans. The team is in full-blown rebuilding mode, and a player like Cespedes, who comes at a high price tag, is an unproven commodity. He may be a draw at the turnstiles, but his long term value is highly questionable.
Epstein & Co. may be playing along as they reportedly did during the Albert Pujols and Prince Fielder discussions, helping drive up the price so either their division rivals or other teams around the league have to pony up more cash to sign the much sought-after free agents. The Cubs most likely had little or no real interest in signing Pujols or Fielder. Fielder still remains a free agent, but has been linked to the Texas Rangers recently, who yesterday locked up their top Japanese pitcher, Yu Darvish.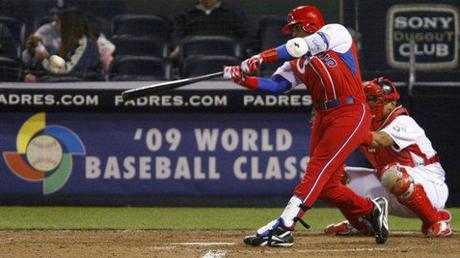 Yoenis Cespedes at the 2009 World Baseball Classic
The Chicago White Sox may also be interested in Cespedes. While no team official has said as much, young Sox outfielder Dayan Viciedo told the Chicago Tribune that he has personally called Cespedes and another Cuban prospect who recently defected, Jorge Soler. The White Sox have had several Cubans on their roster in recent years, such as Orlando Hernandez, Jose Contreras, and current White Sox shortstop Alexei Ramirez.
The White Sox, like the Cubs, have been slashing payroll this offseason, and a move for a player like Cespedes seems counter-productive to what the White Sox are trying to accomplish.
While every struggling or rebuilding franchise's fanbase is hopeful of a big signing like Cespedes, the reality might be that he's going to land in either a larger market, or a team gearing up for a likely postseason appearance, and has the cash to take a flier on Cespedes.
It doesn't mean Cubs fans can't get excited over the possible signing of an exciting player during an offseason of rebuilding.
-James Kries