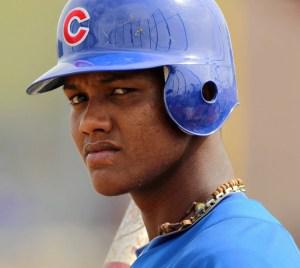 According to WBBM Newsradio's Mike Krauser, Chicago police are investigating allegations that Chicago Cubs shortstop Starlin Castro sexually assaulted a woman in his Chicago apartment last September.
Castro, who has been with his family in the Dominican Republic since the alleged incident, has not been questioned by police, according to Krauser, who also appeared on WSCR Chicago's Mully & Hanley show Friday morning. Krauser reported that Chicago police have continually claimed that they have no knowledge of an investigation involving the Cubs' 21-year-old shortstop.
Through his sources, Krauser reported that there is a heavily redacted police report, describing the alleged assault happening after the woman had blacked out after a night of drinking with Castro and friends. The woman reported the incident nearly twelve hours later, after Castro had already flown to the Dominican Republic on a scheduled trip.
Castro was one of the Cubs' lone bright spots in 2011, posting an OBP of .341, with 207 hits, including 10 home runs. While it appears that all Cubs are currently trade bait during the Cubs' new regime's rebuilding process, Castro looked to be one of the few who might be with the team for years to come. At only 21, Castro has shown All-Star-caliber hitting skills. While he has struggled in the field and made a number of costly mental mistakes during his first two years in the majors, Castro appears to have the raw talent needed to be an All-Star in the league for years to come.
It will be interesting to see how the Cubs' new manager, Dale Sveum, as well as the new front office handles the allegations and any potential investigation or criminal trial as the season progresses, assuming there's no resolution before opening day.
Castro had been pegged to appear at the annual Cubs convention, which will be held next Friday, January 13 at the Hilton Chicago.
Neither the Cubs organization, nor Castro have made any official statements regarding the allegations.
-James Kries