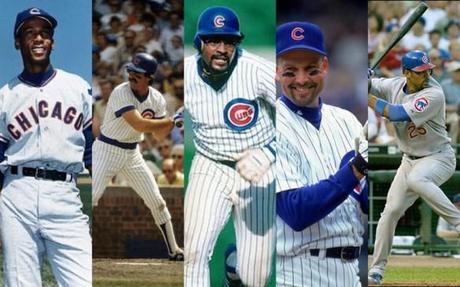 The Chicago Cubs traded pitcher Andrew Cashner and a minor leaguer to the San Diego Padres last week in exchange for first baseman Anthony Rizzo. Cubs President Theo Epstein and GM Jed Hoyer are quite familiar with the 22-year-old Rizzo, as they drafted him in Boston, and Hoyer acquired him from Epstein and Boston in a trade for Adrian Gonzalez in 2011.
The Cubs are hoping Rizzo is their first baseman of the future. Despite struggling during a brief stint at the major league level last season, Rizzo has been a top prospect for the Padres, hitting for a 1.056 OPS and knocking out 26 home runs in 413 plate appearances at the AAA level in 2011.
The left-handed Rizzo will likely start 2012 in the Cubs minor league system. Hoyer admitted this week that he may have brought him up too soon, regarding Rizzo's 49 games with the Padres in 2011 when Rizzo hit just one home run with an OPS of .523. While Rizzo may not become the slugging star the Cubs' new brain trust envisions him to be, he is yet another young, promising prospect the Cubs control the rights to for several years, the polar opposite of the debilitating, long-term contracts former GM Jim Hendry tied the team down with over the few years.
If Rizzo someday begins regularly depositing baseballs on Sheffield Avenue, he will join a long list of great first basemen who have played for the Cubs. Here's a look at some of the best Cubs first basemen of the last 50 years.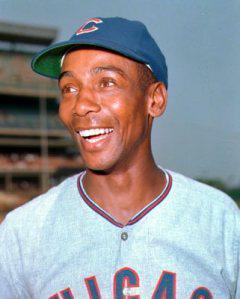 Ernie Banks (1B, 1962-1971)
While Ernie Banks became a Cubs legend playing shortstop, the last half of his Hall of Fame career was spent playing first base for the Cubs. To avoid the wear and tear of playing the shortstop position, the two-time MVP was penciled in at first for the Cubs from 1962 through 1971, playing until he was 40.
Banks' career was a tale of two halves. From his rookie season in 1953 until 1961, Banks hit 298 home runs with an OPS of .905, while playing shortstop. While his numbers declined during the rest of his career, "Mr. Cub" was still a solid, power-hitting first baseman, and was a part of some great Cubs teams of the late 60′s. Banks hit 214 home runs from '62-'71 at first base, with a .448 slugging percentage.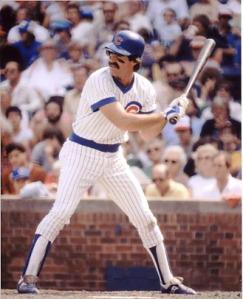 Bill Buckner (1B, 1977-1983)
Before he wrongly became a notorious scapegoat for his botched fielding play during Game 6 of the 1986 World Series, Bill Buckner was a steady-hitting first baseman for the Chicago Cubs. Breaking into the big leagues with the Los Angeles Dodgers in 1969, Buckner was predominantly an outfielder before joining the Cubs.
With the Cubs, Buckner averaged 12 home runs per season, with an on-base percentage of .333 over seven seasons in Chicago. Perhaps Buckner's best season was in 1982 when he had 201 hits with an OBP of .342. Buckner hit 15 home runs and drove in 105 for the Cubs in '82.
While he will forever be known for letting the New York Mets' Mookie Wilson's ground ball go through his legs, Buckner enjoyed a solid 22-year career, and performed well on some pretty awful Cubs teams.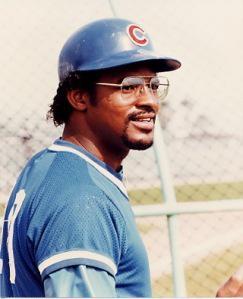 Leon Durham (1B, 1984-1987)
Another Cubs first baseman who is best known for a postseason fielding blunder, Leon Durham enjoyed some strong years at first base for the Cubs in the mid-80′s.
Durham was a steady performer during his 10-year baseball career, but is best remembered for his contributions during the Cubs' near pennant-winning 1984 campaign. Durham knocked out 23 home runs in '84, to go along with a .369 OBP. While Durham wasn't necessarily a good glove man at first base, his power from the left side made him a force in the heart of the Cubs' lineup during their 96-win season in 1984.
While playing first base for the Cubs, Durham hit 91 home runs in four seasons, while posting an OPS of .839. He appeared in two All Star games during his Cubs career.
Unfortunately, during Game 5 of the 1984 NLCS, Durham let a ground ball go under his legs, igniting a San Diego Padres comeback which sent them to the World Series, and the Cubs back home.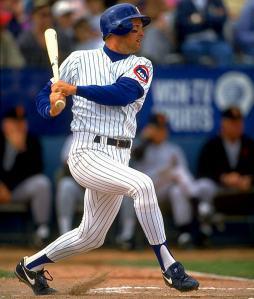 Mark Grace (1B, 1988-2000)
One of the best pure hitters in the game during the 90′s, Mark Grace enjoyed a spectacular 13-year career at first base for the Cubs.
While Grace lacked power, he was always a tough out, posting a .386 OBP during his career in Chicago. Grace had the most hits in all of baseball during the 90′s with 1,754.
A fan favorite, Grace led the team to a 1989 postseason appearance against the San Francisco Giants. Despite the Cubs losing the series, Grace tore up Giants pitching for 11 hits and four walks in 22 plate appearances, good for a five-game OBP of .682.
Grace would eventually win a World Series with the Arizona Diamondbacks in 2001. Grace was instrumental in the D-Backs' dramatic Game 7 victory, leading off the ninth with a base hit off New York Yankees closer, Mariano Rivera. Arizona overcame a 2-1 deficit in the final inning and topped the Yankees 3-2, winning the franchise's first World Series.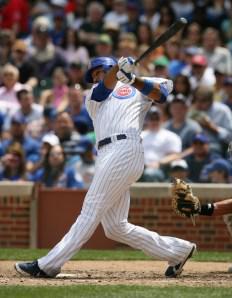 Derrek Lee (1B, 2004-2010)
After helping the Florida Marlins tear out the hearts of Cubs fans in the 2003 NLCS, Derrek Lee was acquired by the Cubs in 2004, and went on to post some of the best seasons of any Cubs first baseman in history.
During his seven seasons with the Cubs, Lee hit 179 home runs, and had an OPS of .903. His best year in Chicago was clearly his monster 2005 season when he hit 46 home runs, had an OBP of .418 and a stellar 1.080 OPS.
Lee, who was a quiet, respected presence in the Cubs' locker room, was also a standout fielder for the Cubs. Lee won two gold glove awards while in Chicago, and routinely dug out errant throws in the dirt, saving the Cubs countless base runners and runs.
————————————————————————————————
While Cubs fans had notions that the new regime in the front office was actively pursuing first basemen Albert Pujols and Prince Fielder during this offseason, the reality is that the Cubs have been focusing on the next big thing at first base, Epstein and Hoyer's long-time project, Anthony Rizzo.
Rizzo could go the way of Pete LaCock, Herman Reich, and Rip Russell, who had brief, unspectacular careers at first base for the Cubs. If successful, however, Rizzo will follow in a long line of top-flight Cubs first basemen from the last half-century.
-James Kries