This post is sponsored by Box of Style. Thank you for supporting brands that make this blog possible. All opinions are my own, and I only work with brands that I love!

ad on to see how you can get over $400 worth of product curated by Rachel Zoe for UNDER $75 using code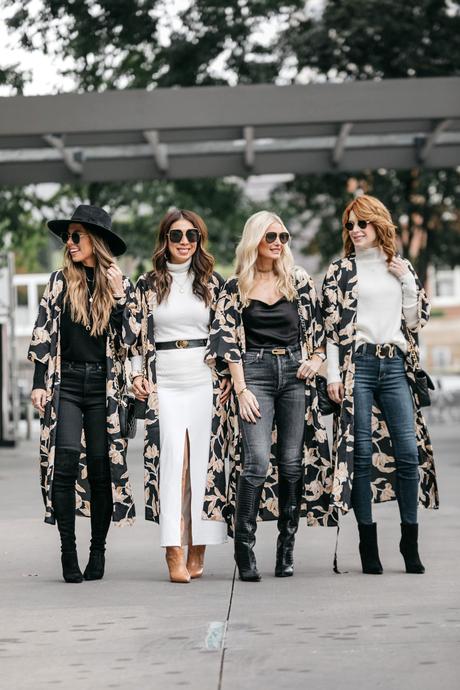 It's that time again...
CHIC25
! CHIC AT EVERY AGE . This week, we're SO EXCITED to partner with Rachel Zoe to showcase the Winter Box of Style 2019! It's always our favorite each season! Re
For those of you that have just tuned in, this fab collab is exactly how it sounds... a chic chick in her 20s, 30s, 40s, and 50s shows you how to style a piece in their own way. I'm working with some of my FAVORITE gals in Dallas!!
The 20-something // Natalie of The Fashion Hour
The 30-something // ME!
The 40-something // Heather of
The 50-something // Cathy of The Middle Page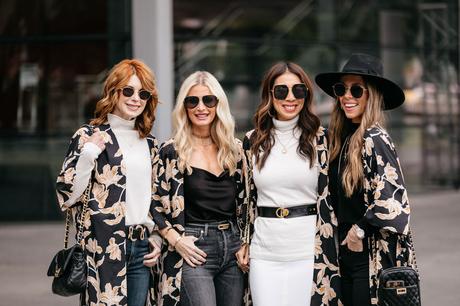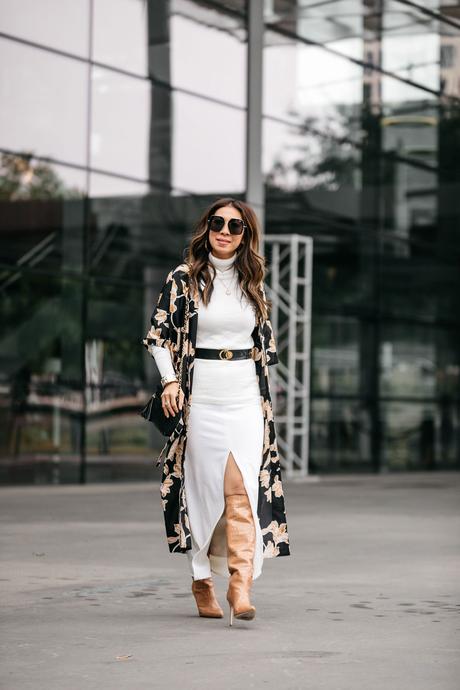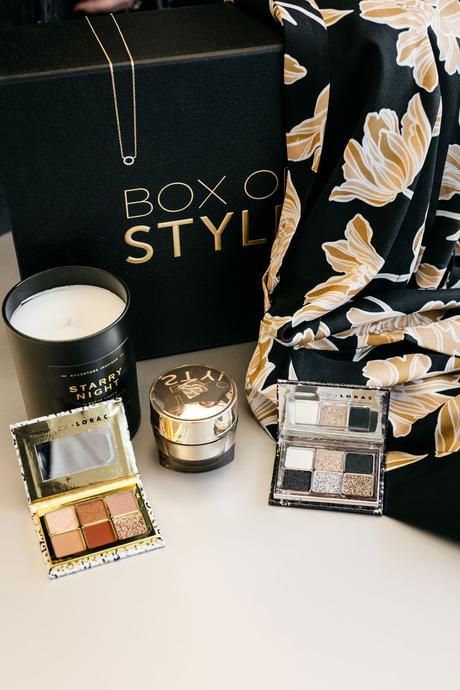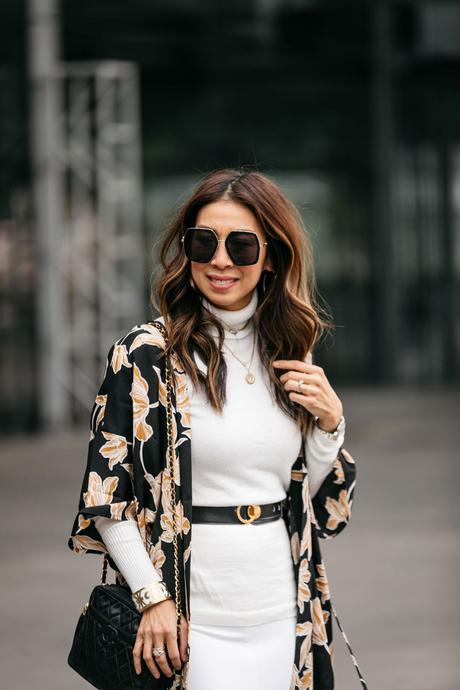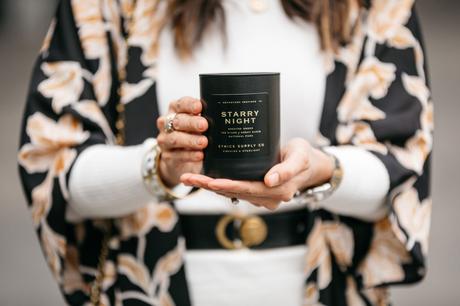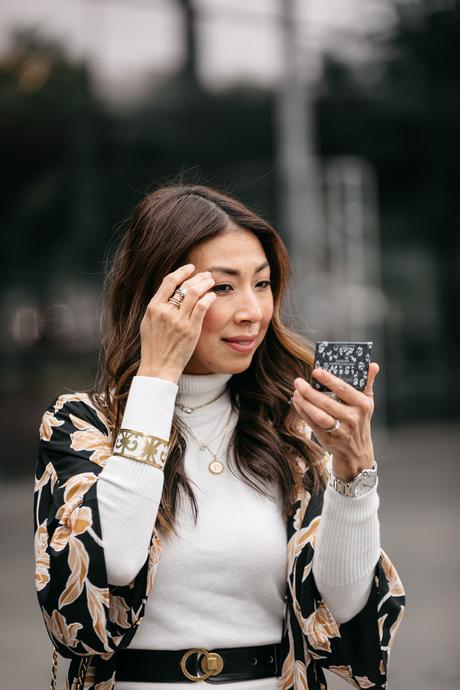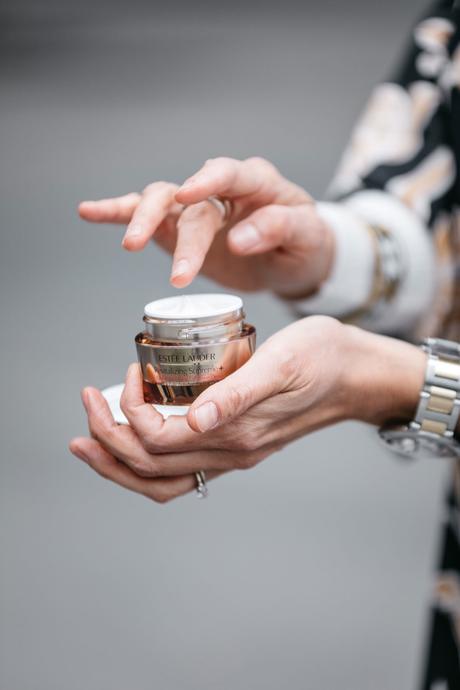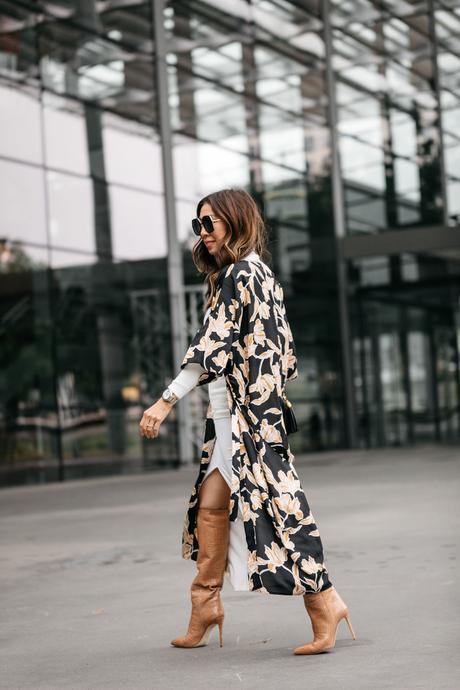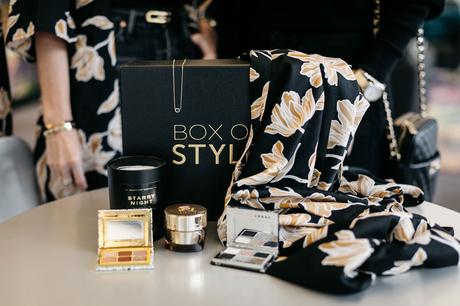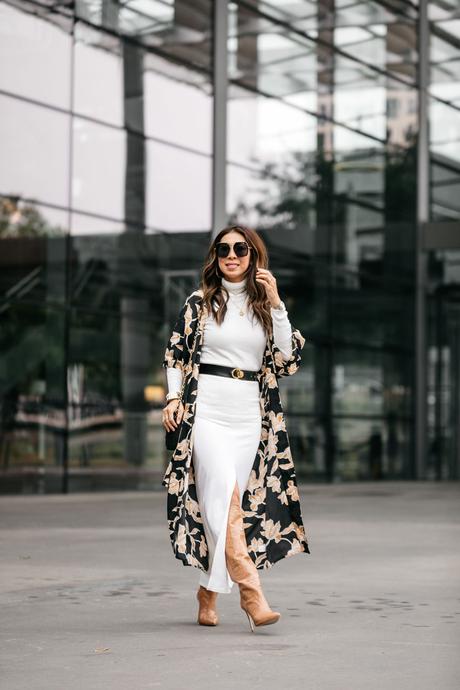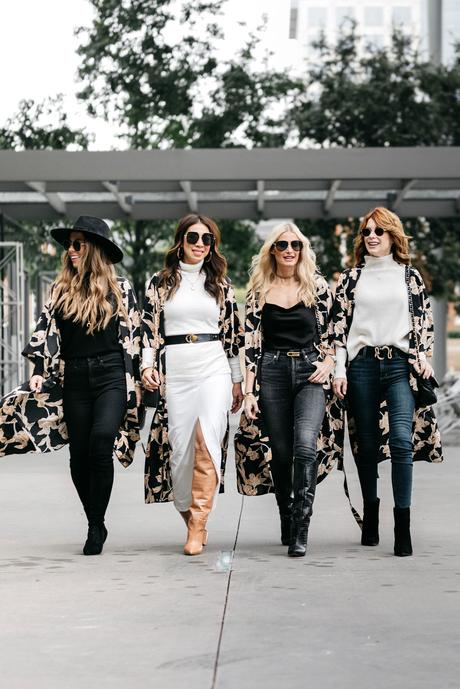 This season's box is absolutely fabulous, and we cannot wait to share the curated picks from Rachel Zoe! I know I say this almost every time, but I think this one may be my favorite! I love it for MYSELF but it would be a wonderful gift for any fashionista too! You can check out the past seasons in these posts to see why we love them so much - the Summer BOS, Fall BOS, Winter BOS and Spring BOS in these posts.
WHAT'S IN THE WINTER BOX OF STYLE? IT'S FIVE FABULOUS PIECES! ($400 VALUE FOR LESS THAN $75)... AND EVERYTHING IS CURATED BY RACHEL ZOE, SO YOU KNOW IT'S AMAZING!
MAISON DU SUIOR FLORAL ROBE // (retail $150)
This robe is SO GORGEOUS and I've been wearing it as a kimono. The print is a perfect neutral colorway with black, tan, and cream. Maison du Suior designs and make their clothing in Los Angeles. I love learning about local designers.
The floral robe looks absolutely fabulous over a cami and jeans as you see with the other gals! I decided to dress it up with winter white for an elevated look - a cream turtleneck, white skirt, and camel boots. This is a wonderful example of #SleepToStreet wear and love how versatile it is on everyone! It's a great topper to elevate any outfit with a bit of boho glamour.
ETHICS SUPPLY CO. STARRY NIGHT CANDLE // (retail $38)
I LOVE a good candle, and this Starry Night one is so elegant with the dark glass and gold accent and smells DIVINE! It's inspired by Great Basin National Park which has one of America's last darkest skies. The notes are sandlewood, Bristlecone Pine, and musk. It is hand poured in California with natural coconut-apricot wax and had 55+ hour burn time. The jar is made in the US, and I am definitely repurposing it when we are done with the candle!
This would also be a fabulous gift during the holiday season. It fills any room with a wintery woodsy scent that creates a magic in your home!
QUICK TIP: After you are finished with your candle, put it in the freezer for a couple of hours. You'll be able to pop out the remaining wax and then enjoy the container for whatever purpose you need!
RACHEL ZOE x LORAC MINI PALETTE // (retail $15)
This is THE PALETTE for the holidays! You have a choice of "Nude Affair" (warm tones) or "Black Tie" (cool tones), and I am LOVING the sparkle and glam of Black Tie (pictured on the right above)! It's so beautiful with a mix of different metallics and shimmers - gold, silver, copper, blue, green, and white. I'm not even joking when I say that you will SHINE BRIGHT LIKE A DIAMOND because it actually contains diamonds!
I use the gold glitter on top of my lids to give it a POP which is perfect for all the upcoming holiday events and parties. Instead of using a brush, I take my ring finger and press the glitter on top of my lids for maximum impact. I can't wait to try the green and blue as liners. Plus, I use the white shadow on the inner corner of my eyes to give that "youthful" look! I can always use a dash of youth! LOL!
AF BY ANDREA FOHRMAN DIAMOND NECKLACE // (retail $200)
Speaking of diamonds... They are are a girl's best friend and this beautiful diamond necklace is so dainty and lovely for layering. They are REAL diamonds! It is perfect to stack with other pieces for a beautifully decorated décolletage! Since the length is 16″ with a 2′ extender, I was layer it with other necklaces over my sweater. It such a classic but on trend necklace!
Andre Fohrman is a Los Angeles based jewelry designer, and I am now OBSESSED with her pieces which are carried at some of my favorites like Net-a-Porter, Bergdorf Goodman, and Ylang 23. Her most recent collection is celestial and moon phase jewelry, and you can plug in a significant date for the meaning and moon phase charms associtated with it. It's so fun and beautiful!
ESTEE LAUDER REVITALIZING SUPREME CREAM // (retail $55)
I'm all about beauty products and love anything anti-aging. The advanced cream can be used in the morning/evening and contains Moringa Plant extract, known as the "miracle tree", which has exceptional nourishing qualities to optimize renewal. It's supposed to reduce the look of lines and wrinkles. In 4 weeks, 96% of women said their skin felt firmer.*
*Consumer testing on 107 women.
I haven't had a chance to fully test it but wanted to share all the good information with you.
You can also check out my Instagram Stories Unboxing Video to get a peek of everything!
By the way...
YOU CAN BUY MORE AND SAVE MORE IF YOU PURCHASE THE ANNUAL SUBSCRIPTION FOR ALL FOUR BOXES OF STYLE FOR $350 (SAVING $50).
Box of Style Members ALSO now have access to the Add-On Marketplace where you can purchase Rachel-approved items to your box at a members-only discount (usually ~ 60% off retail)!
As a VIP member, you would get an Anniversary Gift with your 4th Box... And US-based annual members get a free Amazon Echo Look (retail $100). That's a whole year of GLAM coming to your doorstep + a Style Assistant (over $1600 worth of luxury fashion and beauty picks)!
Just in case you aren't familiar with the Amazon Echo Look, it has a camera that can snap a picture or video of your current outfit with hands-free voice commands. You can organize your favorite looks, and you have "Style Check". It reviews photos of two different outfits and votes on which outfit looks better on you and why. I use mine ALL THE TIME for outfit of the day photos and love how easy it is to use! Wish I would have known about this years ago for my job as an influencer!
Alright GlamFam, let's chat about the outfits!
Cathy looks beautiful in a cream sweater, jeans, and black booties. It's so classic and perfect to wear under the kimono/robe. Heather is so chic in all black - a cami, dark jeans, and knee high boots. I am pairing the robe with a winter white top/skirt and tan boots for a neutral palette. I love how boho chic Natalie is in a black sweater, jeans, OTK boots, and a hat!
What's your favorite piece in the box? Mine is definitely the robe or maybe the eye palette! LOL!
FOR MY GLAMFAM, USE CODE CHIC25 FOR $25 OFF THE WINTER BOX OF STYLE.
Y'all, that's $400 worth of style finds for less than $75!!!
Happy Friday Y'all!! It's been another fun filled with week the kids and my own schedule! In addition to our usual Jiu Jitsu and Occupational Therapy appointments, Little M had a "Story Book" Parade at his school on Monday. Basically, the Halloween parade was rescheduled because of the crazy cold weather. Monday was magical that morning because the weather was in full cooperation! We've got kiddo birthday parties this weekend too!
I have been WAITING for the Giambatista Valli x H&M collaboration to drop and was ECSTATIC to be invited to an unveling party in Dallas!! And I was so HONORED to speak at an Empower Texas Panel for PAIRR at Neiman Marcus Fort Worth on Women Empowerment. Blogging has been such a fun thing, and I'm so appreciative of these opportunities that I would never dream about or get to experience in my "regular world".
♥︎ ♥︎ STAY GLAM, DO GOOD ♥︎ ♥︎
Thank you so much for stopping by and supporting SOS! I truly appreciate it!
JOIN THE #SAMFAM // SIGN UP FOR THE NEWSLETTER BY CLICKING HERE.
CHECK OUT MY INSTAGRAM SHOP HERE TO SHOP ALL OF MY INSTAGRAM LOOKS!