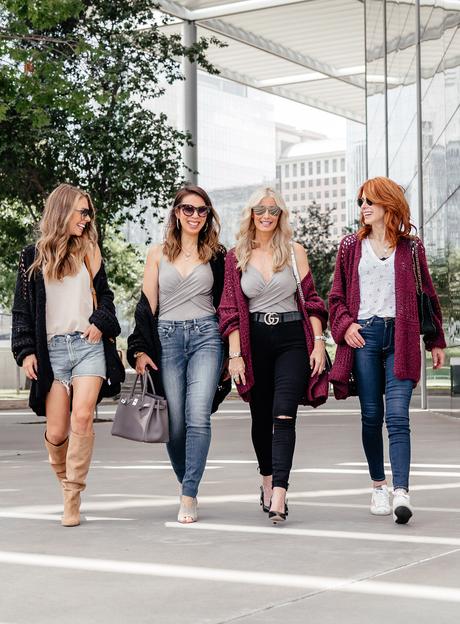 It's that time again... CHIC AT EVERY AGE . This week, we're styling this oversized cozy cardigan from the Nordstrom Anniversary Sale! Read on to see what else I got from the sale!
For those of you that have just tuned in, this fab collab is exactly how it sounds... a chic chick in her 20s, 30s, 40s, and 50s shows you how to style a piece in their own way. I'm working with some of my FAVORITE gals in Dallas!!
The 20-something // Natalie of The Fashion Hour
The 30-something // ME!
The 40-something // Heather of
The 50-something // Cathy of The Middle Page
Photography // Vanessa of Vanessa Christina Photography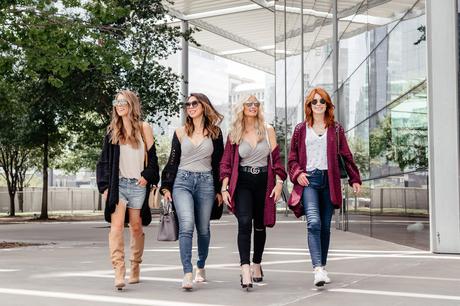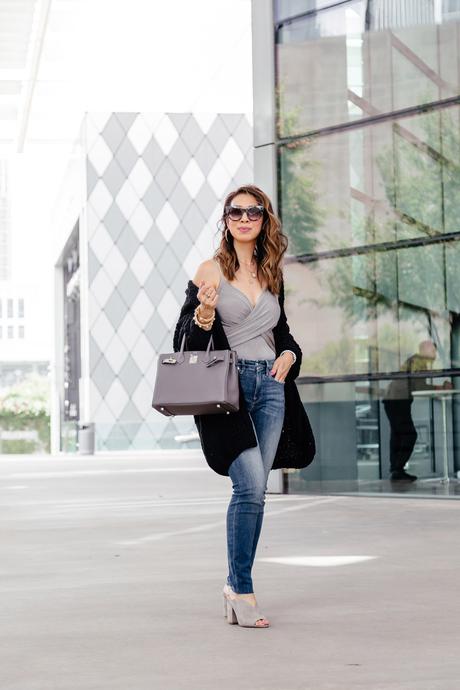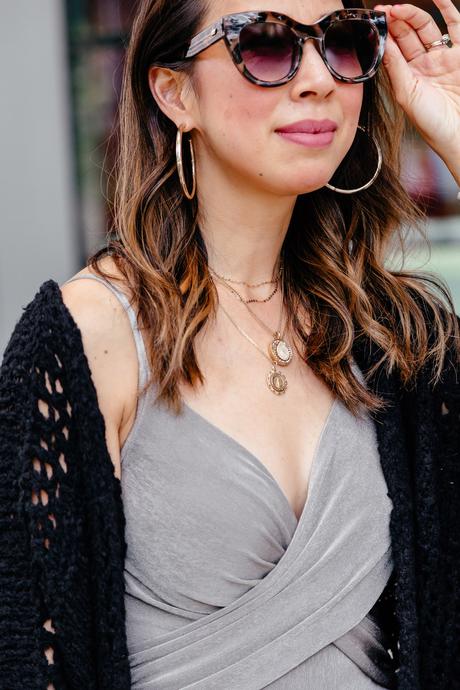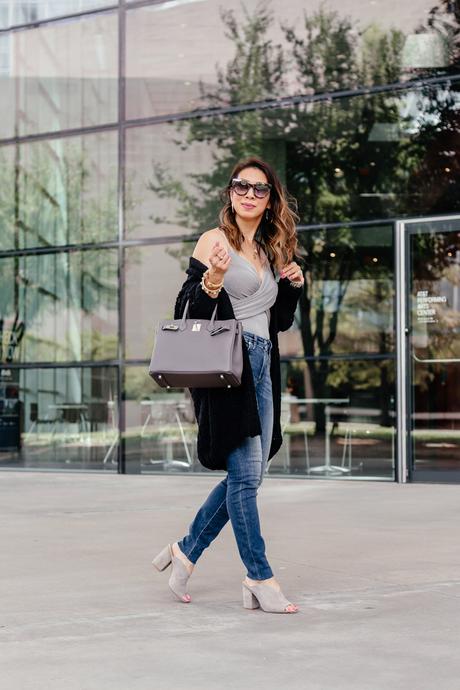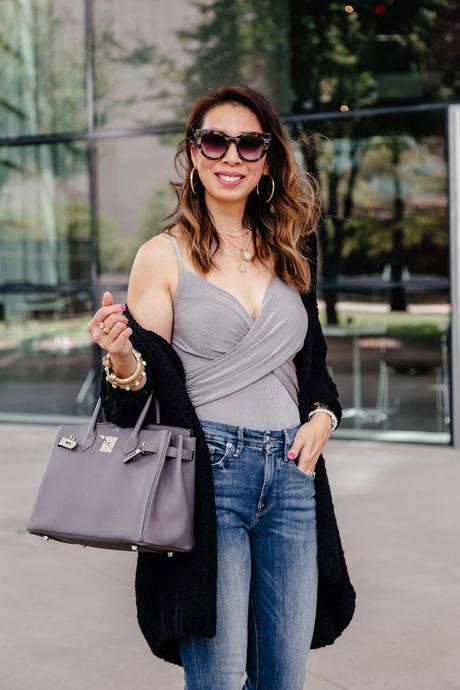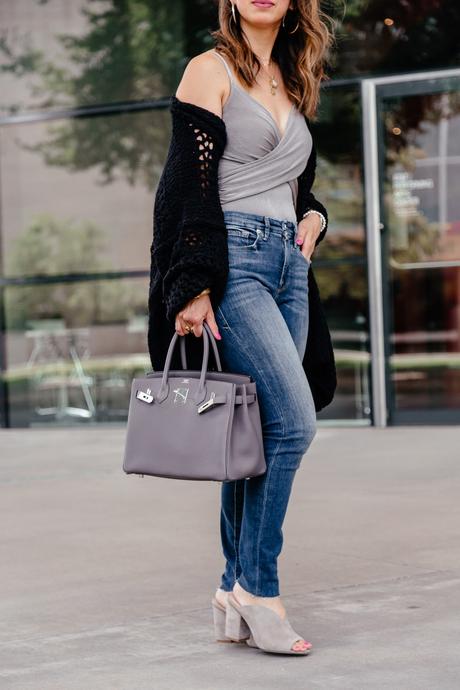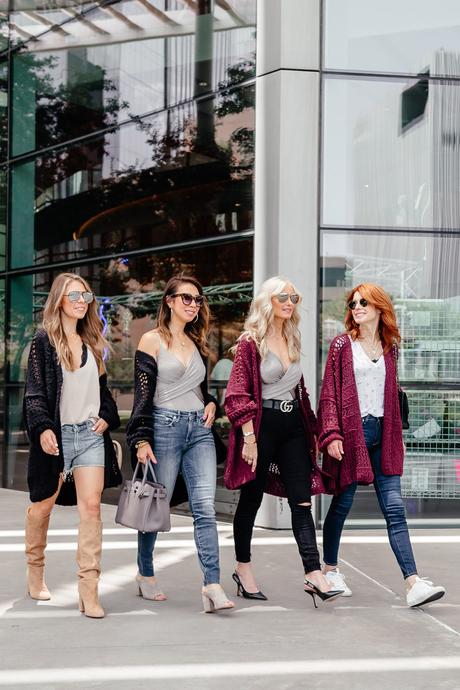 I know what you're thinking! Why are we wearing sweaters in 100-degree weather... because we're insane! LOL! Well, actually we wanted to show y'all this
cute and cozy cardigan
from the Nordstrom Anniversary Sale, so we braved the heat like it was cold outside! I know - C R A Z Y !!!
Did y'all remember that I discovered Good American jeans during the last Nordstrom Anniversary Sale? It turned out to be one of my FAVORITE pair of jeans. I guess Khloe Kardashian DOES really know something about jeans. They suck you in and don't stretch out EVER! I can be all over the place chasing the kids and no butt crack (since they are high waisted) and they stay in shape after every wear!
During my dressing room diaries this year, I tried the dark blue wash pair of Good Americans and passed because the sizes were WAY off and I wasn't impressed with the denim material! I'm so glad that I spotted this lighter wash during another Nordstrom run! They fit wonderfully like my previous pair. Be sure to size down! I'm wearing size 0/25 (and normally wear size 26). They have a raw hem, and I plan on cutting them about one inch shorter. Here is that blog post from ABLE (one of my fave ethical brands) that teaches you how to cut your own raw hem.
I also found this silver grey bodysuit for $36 during my second Nordstrom run! It's so cute and VERY slimming because of the criss-cross in front. Plus, I don't mind that it makes me look a little more well endowed! ;) It must be the 90s girl in me that LOVES a good bodysuit! LOL! These have the snap on the bottom and have adjustable shoulder straps. I always size up in bodysuits since I have a long torso (wearing size S).
Oh yeah, should we talk about the oversized cardigan?! It's super cozy and has a large knit (aka big holes) so keep that in mind for winter. It would still be very warm with a sweater underneath. I love the dropped shoulders and balloon sleeves. It comes in three colors and is less than $100. Definitely SIZE DOWN on this sweater. Topshop also has a similar sweater for $49.90.
Those grey mules are so cute with the "sweetheart" cut out in front. I decided to try them because Natalie got an amazing pair of BP mules last year at the sale! They also run big so size down. I normally wear 8.5 and wearing a size 7.5 in these!
Now let's talk about the gals...
Cathy is looking like her true "Sporty Spice" self in a graphic tee, jeans, and sneakers. We always joke about our Spice Girl names and that is hers! Heather and I are almost twins in our body suits and Good American jeans. (Wait until Y'all see our next post! LOL!) Natalie makes wearing short and tall boots look so cool with a cardigan. Oh to be young! LOL!
Are you a cozy cardigan type of gal? How do you wear yours?
Happy Friday Y'all!! So glad it's the weekend! Mr. S is getting a touch up on his Lasik surgery today. I've been packing because I'm flying out to New York for the CABI Fall Collection Launch tomorrow morning! Be sure to follow along on Instagram Stories for what I'm up to in the Big Apple! What are you up to this weekend?!
Okay Sale Loving Friends!! Today marks the opening of the Nordstrom Anniversary Sale to the public! Happy Shopping!
You may want to check out these past posts for more about the sale!
Dressing Room Diaries 2018 // Nordstrom Anniversary Sale
Nordstrom Anniversary Sale 2018 Catalog Picks
Dressing Room Diaries // 2017 Nordstrom Anniversary Sale
Best of Nordstrom Anniversary Sale 2017 (Top 5 by Category)
Dressing Room Diaries // 2016 Nordstrom Anniversary Sale
Best of Nordstrom Anniversary Sale 2016

Thank you so much for stopping by and supporting SOS! I truly appreciate it!
JOIN THE #SAMFAM // SIGN UP FOR THE NEWSLETTER BY CLICKING HERE.
CHECK OUT MY INSTAGRAM SHOP HERE TO SHOP ALL OF MY INSTAGRAM LOOKS!