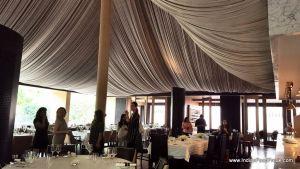 At Chi Ni fine dining becomes casual chic at lunch hour with the newly introduced set lunch menu. This elegantChineserestaurant at Hotel DusitDevarana, NH8, New Delhi is perfect for a convivial ladies lunch date or a crisp business lunch or a cozy tete-a-tete, with the menu offering just about enough choices so that one may get on with the matter of enjoying food and company rather than grappling with a lengthy list.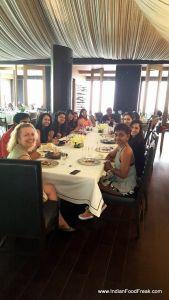 Paeans have been sung on the beautiful and artistic landscape on which the hotel rests. The restaurant carries on the legacy, located on a well tended to mound overlooking beautiful stained glass artwork. The high, gathered, tent-like silk canopy, the elegant décor and seating, the delicate and precious jade encrusted chopsticks (reserved for private dining room), the aesthetically pleasing earthen tableware, all went to lend an ambience of class and pedigree to the restaurant.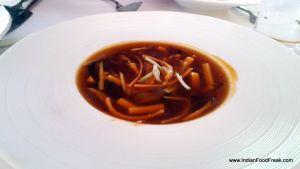 Which brings us to the artist behind the scene, Chef Ban with his rich and varied experience gathered from all over the world, learning his art under the tutelage of starred chefs. The set menu that he has curated attempts to surprise us withflavours and tastes of the orient that the local populace is not too familiar with. Thus we have Ash gourd soup seafood, supposedly created with corn flour I was told, but seemed poised ethereally between lightness and density with pieces of the vegetable and shrimp floating in. Enjoyable. The other options were the mundanely named but equally tasty Hot and Sour and Sweet Corn in chicken and vegetarian version.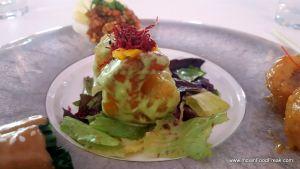 Appetisers came plated and my vote went for the Chilled Blanched Spinach and Wasabi Shrimp. The former managed to convert the ordinary spinach into a delicacy with its firm bite and sweet and nutty sesame sauce. The latter was crisp and draped in sharp wasabi with fine filaments of crisp, fried beetroot adorning it. Captivating.Crispy Spicy Mushroom was an able contender for the vegetarians' affections while the sole also-ran was the Lettuce Wraps chicken. By itself, the dish would have held its own but its lustregot dulled in such seductive company as the shrimp, spinach and mushroom dishes.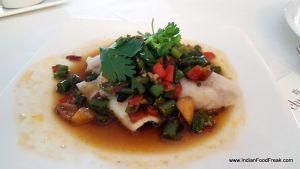 Wok Fried chicken, asparagus was a fail-safe dish, the flavours comforting and familiar. The crisp asparagus spears were delectable. Szechuan Steamed Indian Sea bass was brought to life with hot peppers of the region, a perfect foil for the soft and bland fish. Bean curd, one of the best that I had tasted without that raw taste of soy was the vegetarian counterpart served with button, shitake and enoki mushrooms. Delectable. There were vegetarian chicken and shrimp made of soy meat that tried to replicate the flavours and textures of real meat for the vegetarians.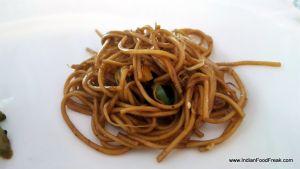 The above main dishes could be had with Hong Kong noodles or Ginger fried Rice. The noodles were authentic, soy flavoured and seared to perfection but it was the sharp ginger flavoured rice that lifted up the senses. Spectacular.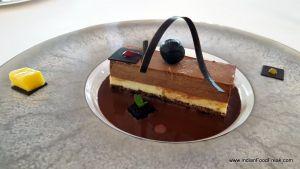 Splendid baked Yoghurt was a sweet curdled milk based dish topped with red berry coulis, diced fresh mangoes and berry sorbet. Pleasing. Senses of Chocolate challenged my senses with eight different textures- dark chocolate cake, whipped white chocolate,milk chocolate mousse, coriander infused (take that!) ganache, chocolate bead, chocolate wafer, fruit, chocolate emulsion. Remarkable.
Chi 'Ni has done well to make itself attractive for the quick and on-the-go clientele who yet hard pressed for time to enjoy a languid meal that fine dining usually demands,shall appreciate its splendid cuisine.
Ratings (Out of 5)
Food: 4.0 | Service: 4.0 | Ambience: 4.5 | Overall: 4.0
Category: Chinese
Address: CHI'NI, DusitDevrana, Samalkha, NH 8,New Delhi 110037. Tel: +91 11 33552211
Timings: Lunch- 12.30 – 03.00pm |Set menu lunch w/o alcohol: Rs. 2900/++ (Veg), Rs. 3200 /++ (Non-veg) | Alcohol: yes | Wheel Chair friendly: not sure
Disclaimer: This review was done on an invitation from the restaurant. Due judgement and care has been applied by the author to remain objective and unbiased in the review, but readers need to consider this review keeping this fact in mind.