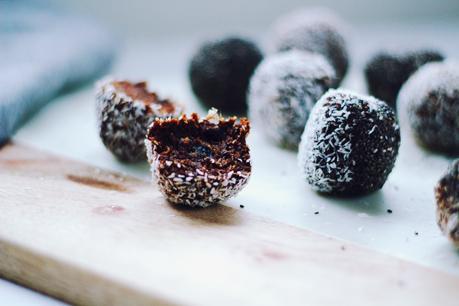 I'm always behind schedule lately. There's this and that plus that little thing that I needed to do, and then suddenly I remembered that I was about to go shopping for some free range eggs to make this pear gluten free cake that J. have been asking me for almost a month now.
Adulthood -land right?! But hey, there's always that moment at night, after putting Lia in bed, when J. and I reward ourselves with something sweet. Just a cup of warm peppermint tea and one of these chia + cacao power balls and everything becomes a happy place. So today I'm sharing with you these super raw cacao power sweet treats. We always enjoy having these in the fridge; they're very rich in taste, not to mention healthy, quick to make and delicious. And it also makes a lovely gift.
Raw chocolate/ cacao is full of antioxidants, vitamins, fiber, healthy fat and protein. So if you never have tried making these treats before and you're not surewhere to find cacao powder or any of the ingredients mention in the recipe , don't worry. Just head to your nearby health food store, bulk food store or look at your local supermarket in the healthy food section, and you'll find them. But if for any case you are unable to find cacao powder you can try my other recipe;Chocolate + Almond Truffles , using unsweetened cocoa powder. Enjoy your weekend!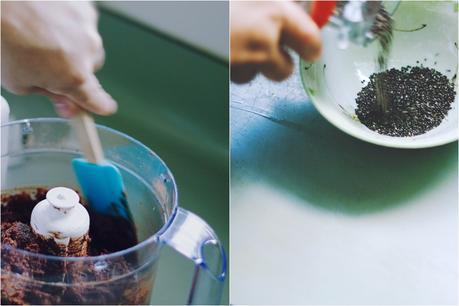 CHIA + CACAO POWER BALLS /// RAW/ VEGAN/ GLUTEN-FREE/
In this recipe I'm using regular dates, but you can always use Medjool Dates. Just keep in mind that medjool dates are much sweeter than regular dates, so you'll have to adjust the quantity of rice syrup. Follow the same process by soaking them in hot water and remove seeds.
In a food processor cacao powder, desiccated coconut, almond meal, dates, coconut oil, rice syrup and water. Then pulse everything together into a paste-- > just like in the picture above!
Make small-medium balls by rolling cacao paste with your hands. In a small dish add some chia seeds and some desiccated coconut in another. Roll some of them in chia seeds and some in coconut. Store in the fridge and enjoy your> healthy treat!