It has been long time since I am blogging. Yet my long pause has been resumed by a damn delicious recipe, (after trying you ll too accept with me) Prawn Sukka.  Rather than saying me as Non- vegetarian, I would exclaim myself as a lover of Sea Foods. Prawn is a perfect one of the sea food group.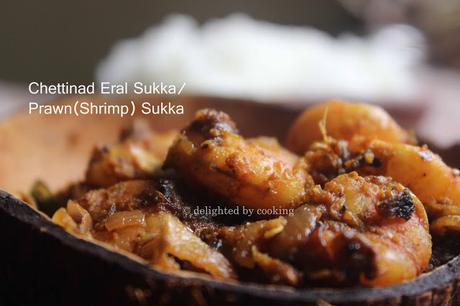 Kids resisting after food even go crazy with prawn/shrimp. Any of the recipe using prawn/ shrimp either briyani, shrimp fried rice, etc is always amazing.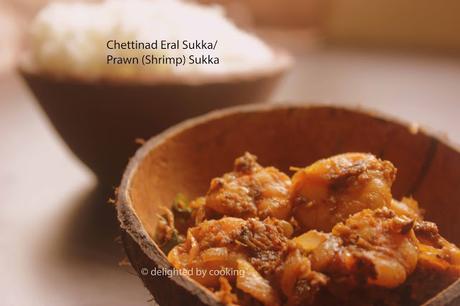 Prep Time
 10-15 mins (includes marinating time)
Cooking Time

 10-15 mins
Ingredients
To marinate for 10 minutes
1 cup Prawn (spine removed and cleaned)1-2 tsp Chili Powder1/2 tsp Coriander Powder
1/4 tsp Turmeric powder1 tbsp Tamarind SyrupAs per tasteSaltTo grind and Make paste
8-10 pods
 of Garlic
1 inch
 Ginger
1  Onion (Small sized)
1
 Green Chilly (optional)
2 tbsp
 Fennel Seeds
To Saute 
1-2 tbsp
 SesameOil/ Gingelly oil (preferable)
2 tsp
 Mustard seeds
8-10

 Small Onions (or sambar onions) chopped / 
1 number
 Onion
2 tbsp

 Curry leaves chopped
To Garnish
1 tbsp
 Coriander leaves chopped
Procedure
Marinate the prawn/shrimp along with the ingredients to marinate for 10 minutes.

Then make a course paste of the things to grind.

Now add some oil, once it is hot add the mustard seeds. After it splutters add chopped onion and curry leaves.

Then add the coarsely grind ed paste, saute till the raw smell goes off.

Now add the marinated prawns/ shrimps.

Allow it to cook for for 10-15 minutes. Check in between whether it has been cooked.

Turn off the flame.

Garnish with chopped coriander leaves.
                        The yummy prawn chettinad sukka is ready. Goes well with rice, chapattis, rotis, etc.