Now growing out your hair is a "basic human right".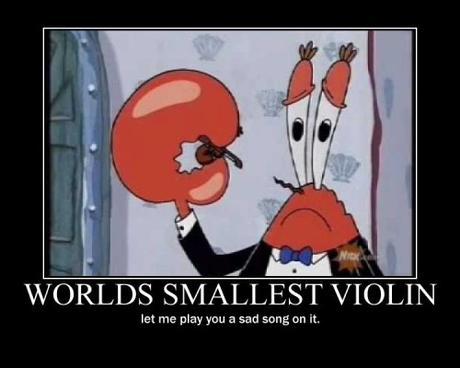 Daily Mail: Transgender whistleblower Chelsea Manning is suing the army because she 'feels like a freak' after being forced to have a two-inch prison haircut. The 27-year-old soldier, who was sentenced to 35 years in prison for leaking thousands of classified documents to WikiLeaks, broke down in tears after the U.S. Disciplinary Barracks at Fort Leavenworth ordered her to cut her hair.
Manning, who was born as a man named Bradley, claims she has identified as a woman since childhood and had been receiving access to hormone therapy, speech therapy and cosmetics while in prison. But the military ruled that the former U.S. Army intelligence analyst must continue to cut her hair to 'military standards.' 
In a blog post from prison, Manning wrote that when she heard the news she was devastated, and felt like giving up. 'After five years — and more — of fighting for survival, I had to fight even more. I was out of energy. I felt sick. I felt sad. I felt gross — like Frankenstein's monster wandering around the countryside avoiding angry mobs with torches and pitch forks. I cried, and cried, sniffled a little bit, and then cried some more.'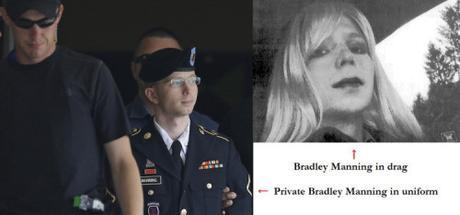 Manning said that after feeling 'devastated, humiliated, hurt, and rejected' she finally found the strength to fight again. She says that the decision is an affront to her human rights and undermines her treatment for gender dysphoria – someone who believes they were born the wrong sex. 
In recently filed court papers, she says being forced to cut her hair to just two inches makes her feel like 'a freak and a weirdo,' reported Yahoo News. 'Not because having short hair makes a person less of a woman,' the court papers continue, 'but because for her, it undermines specifically recommended treatment and sends the message to everyone that she is not a 'real' woman.'
The documents state that forcing her to keep her hair just 2 inches long was depriving her of being able to express herself in a 'feminine manner.' 
Manning, who is transgender, was recently spared solitary confinement when she was caught with the Vanity Fair issue with another famous transgender woman in the cover, Caitlyn Jenner.
The military had agreed to allow Manning access to hormone therapy, but had originally ruled in September that she must continue to cut her hair to 'military standards.'
'Even though the military agrees that allowing Chelsea to grow her hair is a critical part of her treatment plan, they continue to deny her basic human and constitutional rights,' ACLU attorney Chase Strangio said in a statement, according to the Huffington Post.
The inmate tweeted via a third party after the original decision: 'Military continues to make me cut my hair to male standards – I'm going to fit in court.'  In April, Strangio told Cosmopolitan magazine: 'Her fight continues because the government is needlessly prohibiting her from growing her hair, which will continue to cause her significant anxiety.' 
In August, Manning lost recreational rights when she was caught with Vanity Fair and an issue of Cosmopolitan that contained an interview with her. Manning told Cosmo that it is 'painful and awkward' to be forbidden from letting her hair grow. 'I am torn up,' she said. I get through each day okay, but at night, when I'm alone in my room, I finally burn out and crash.'
Manning also recently gave an interview to Paper magazine, in which she said she does not consider herself a 'radical.' 'I believe that we are just at the very beginning of a new epoch,' she told the magazine. 'I think that with ubiquitous and total access to highly connected information technology… we are slowly beginning to blur the lines between the concepts that have seemed so separate for generations, such as the relationships between gender, sexuality, art and work.'
The soldier was sentenced to 35 years in prison in August 2013 for leaking almost 750,000 sensitive documents related to the U.S. wars in Iraq and Afghanistan to WikiLeaks. The former intelligence analyst was found guilty of 20 crimes, including six violations of the Espionage Act, but was acquitted her of the most serious charge, aiding the enemy, an offense that could have meant life in prison without parole.
US officials describe Manning's document dump as the biggest leak of classified files in American history.  The leaked material included video of a U.S. helicopter attack that killed at least two civilians — a Reuters news photographer and his driver.
Manning will be eligible for parole after serving a third of her sentence. She is now working on an appeal which will be filed next year which will argue that she was a whistleblower who exposed U.S. government abuses. The appeal says she was never given the opportunity to present her motives during her court martial.
Days after her 2013 sentencing, Manning made the shock announcement through her attorney that she wanted to live as a woman. 'As I transition into this next phase of my life, I want everyone to know the real me. I am Chelsea Manning. I am a female,' Manning wrote in the statement entitled, 'The Next Stage of My Life'.
'Given the way that I feel, and have felt since childhood, I want to begin hormone therapy as soon as possible. I hope that you will support me in this transition.'
DCG