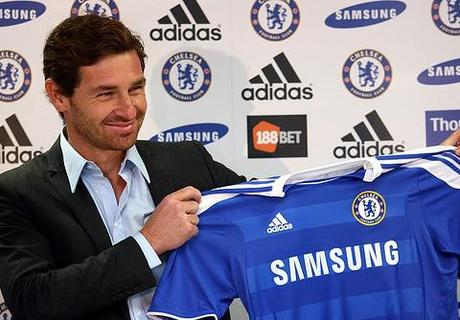 Andres Villas-Boas is unveiled as Chelsea manager. Photo credit: The Sport Review http://www.flickr.com/photos/67482226@N02/6144390163/sizes/m/in/photostream/

The summer arrival of Portuguese Villas-Boas as Chelsea manager sent the pulses racing with excitement in the blue corner of west London. Although just 33-years-old, Villas-Boas rocked up on the Kings Road having achieved extraordinary results in his first full season as Porto manager (four trophies including the Europa League). To say big things were expected of him is a massive understatement. In fact, many respected pundits tipped Villas-Boas' Chelsea to wrestle the league from Manchester United's grasp. But, just a few months into the Premier League season, Villas-Boas is under intense pressure after a string of very poor results. Could the man who Chelsea fans hoped would prove the next Jose Mourinho soon be shown the exit door? Or will the precocious gaffer be given more time to prove himself by notoriously demanding owner Abramovich?
Chelsea's 2-1 home defeat to big four rivals Liverpool on Sunday is the latest reverse for the Blues, who have now lost four games and trail Premiership trailblazers Manchester City by 12 points after 12 games. The pressure on Villas-Boas is ratcheted up a notch by the fact that one of those defeats came at the hands of fierce west London rivals Queens Park Rangers and because he was a costly addition; Abramovich paid Porto £13 million in compensation for allowing Villas-Boas to leave before the end of his contract.
"The owner did not pay €15m to get me out of Porto to pay another fortune to get me out of here", a characteristically bullish Villas-Boas said on Sunday night.
Days could well be numbered. At The Guardian's Sport Blog Richard Williams suggested that Villas-Boas' "extraordinary" Porto season does not mean he is necessarily the finished article as a manager: "winning the Europa Cup at the age of 33 is not the same as winning the European Cup at 41, as Mourinho did." Williams remained unconvinced by Villas-Boas' fighting talk: "For all Villas-Boas's talk of setting out to 'build something new at this club', there have been few signs of original thinking since his arrival." Williams suggested that a costly severance will not dissuade Abramovich from pulling the trigger if he feels that's the best decision: "This is a man who shocked the art world by spending £63m at auction on works by Francis Bacon and Lucian Freud three years ago, smashing records of all kinds in order to please his girlfriend." Looking at Abramovich's alternative managers, Williams flagged up the availability of Guus Hiddink, who is newly unemployed as a result of Turkey's inability to make it through last week's Euro 2012 play-offs. "That failure, and Russia's non-qualification for the 2010 World Cup, are unlikely to damage the Dutchman's standing in the eyes of Abramovich, who retains a warm memory of the way he stepped into the breach following the dismissal of Luiz Felipe Scolari in 2009, rebuilt the dressing-room morale and guided the team to victory in the FA Cup", reminded Williams.
For the first time in Abramovich's time his team have posted back-to-back league defeats. Chelsea have amassed fewer points after 12 league games than at any time since Claudio Ranieri was in charge.
Players are chiefly to blame. "Youth unemployment is already way too high without Villas-Boas joining the ranks", joked Paul Hayward at The Telegraph. "But the clever young coach hired by Abramovich to bring entertainment to a sometimes sullen Stamford Bridge looks more callow by the game, and more vulnerable." Hayward questioned Villas-Boas tactics (specifically his insistence on a high defensive line) but ultimately laid the blame at the door of Chelsea's players: "John Terry appears cumbersome and confused, David Luiz recoils from physical pressure … and John Obi Mikel offers yet further proof that he lacks the speed of body and thought to be another Claude Makelele … Simply, Cole, Terry and Luiz have been way below the standards needed."
Patience is a virtue. James Lawton argued that the "upwardly mobile young football man" needs to do more than "talk the talk" and must face up to the fact that he is nearing a "full blown crisis." Against Liverpool, Chelsea appeared to be a "team searching for a hard centre, a clear idea of what it was truly about", sniped Lawton. However, Lawton did suggest that Abramovich should display "a little patience, a little understanding that making a new team, with new priorities, is something that takes a little longer than a few months."