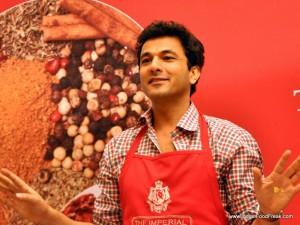 Behind every successful man there is a woman, so the rather trite saying goes. But Chef Vikas Khanna leads me to believe that there is more than one woman behind his. Like most successful chefs who owe their fame and culinary expertise to a significant woman in their formative years, Chef Vikas's interest in food and its creation was inspired and honed in the company of his grandmother's; his aunt's who introduced him to the multi-splendour cuisines of India in the sprawling cauldron called Bombay; and his mother who appears to be the Himalayan range under whose imposing shadows he was natured and nurtured.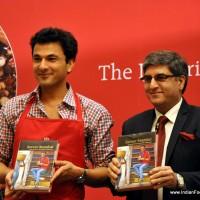 Thus it happened to be that on August 02, 2013, I came face to face with the first and only Michelin starred Indian Chef in a cook out organised by the Culinary Club of Hotel Imperial, with Westland Limited. The occasion also served to launch the charismatic and celebrated chef's latest tome "Savour Mumbai" a collection of street food made famous by Mumbai restaurants down both the by lanes and the memory lane of the city.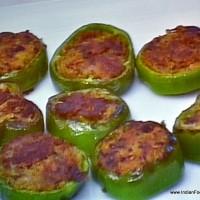 The dishes that the chef chose for the cook out showcased the diversity and nuanced simplicity of Indian cuisine- Kaju Kothambir Vada from Maharashtra, Khubani Ka Shahi Tukda from Lucknow, Guava and Cottage Cheese Salad from Allahabad, Kacche kele ki Ashraf from Hyderabad and Chicken Cafreal from Goa. The making of the dishes were ably demonstrated and a few served to the audience.

T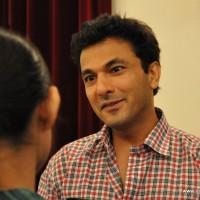 he cook out was interspersed with interesting anecdotes from his childhood and his growing up years in small town Amritsar, which served to give an emotional connect to the audience. As in why the Kaju (Cashew) is used whole and not broken, (being an expensive ingredient for a regular middle class Indian household, the host wants the Kaju to be visible to the guests that are being served the dish); or why the simple Ajwain (Carom seed) added to flour used to make Poories (Fried, puffed Indian bread) evokes subliminal memories of home, childhood and mother's cooking; the humble fruit chat is but a healthy salad with a quintessentially Indian dressing.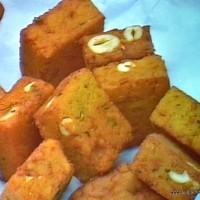 Personally, Chef Vikas Khanna's Kaju Kothambir Vada from Maharastra, which the audience got to taste, reminded me strangely, of the dessert called Special Mysore Pak of the famous Krishna Sweets of Chennai. Only, this was a savoury but the soft yet firm consistency, the fragrance of the steamed and fried gram flour with chunky bits of cashew all served to kindle my childhood memories of the popular dessert. Mission accomplished Chef!

C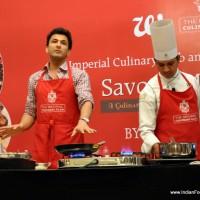 hef Vikas Khanna went on further to give some handy tips to the avid cooks. Like, fry onions, cool and freeze in ziplock and use when needed, thus saving considerable time and labor when hard pressed for time; using Eno or yogurt as a raising or fermenting agent; roasting nuts to add fragrance and texture instead of using them raw; to place curry leaves or other garnish, on the underside of the gram flour block before steaming so that it shall stick to its place and shall serve as a fine embellishment when the dish is cut, plated and finished.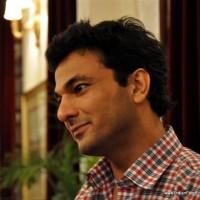 The end of the session saw the chef mingling with the audience, readily signing the copies of his latest cookbook and posing for innumerable pictures. For who wouldn't want a slice of vicarious fame, being seen with a celebrity, Michelin starred chef. But it is chef Vikas Khanna's simplicity, warmth, camaraderie and his ability to forge a connection to the heart that bears testimony to his success. For is it not said that a sure fire way to a person's heart is through his stomach? No one knows that better than Chef Vikas Khanna.

Disclosure: The writer was invited to the event by Hotel Imperial.

Chef Vikas Khanna's recipe for Kaju Kothambir Vada, from Maharashtra.

INGREDIENTS: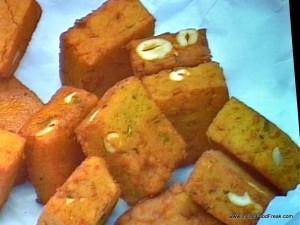 Gram flour (besan) 1 cup

Cashew nuts 30 nos.

Turmeric powder ½ tsp.

Red Chilli powder 1 tsp.

Green Chillies, finely chopped 2 nos.

Tamarind pulp 1 tpsp.

Salt to taste

Oil 4 tbsp.

Fresh Coriander 2 tpsp.

METHOD
In a mixing bowl, combine all the ingredients except oil.
Add 1 ½ cups of water and mix well to make a very thick batter.
Heat 4 tablespoons oil in a frying pan over low heat.
Add the prepared batter and cook, stirring continuously, for 15-18 minutes till the mixture comes together to make a thick doughy batter.
Remove from heat.
Grease a small tray and spread the mixture evenly 1 inch thick.
Set aside to cool and set.
Cut into 2 inch squares.
Heat the oil in a frying pan and shallow fry the squares till golden and crisp.
Remove and drain in absorbent paper.
Serve hot with Coriander or Mint chutney or ketchup.