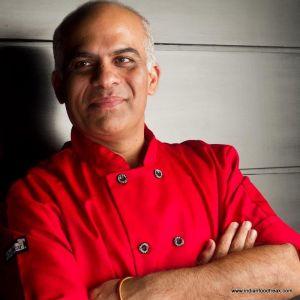 Many of you may not know him, but he is there….watching, working and slowly and steadily making his space in the culinary landscape of Mumbai. At last count he was the owner of 10 restaurants, some in Mumbai some in the Far East and was working on two more. A thorough gentleman, he reflects his passion for food in the dishes he serves at his restaurants.
Of the several restaurants in Mumbai, his is one of the few which my kids pull me to go to. The Spare Kitchen in Juhu speaks volumes of his culinary expertise. Here is a small tete-a tete with the unsung hero of the culinary world verbatim.
Birthday: 28th April 1968 | Sun Sign: Taurus| Place of Birth: Mumbai | Hometown: Mumbai
School/College: Bombay Scottish/ Jai Hind College/ IHM‌..|First Job: New Delhi Junction (San Francisco)..|
High Point of your Life:To be able to own a restaurant in my own city and internationally too | Low Point of your Life: ….Hmmm
SB) How many restaurants do you own the day of today?
10 restaurants and 2 in the pipe line.
SB) When and why did you decide to become a chef?
When I was about 8 years and in my aunts kitchen where I cooked up some gulab jamuns, and through the years I felt that when the stomach is satisfied, all other faculties work in tandem.
SB) If not a Chef, then what?
Pilot
SB)  Do you remember the first dish you cooked?
Gulab Jamuns
SB)  Who has been the biggest influence in your life for you to reach the stage where you are today?
My family, my loved one.
SB)  The best compliment you have received so far
That if Michelin Star ratings come to India or not, my guests at TSK have already given me that.
SB)  Your family
My restaurants and all my people who work with me.
SB)  With long working hours, especially on weekends and festivals, how do you keep your family happy?
Good question…….firstly they have access to the best restaurants and the best food, so most of my worries are taken care of, secondly I keep time to travel with them on non busy times, which kind of makes up (wishful thinking), but they are very supportive of what I do.
SB)  What is your favorite food?
Roti, Dal makhani, jeera aloo.
SB) Your first food memory.
My Nani making kokki, and my dadi making pickles in the drawing room of my home.
SB)  How do you keep abreast of latest in cooking techniques?
My passion for the kitchen, my travels, all keep me abreast of these techniques, a few I experiment on my own.
SB)  One kitchen tool/ingredient, you cannot live without?
Kitchen tool…..whisk
Ingredient………turmeric
SB)  What would you like your last meal in this world to be?
A fully loaded meat pizza, with full fat four cheese (one has to be a Stilton)
SB)  What is that one dish of your mom/grandmom which you wish you could go back in time and learn.
A bhuna kheema n mutter that my grandmother made, uff while writing this I'm just salivating thinking about it…….miss it so much.
SB)  Which is your favorite food holiday destination?
San Francisco
SB)  What keeps you on your toes?
My love for this industry, and to see people coming back to my restaurants.
SB)  One tip that you would like to give to budding chefs?
Follow your heart, don't cook for money, cook from the soul, cook to feed, n see the difference it makes.
SB)  The last line of your autobiography would be‌
Keep your feet on the ground n keep reaching for the stars.
SB) Who, would you say is your idol in the kitchen?
Bobby Flay
SB) Whats next?
Dubai.
 The following is the list of the restaurants that Chef Talwar owns, but my favorite of all has been The Spare Kitchen in Juhu so far:-
1. The Spare Kitchen Modern Indian n global cuisine, winner of most innovative restaurant n winner of best modern Indian.
2.Wok this way QSR format, outlet in Versova n Bandra, doing Pan Asian cuisine.
3.Curry Leaf Multi cuisine restaurant in Vile Parle.
4. Cafe Cubano Casual bistro in Vile Parle.
5.O:h Cha Authentic Thai cuisine stand alone restaurant, winner of best Thai cuisine.
6.The Playlist Pizzeria QSR format wood fired baked pizza restaurant.
7.The Bakers Cafe Make it, bake it n take is the concept of this cafe located in Juhu.
8.Whispering Woods Resort Located in lonavla.
9.Boomerang Bistro (Malaysia) A fun place for food n drinks located in Kuala Lumpur
10.The Rolling Pin (Malaysia) Classical Indian and oriental cuisine, located in Kuala Lumpur.
11. The Spare Kitchen 2….opening by end of this year in Worli.
12. Café Cubano 2 .. Opening in kemps corner by end of this year.
Gulab Jamun Cheese Cake – A Recipe by the chef specially for Indian Food Freak
35 grams Mascarpone cheese
5 grams Icing Sugar
35 grams whipped cream
2 grams gelatine
1 no Gulab Jamun
0.5 ml vanilla essence
2 no Marie biscuit
5 grams Unsalted Butter
Method: – Crush Marie biscuit, Add butter to it and make a crust
Line the mini mold with the biscuit mixture.
Mix cream and sugar with a hand blender
Whip cream till it forms peak
Soak gelatine in water
Fold the whipped cream in cream cheese
Put a Gulab jamun in the base of the lined mould
Add the gelatine to the cream cheese & Cream mixture
Pour the mixture in the mould
Set the cheese cake in refrigerator
Serve cold