So I claimed that the Holy spirit inspired me to cook this delicious bowl of Efo riro ( Nigerian vegetable soup)  What actually happened was that; this morning as I was was doing my blog rounds  I saw this amazing bowl of soup on 9jafoodie.com and decided to make version of it using turkey, fish and chicken gizzard. So here is the recipe...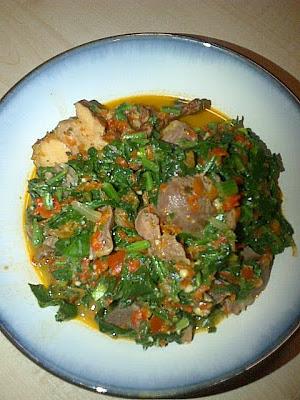 4 bell peppers
3 scotch bonnet (Ata Rodo; I called it Ata Rondo for a long time LOL)
1 medium size onion
Fresh Spinach
Ede ( crayfish)
Chicken gizzard
Smoked Turkey breast
Fish ( I used fresh fish)
Vegetable oil
Chicken stock
Cooking cubes ( I used knorr)
Stove and Pot (LOL)
 Ok, so I'm not a professional at this, I'll just explain how I did it.
Blend the peppers and onion. Fry mixture with the crayfish in vegetable oil till almost dry, add in the previously cooked turkey breast, Gizzard and fish into the mix, cooking cubes and salt to taste, then add in a cup of meat stock this time, derived from the turkey.
Leave to simmer for 20 minutes ish, then add in the fresh or frozen spinach into the broth, mix properly and leave to simmer or another 3 minutes then viola! Your Efo Riro is served.
There are other variants of the dish but this is what I cooked and it was so tasty I  made it for Rice hence the extra sauce... Enjoy...
I am not afraid to embrace the  feminine side of me... in fact I'm loving it!