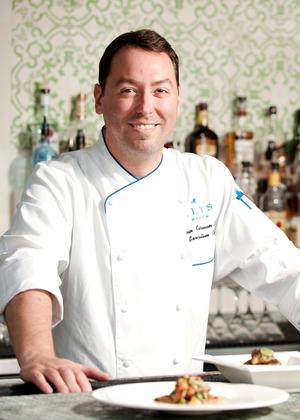 As the landscape of Alys Beach changes each season, so does the life of Chef Kevin Korman, who recently married, became and new father, and has been named the Executive Chef of Alys Beach, Florida, overseeing not only Caliza Restaurant, but the entire food and beverage program, in one of the most luxurious beach communities on 30A.
Korman's title includes menu development, recipe creation, and presentation execution for all of the town's culinary outlets, including catering & events, the grab-and-go program at Fonville Press and Piper's Food Truck. Chef Korman has changed the menu for the spring at Caliza, with true farm to table menu presentations. He works closely with purveyors like Renee Savary of Twin Oaks Farms out of Bonifay, making frequent visits to the farm, hand selecting his products, and looks forward to the Heritage pork that will soon grace his platings. On my visit, Korman made fresh Cavatelli with Twin Oaks Farm chicken, butternut squash, kale, pistachio, and house made ricotta, and it was as beautiful as it was delicious. Korman says, "I have always loved to cook. I grew up near the farmland of Carroll County, just outside of Baltimore, Maryland, watching my mother and grandmother cook. I learned to appreciate what farm-to-table food could be."
I was shooting photos for my cookbook, The New Northwest Florida Table, when Chef Korman next approached me with Ceviche Verde – local red snapper, apple, jalapeño, tomatillo, and lime. It was intensely refreshing, and held the perfect balance of sweet and acidity on my taste buds, as well as a permanent place in the Alys Beach chapter of my book due summer 2016. Korman's coconut parfait followed, with chocolate pudding, sour cream donut, and cashew crumble, that was innovative, refined, memorable, and certainly what patrons should order when ending such a masterful meal.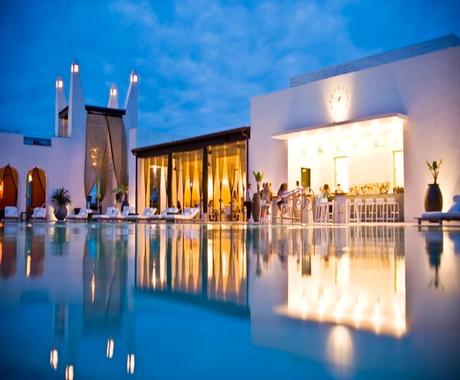 Also new to Alys Beach is Piper's Kitchen, a food truck concept, where Korman can playfully change the menu monthly by country origin, and I was on hand to sample some of the best Indian cuisine found in the region. I watched Korman diligently prepare and test many dishes, also coaching his kitchen team, before presenting me with a taste of Beef Vindaloo, where the layers of flavor were bursting with each bite. The moist Vegetable Samosas in their flaky pastry pockets were an addition that was heaven sent.
Korman exudes confidence and talent in the kitchen, and gained this experience early on by graduating from Baltimore International College in 2002, and by honing his culinary skills under the watchful eye of his mentor, Certified Master Chef Rudy Speckamp. During his four-year tenure with Rudy's 2900 restaurant in Finksburg, Maryland, he had the opportunity to work with twelve other certified master chefs, a rarity for any young chef in his position. After leaving Rudy's, Korman worked in Eatonton, Georgia, County Cavan, Ireland, and Baltimore, Maryland. His experience in these disparate places covered virtually every facet of the culinary industry from restaurants and catering, to private chef gigs, and culinary instruction. Korman is an American Culinary Federation Certified Executive Chef, and has won several culinary competitions. He joined the Caliza team in March 2011 as a sous chef, and was quickly promoted to chef de cuisine. Korman says, " My style of cooking is to make food approachable and familiar, yet new and exciting! When people go out to eat, whether to a restaurant, or as guests of a catered event, they should be treated to something they cannot produce at home."
The philosophy at Caliza Restaurant is that every meal is a journey. Menu items are inspired from around the world and patrons are encouraged to explore new places while returning to favorites. The best-kept secret is the special vegetarian menu, filled with adventurous, enticing options.

Korman showcases his tableside and bar menus in the spectacular setting overlooking the infinity pool, complemented by candles, soft lighting, and comfortable coastal breezes, making dining at Caliza Restaurant a truly memorable experience.
Come April 8-10, 2016 Chef Kevin Korman will be one of the top celebrity chefs presenting dishes at the Food Film Festival South Walton. Get all the information and tickets here, and read about the chefs here. 
A portion of Food Film Festival South Walton proceeds will benefit the Emerald Coast Theatre Company and Food For Thought Florida. The Local Palate, a nationally distributed magazine with a focus on the food culture of the South, is the event's main sponsor.
Open to the public for dinner Tuesday through Saturday 5:30 pm – 9:00 pm, reservations are recommended at Caliza restaurant by calling, (850) 213- 5700. For more information on Alys Beach and other dining options visit www.alysbeach.com.