We've got 15 ways to toast to love. Whether you're enjoying the day with your Valentine, Galentine, or family, we have 15 fabulous cocktails to help you and yours celebrate Valentine's Day. Are you celebrating love with that special someone? Drowning your sorrows with your single friends? Either is the perfect excuse to whip up one of these 15 fabulous cocktails to celebrate Valentine's Day. Ranging in shades of sumptuous scarlet to blush pink, each one makes adulting (with or without cupid) a little more delicious (and probably less lonely).....and will have you cheering to love even if you're dateless.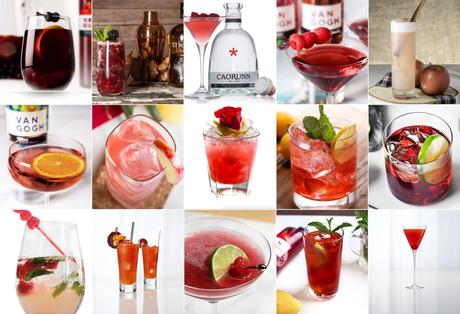 If you find yourself dateless this V-Day, why not stay in and enjoy them. Trust us, with these 15 cocktails to celebrate Valentine's Day, February 14th will not disappoint. Please enjoy these recipes....responsibly, of course.
BLEEDING HEART (serves 6- 8)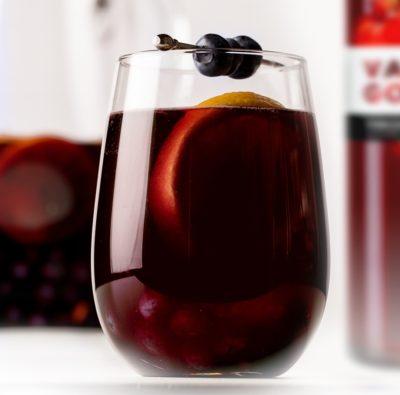 1 cup Van Gogh Pomegranate
1 750ml bottle LBD Cabernet Sauvignon
1 lemon sliced
I orange sliced
1 cup fresh blueberries
12 oz. club soda
Combine all ingredients but club soda in a large bowl or pitcher and chill. When ready to serve, add club soda, stir, and pour into individual glasses.
SERENADE (serves 6- 8)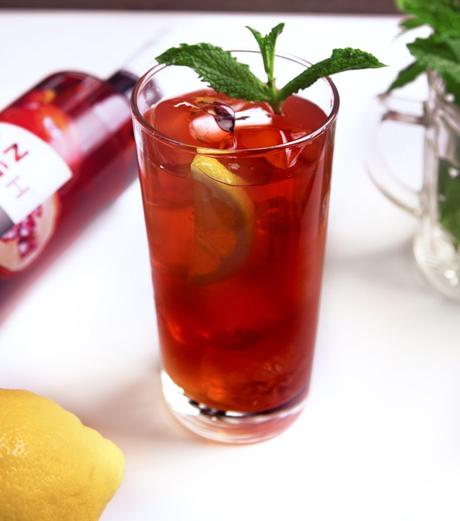 2 cups Van Gogh Pomegranate
3 cups lemonade
1/2 cup club soda (or top to taste)
Combine ingredients in a pitcher or punch dispenser with ice. Add lemon wheels for color. Serve over ice with a lemon wedge and mint.
LE PUNCH (serves 2)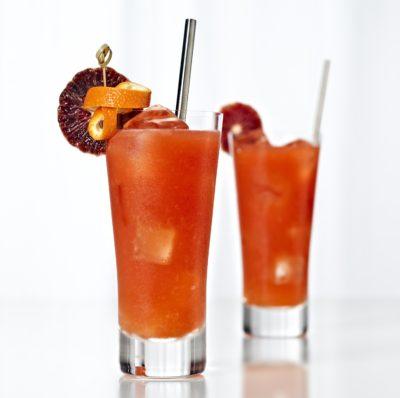 3 oz. Ron Abuelo Añejo Rum
3 oz. Guava Juice
3 oz. Orange Juice
3 oz. Pineapple Juice
1/2 oz. Grenadine
3 dashes Angostura Bitters
Stir all ingredients together in a mixing glass and pour into two tall glasses. Garnish with a peeled blood orange wheel and orange twist
CHOCOLATE COVERED RASPBERRY MARTINI (serves 2)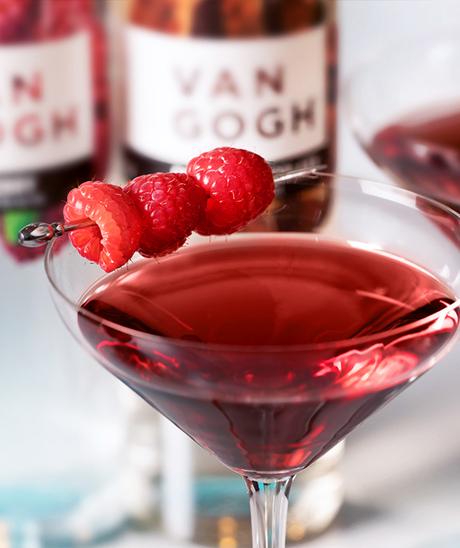 4 oz. Van Gogh Raspberry
2 oz. Van Gogh Dutch Chocolate
1 1/2 oz. Crème de cassis
Shake ingredients very well with ice. Strain into two chilled martini glasses. Garnish with raspberries on a pick.
FORBIDDEN FRUIT (serves 2)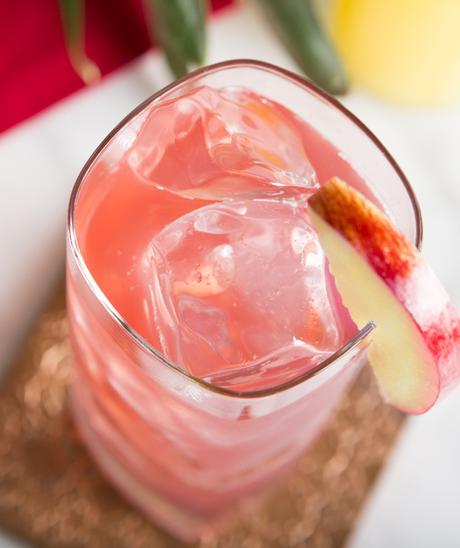 4 oz. Van Gogh Wild Appel Vodka
2 oz. cranberry juice
2 oz. pineapple juice
2 oz. apple juice
Add all ingredients to a mixing glass and stir well with ice. Strain over fresh ice into two tall glasses. Garnish with an apple slice.
BLUSH APPLE MARTINI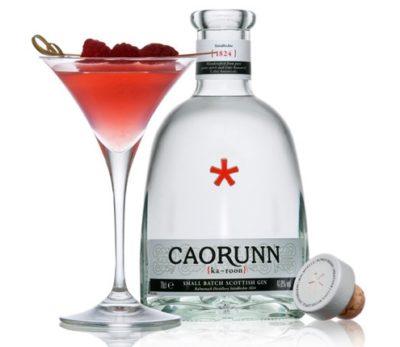 HONEY BE MINE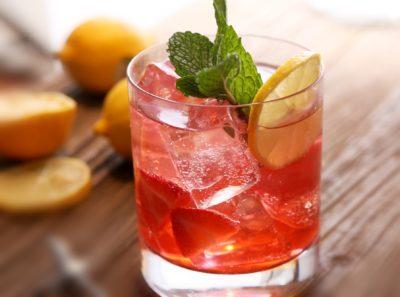 CAITHNESS COBBLER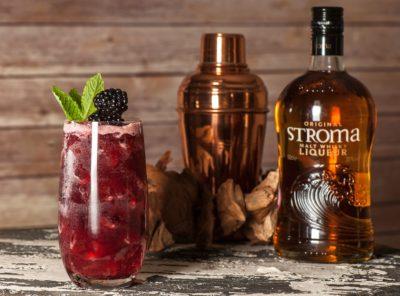 HONEY POMPOM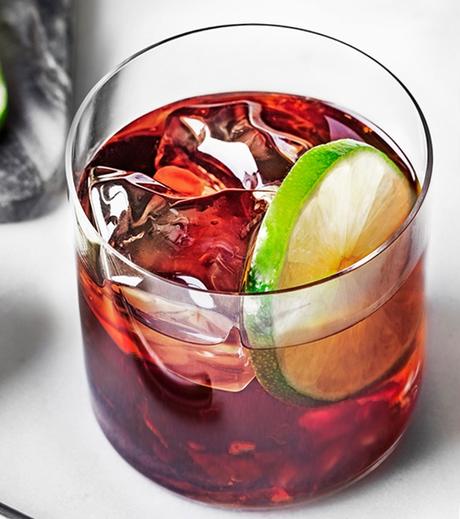 11/2 oz. Van Gogh Pomegranate Vodka
3/4 oz. pomegranate juice
1/2 oz. fresh lemon juice
1/4 oz. honey syrup (equal parts honey and warm water, dissolved)
Combine ingredients in a cocktail shaker, shake very well with ice and strain over ice into a rocks glass. Garnish with a lime wheel.
GOODNESS ROSE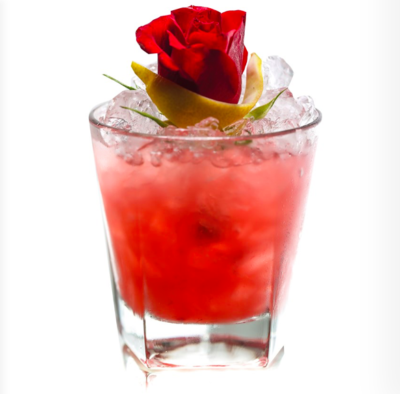 LOVIN' THE BLUES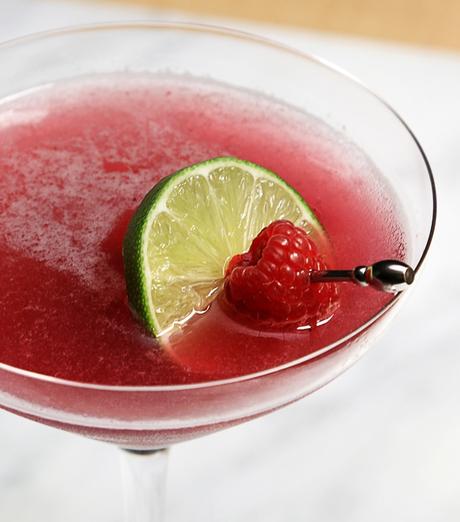 LBD MINT ROSÉ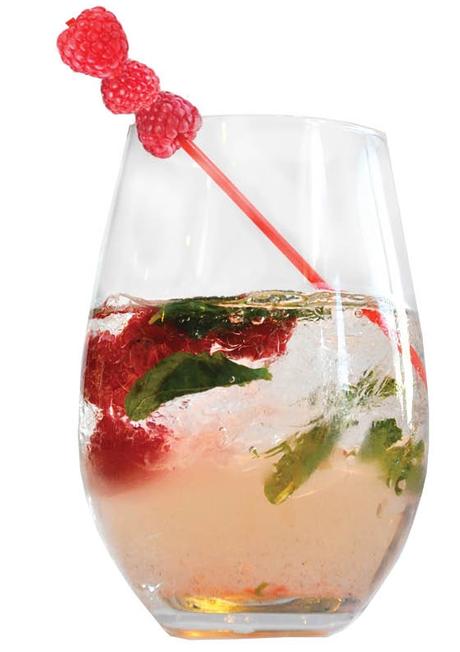 4 oz. of LBD Rosé
1/2 oz. of Elderflower Liqueur
4 fresh mint leaves
3/4 oz. simple syrup
In a shaker muddle mint with simple syrup. Add ice. Add raspberries to a stemless wine glass. Pour all ingredients over raspberries.
THE BOUDOIR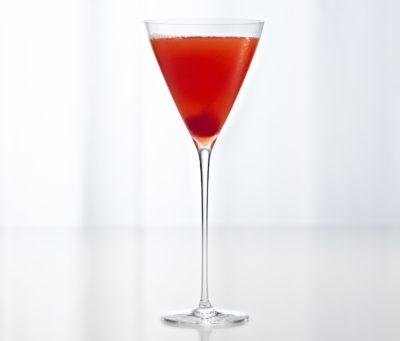 1 oz. Ron Abuelo 7 Años
3/4 oz. Van Gogh Cool Peach Vodka
1 oz. Sparkling Wine
1 tsp Maraschino Liqueur
1/2 oz. Pineapple Juice
1 tsp Homemade Grenadine
Pour all ingredients into a cocktail shaker mixed with ice and shake vigorously. Strain into chilled cocktail glass and garnish with a brandied cherry.
WEE PINK ROSE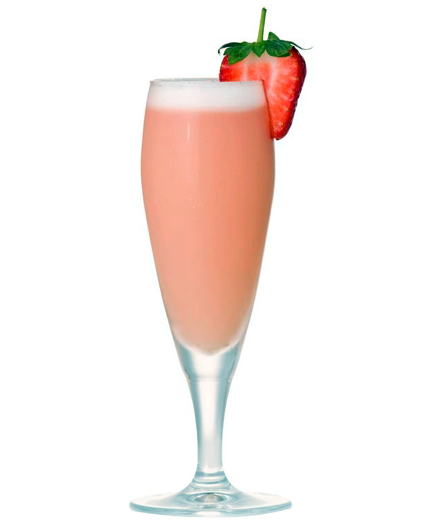 1 1/4oz. Caorunn Gin
1/2 oz. Lemon juice
1/4 oz. simple syrup
2 strawberries
3/4 oz. Sauvignon Blanc
1/2 oz. Rose Liqueur or Rose Syrup
1/2 egg white
Muddle strawberries well, add remaining ingredients and shake well with ice. Fine strain into a flute. Garnish with a slice of strawberry.
CRANACHAN COCKTAIL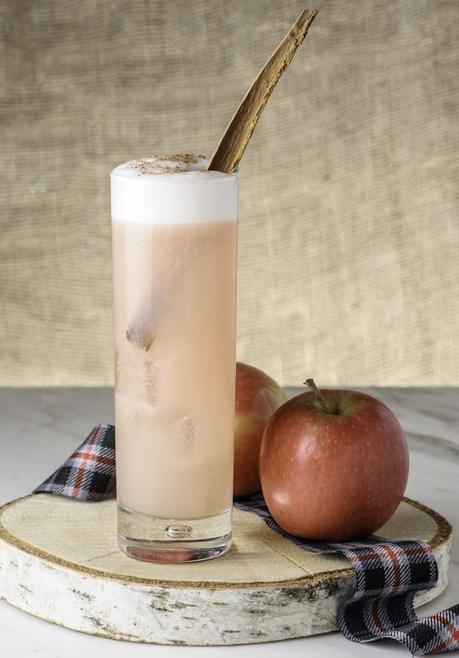 1 1/4 oz. Caorunn Gin
1/2 oz. Calvados
1/2 oz. Honey Syrup
1/2 oz. Freshly squeezed lemon juice
5 raspberries
3/4 oz. Pasteurized egg white
Soda water
Shake first six ingredients then double strain into a highball glass filled with ice and top with soda water. Garnish with a cinnamon stick and dust with cinnamon sugar.
What are your thoughts on these delicious 15 cocktails to celebrate Valentine's Day? Any favorite you want to try?