Don't Stop Living - Jonny Blair - a lifestyle of travel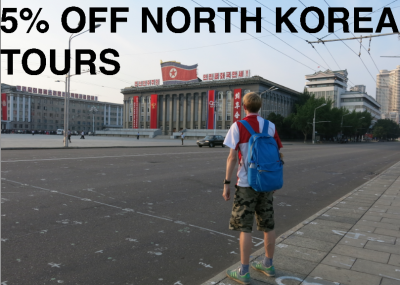 Don't Stop Living is now offering discounted North Korea tours!!
Following on from my recent trip to North Korea, I've been buzzing ever since! I'm delighted to announce that my readers, that's you guys can get an exclusive 5% off any North Korea tour if booked through Young Pioneer Tours and quoting the code "Don't Stop Living"!! (the best tour agency to run trips to North Korea by the way). If you follow my travel blog since it's inception in 2007, you'll know I've now visited almost 80 countries and North Korea is without doubt in my top 5 of those countries! It's just an amazing off the wall place to head out to!
Loving the view of Pyongyang, North Korea – you can now visit for cheaper with my 5% discount!
This is such a great time to visit North Korea too, and I have a load more stories to write about during my amazing time there. While in the country, you will be given a full guided tour by the North Korean guides, accompanied by a representative from Young Pioneer Tours. My guide was Rowan – a top lad who knows the ins and outs of this incredible country! Rowan even found time away from his busy working schedule to have some drinks and beers with us. As we took the train out of Pyongyang and headed back to China we opened the beers and toasted to a top trip!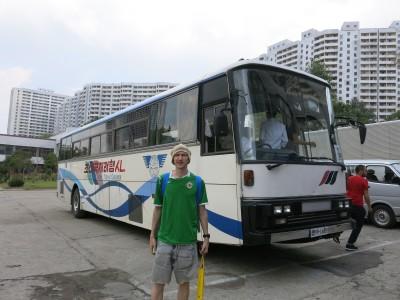 On tour in North Korea with Young Pioneer Tours – now offering discount to my readers!
To take advantage of my exclusive cheap North Korea tours offer (5% off all tours) , here's all you need to do:
1. Visit Young Pioneer Tours Website
2. Pick the tour you want to go on (they cover more places than North Korea by the way – Chernobyl in Ukraine is also on the list

)
3. E-mail them/phone them and arrange the booking
4. While booking tell them that you found out about the tour from Jonny Blair's Travel Blog "Don't Stop Living" and quote the code "Don't Stop Living". You'll get a whopping 5% off. That's $50 US Dollars off a $1000 US Dollars tour – not bad at all!
5. Go to North Korea and have the time of your life!!
Contact details for Young Pioneer Tours:
Their Skype name is YoungPioneerTours
You can email a specific department or guide within YPT:
And you can call their office, or one of their guides directly:
Office +86 029 862 123 59
Gareth +86 186 290 276 84
Richie +86 186 918 412 20
Shan +86 186 871 901 81
Troy +86 186 871 901 89
Chris +86 186 293 137 19
Please bear in mind that they're in based China, our office is open from 10.30am until 5:30pm Beijing Standard Time.
Or come and visit them in person!
And finally – trust me on this one – YPT are by far the best tour company for North Korea tours. You will quite simply have the time of your life!! Cheap tours to North Korea don't come round very often, so get on it!! Check out a few of my North Korea posts to help you make up your mind:
10 Night time Activities in Pyongyang
Watching the Mass Games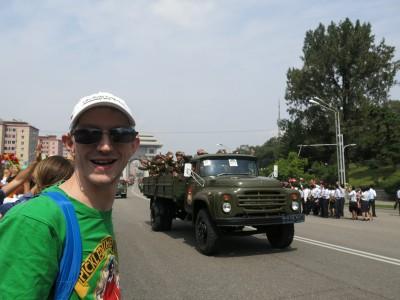 Get your North Korea tour booked with Young Pioneer Tours booked! This is me at an army parade in Pyongyang!
Original article: Cheap North Korea Tours!!: 5% Discount with Young Pioneer Tours!!
©2013 Don't Stop Living. All Rights Reserved.