Back in 2015, like lots of you, I picked up the book Fast Girl by Suzy Favor Hamilton. I didn't know about Suzy's running history much except that she was an Olympian, but I was intrigued by the scandal she puts forth in the book about her "secret" life as a high end Las Vegas Escort.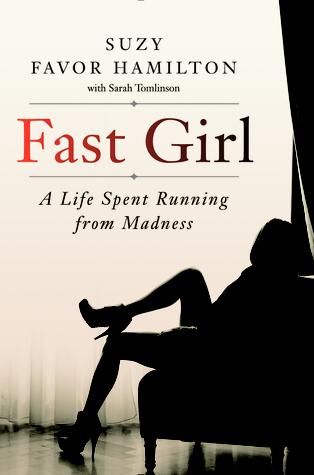 It's a book you can't put down, purely for the fact that here's a three time Olympian middle distance runner who has a five year old child with her husband Mark (by then they had been married for 13  years) and becomes a high class hooker (you can say "escort" but we all know what that really means). Her clientele were rich, famous and powerful men.
All the while, her husband knew what she was doing and felt powerless to stop her, although he remained in the marriage. Suzy's Vegas persona was Kelly Lundy, a beautiful and seductive woman who was hyper-sexualized, fueled by drugs and alcohol. Yet, she remained "Suzy" to her thousands of fans and sponsors (Clairol, Reebok and Pert Shampoo to name a few) and continued to make appearances at the Rock 'n Roll Marathons and other running events/venues. It's like a troubled Lifetime movie, only better.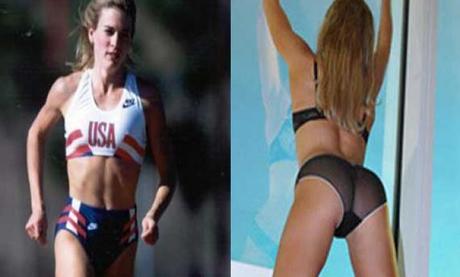 Finally, the Smoking Gun outed her big time. Kelly Lundy "died" and Suzy returned home in a deep depression and was eventually diagnosed with bipolar disorder, a condition that her brother struggled with that eventually led him to kill himself in 1999. Suzy had been diagnosed previously with depression and was on the medication Zoloft. She contends that the drug made her even more manic and for years she went improperly diagnosed leading to her spiral into the edgy and dangerous life in Vegas.
Fast Girl is a memoir that Suzy wrote detailing (and I mean DETAILING) all that went on during that year (2011) as she took a dive head first into a life of madness and mania.
Memoirs are my favorite genre to read (almost as much as I love made for TV movies), and Fast Girl caught my attention. When I finished reading it, however, I didn't come away liking Suzy all that much and my initial response was that she was incredibly selfish for what she had done to her family. Even with the bipolar diagnosis, I believed she still was aware of what she was doing and made the choices she did even so. I was baffled by what appeared to be outright narcissism.
Later this month, Suzy will be speaking at the Northern Colorado Functional Health and Wellness Summit, something she does at events all over the Untied States these days. Her mission is to bring awareness to the fact that so many people are mentally ill, but are too ashamed to talk about it and to ask for help. She is trying to lessen and perhaps even remove that stigma.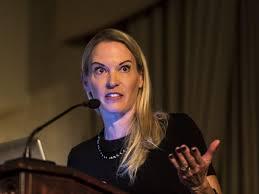 I had a chance to question Suzy at length yesterday.  As I interviewed her by phone, she sat on a beach in California, listening to someone playing the trumpet nearby. She commented on how the "land of fruit and nuts," the beach and the sunshine have healed her soul. She's also gotten wildly into yoga and has continued to heal and meet others who "get" her. After talking to Suzy, my presumptions and thoughts shifted a bit. Yours might too.
When your book came out in 2015 it soared to the top of the New York Times Bestseller List. What do you think made it so popular so quickly?
My story was so unique. After the story broke on 20/20 (see episode HERE), people were so interested.
What kind of criticism did you get for the choices you made? 
I had people calling me a whore and a slut constantly. I also had someone tell me that I should just kill myself like my brother did. But, I also have had hundreds of people reach out to me who could relate. You'd be amazed how many people could relate. People are living with so much shame. There is such a stigma around people using sex, drugs and alcohol. to manage the chaos in the their lives.
Why did Mark stay with you? It seems most men would have left...
Mark is a great man. We've had our ups and downs. We had one REALLY bad year out of 20 years and we won't give up our marriage because of that one bad year. I know he is my soul mate. Mark wasn't focused on the fact I had sex with so many men. Instead he learned about the illness (bipolar) and how to bet deal with it. He didn't want to desert me and he is really the hero of this story. We are real and not the Brady Bunch. This journey changed us.
How's your marriage now?
Again we have ups and downs. Mark knows he has to be patient when the bipolar acts up. He backs away and knows I need to take time for myself and be left alone. 
How did our daughter, Kylie, now 12, react when she learned the details? Does she get a hard time from her peers?
She knows everything about what happened in Vegas. We talk really openly about sex and other things. I want her to feel she can come to me. Her peers haven't really given her a hard time. But she tells me that if anyone ever said anything to her, she would tell them, "My mom is a great person and I love her so much. End of story."
In a recent blog post you talk about breaking up with shame. How did you leave shame behind and forgive yourself?
After Vegas, I just thought to myself, "You suck. You are a disgrace to the human form." I've been so fortunate to have the love of people in my life. Mark and Kylie were never ashamed of me. Mark was the one to hold me up and to be proud. You need to distance yourself from people who tell you that you are a disgrace. I had to do that with some people in my family. Now I'm among people who don't judge me. You need to confront the shame to move forward.
Is there anything you miss about the lifestyle you had while you were an escort?
Initially I missed that rush. I didn't miss the sex, the risky behaviors or being an escort. I liked having control over powerful people and that they would surrender to me. For my entire life I had been coached and had done what others said. I liked being the one in control. The more powerful someone was, the more it seemed they wanted to surrender. But now I get that kind of zen high from yoga. I recently had a moment of euphoria while running that felt like what it felt like in Vegas.
I've heard rumors Fast Girl will become a movie. Any truth to this? 
Yes. Just recently I've had over 20 producers approach me. I just want to make sure I am at the healthiest point possible before moving forward with the movie. My main priority is that whoever plays Mark portrays him as he deserves to be portrayed. As for me, whoever plays me just really needs to get to know me first.
What kind of therapy/help led to your diagnosis and to your "recovery". Are you stable now?
After Vegas, I went into therapy. It took awhile to find a good match with a therapist, but I did. I got some great advice. The therapist helped me understand that some people would never get it and that they were not capable because they never learned the skills. I had to forgive them. I was ill and the disease drew me to drugs, alcohol and sex. My therapist also told me, "I'm not going to tell you what to do" She never said you can't do certain things with your life. I had always been told what to do, so this message helped. She let me know that drugs and alcohol weren't good for the bipolar and I wanted to be healthy. I had to learn to make health choices for myself. I learned to recognize and eliminate my triggers and replace with with healthy coping skills like yoga and running. I also take the medication Lamictal now, and that works well for me.
What would your message be to someone struggling with mental illness right now who has no hope and nowhere to turn?

I would tell them to take a deep breath. I would let them know that I've been there. I want them to know that they are loved and there is hope. They have me that "gets" them if no one else does and I answer all of my emails. They need to find someone to support them. They need to reach out for help. If I can climb this ladder, they can too.
I'm curious, if you've read the book, what are your thoughts and impressions?


SUAR