Tucked away in a quiet corner of Uganda, among tea plantations and banana palms, is Kibale National Park. The park contains a large patch of rainforest and is home to our closest relatives, the Chimpanzees.
The first thing we noticed when we entered the park was a fluttering of butterflies – white, yellow, blue – some flitting about solo, others in groups. We soon learnt that caterpillars, which also appeared everywhere, are a favourite snack of the chimps.
We started the trek with a briefing and headed off into the forest led by our guide. The trek was over easy terrain, and most of the time we were on clear, well-marked paths, with the occasional planked bridge.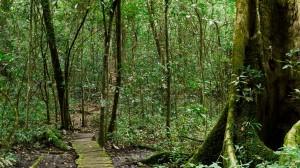 Our guide pointed out the large, root-exposed trees, which the chimps would use as their 'telephone' to communicate their location to each other, by drumming on the hollow roots.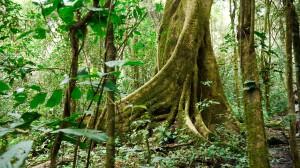 Along the way we saw muddy, swampy pools where apparently forest elephants would bathe. These elephants, which are sometimes known for their bad temper, were the reason our guide had a rifle, so she could fire a warning shot if needed.
After about 1.5 hours we knew we were getting close when we needed to veer off the track, and make our path through some of the spindly trees and vines. Other trekking groups had also located the chimp family, as we found them heads skyward. Their oohs and ahhs were drowned out by the very vocal, high-pitched chatter from the chimps – presumably signalling our arrival.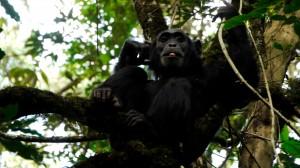 Chimp-gazing can be hard work when they are metres above you, as you strain your neck to see them through the foliage. However, the beauty of observing them up in the treetops is seeing them swing across the green and blue skyline as they make their way across the forest's canopy. The agility with which they can do this is remarkable. At times you think they are flinging themselves any old where, but then they nimbly catch a small branch, and land with a crash in the next tree.
It got very exciting when one of the chimps decided to descend to the ground near us, using vines a bit like a fireman's pole. At this point we moved back, just to give the chimp some space, and then he or she ambled away, in the same direction other chimps had started migrating.
After giving them a head start, we followed the chimp movement, keeping our distance. At first it felt like we were chasing them, but apparently the chimps cover a lot of ground, several kilometres in a day, and they are often on the go. And then, when they feel like resting, they rest.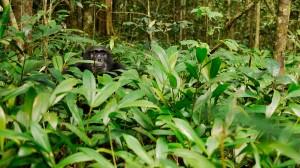 We were lucky to find one relaxed female chimp, having a sit-down in a grassy spot, near a bend in the path. This was a great opportunity to really observe. I had always thought the comments about chimps being so humanlike were a bit cliché, but when you see first-hand the gestures, the head movements and even their facial expressions, it's so familiar, you almost think you're being imitated.
And then, just as the others had done, she got up and moved on, perhaps realising that she was lagging behind her other family members, or because she had grown tired of all the attention.
We walked on for a small distance, spotting black, ground-hugging figures on the way, and the occasional set of eyes and arms sitting up high watching us. Then we found another chimp enjoying some sit-down time and a snack, sadly the last one we would see for this trek, as our hour was drawing to a close. She seemed happy to oblige us for our last 10 minutes, and sat in a nesting of grass, only slightly obscured from vision by a few big blades of grass. Here we got to watch her chew away contentedly on stalks, which resembled something like thin sugar cane. For her this was just a standard way to spend her afternoon, but for us it was watching the nature channel in real life.
Then just like a wildlife documentary finishing, our hour was up, and we had to move on. It took about an hour to trek back to the headquarters, and the return journey was filled with discussion about how much more amazing and interesting the chimps were than we had anticipated. We had been looking forward to seeing the chimps, but had naively seen them as a warm up to the mountain gorilla trekking we would be doing later in Rwanda. The trek itself was a good way to prepare for the more rugged gorilla trek, but these chimps aren't any pre-act, they are a totally amazing experience in their own right.
For anyone travelling through Uganda, it is definitely worth making the detour to see the chimps of Kibale National Park.
We would love to hear your comments on this travel blog