TAKEAWAY: Another Project Pinstripe launch has taken place, this time the Charlotte Business Journal.  Unification and continuity for the American City Business Journals brand and storytelling continue.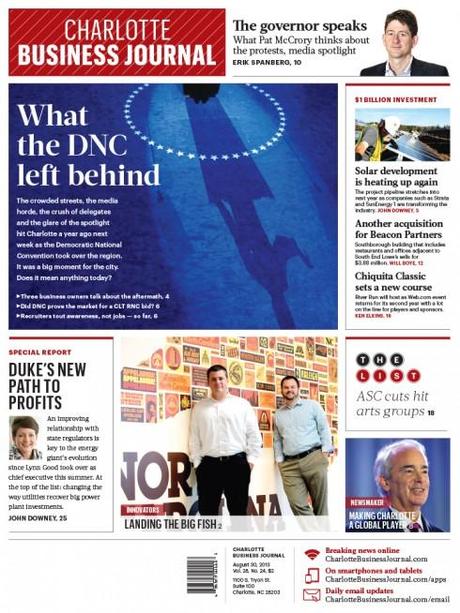 New front page of the Charlotte Business Journal. In the view of Emory Thomas, chief content officer for ACBJ, "This page one really works on a lot of levels, all conveying what business journals are about today".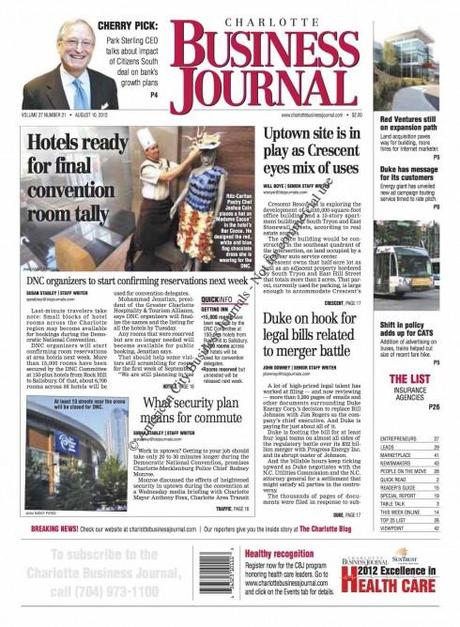 Old front page of the Charlotte Business Journal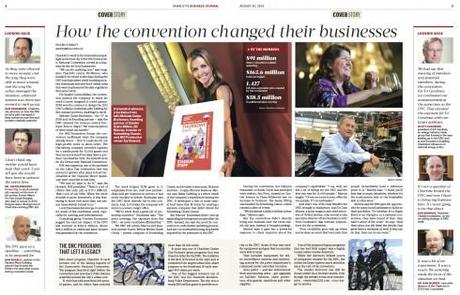 Cover story inside across two pages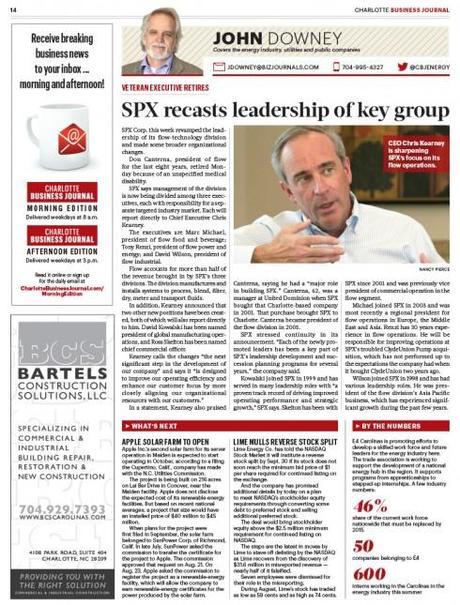 Reporter pages: personalizing storytelling, providing material for blogs and other forms of digital reporting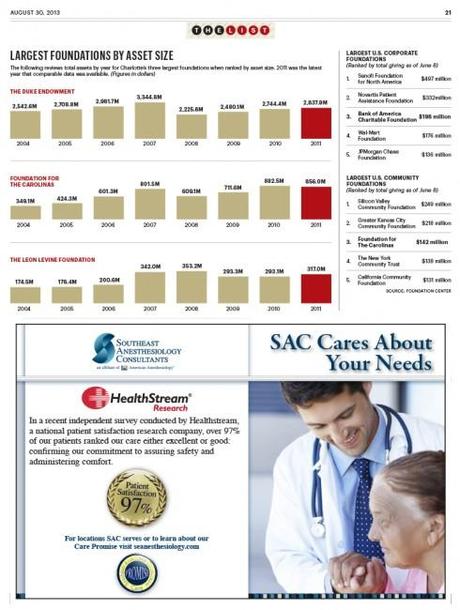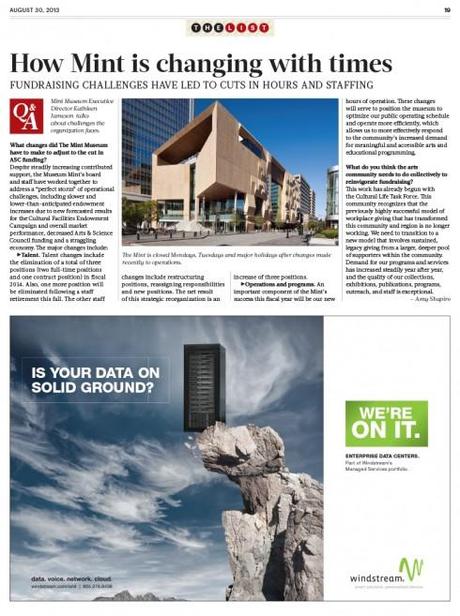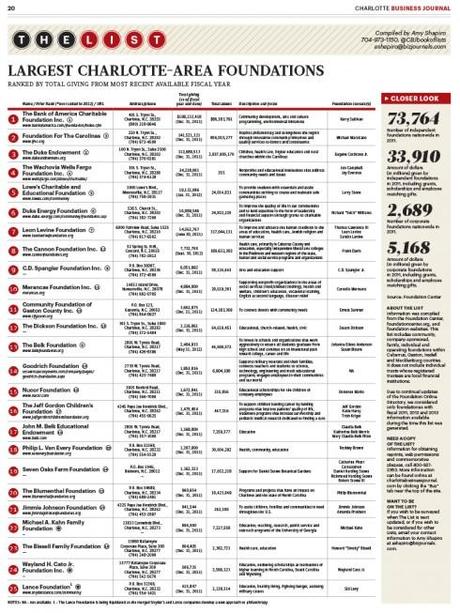 For all of the ACBJ business journals, The List is one of the most popular features, one that gives uniqueness to the brand
It's the Charlotte Business Journal's turn as it becomes the 7th of the 40 weeklies part of American City Business Journals to launch a common style of storytelling, story hierarchy and visual presentation.
We at Garcia Media have worked closely with the ACBJ team, including Emory Thomas, chief content officer for American City Business Journals and creative director Jon Wile.  Over the course of a year, and a half-dozen workshops, we have created a formula that is flexible enough to allow for the specific and unique features of each of the titles, while establishing a foundation that ensures a similar style for telling stories and for adapting to a digital first philosophy in the presentation of content.
However, as one would expect, each of the weeklies approaches Project Pinstripe differently.  Each newsroom and its inhabitants must be open to big change. This week, we look at how the transition to becoming a digital-first media operation has played out for the Charlotte Business Journal.
We asked Jon Wile about the main changes in this rethink of the Charlotte Business Journal?
On the front page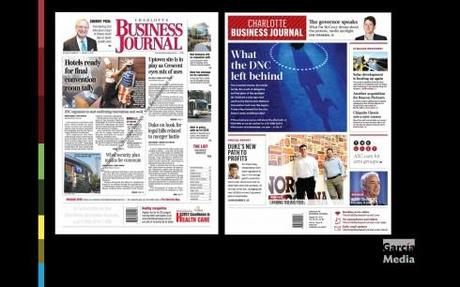 Before and after look for the Charlotte Business Journal's front page
This front page really embraces the 'Flipboard' idea that we initially envisioned. The lead image is fantastic, and it's just large enough to grab the readers eye but not played so big that it monopolizes the page. The page has visual balance and many different textures (i.e. storytelling forms), with headlines that have snap and intrigue. I cannot emphasize how important headlines are to our content.
Chief content officer Emory Thomas seems to agree:
The editors have gracefully fit an awful lot of story-telling into this page one. Pictures of varying sizes work in concert with enticing, explanatory headlining to draw the reader in. Exhibit A is the centerpiece. The headline intrigues, then the extended deck evokes community memories of the festival-like DNC one year ago and asks what it means today. Finally, three bullet-headlines tout themed stories inside, each of which have broad relevance to readers.
On the Charlotte paper
The editor, Robert Morris, understands the importance of visuals and design, which clearly shows in the launch issue. He jokes with me that he's the Senior Graphic Designer, but it really helps when an editor thinks visually about stories. The story-telling is so much richer when visuals happen at the beginning of the process.
Overall
"I'm really happy with how the launches are progressing. We need to strengthen the maintenance and sustainability pieces just a bit, but readers continue to react positively to the changes we have made to our weekly edition."

Front pages of the ACBJ titles that have already adopted Project Pinstripe: brand continuity is the key for all 40 titles as implementation schedule kicks in now through the rest of the year and into 2014.
Next up
One weekly at a time is the goal of the ACBJ Project Pinstripe
Now ready for the 8th and 9th titles to go Pinstripe: Minneapolis/St. Paul Business Journal and Nashville Business Journal.
Previously about American City Business Journals:
Portland Business Journal: It's a new look, new digital focus as part of Project Pinstripe
http://garciamedia.com/blog/articles/pportland_business_journal_its_new_look_new_digital_focus_as_part_of_pinstr
Kansas City Business Journal launches new product, meets challenges of change
http://garciamedia.com/blog/articles/pkansas_city_business_journal_launches_new_product_meets_challenges_of_chan
A total rethink for Cincinnati Business Courier
http://garciamedia.com/blog/articles/pits_a_total_rethink_for_cincinnati_business_courier_p
Philadelphia Business Journal: A total reinvention
http://garciamedia.com/blog/articles/pphiladelphia_business_journal_a_total_reinvention_p
It's a new Washington Business Journal
http://garciamedia.com/blog/articles/pits_a_new_washington_business_journal_p
The design of the Silicon Valley Business Journal, from prototype to reality
http://garciamedia.com/blog/articles/the_design_of_the_silicon_valley_business_journal_from_prototype_to_reality
Silicon Valley Business Journal: Creating the ultimate multi-platform operation
http://garciamedia.com/blog/articles/silicon_valley_business_journal—creating_the_ultimate_multi_platform_opera
Lessons learned from Silicon Valley, and a look at some details of SVBJ
http://garciamedia.com/blog/articles/lessons_learned_from_silicon_valley_and_a_look_at_some_details_of_svbj
Pages we like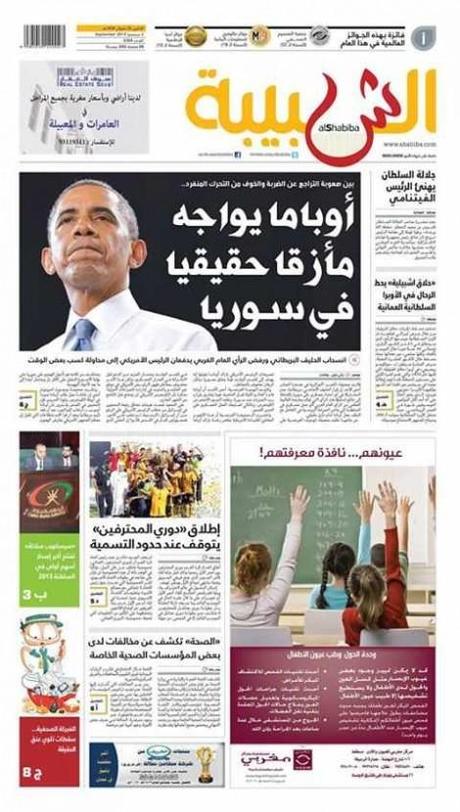 It is the front page of the Oman newspaper, Al Shabiba, one that we worked with in 2010.  Designer Osama Al Jawish sends us the page he designed.

The headline reads:
Obama Faces Real Trouble in Syria:
between difficulty of retreating from the strike and the fear of moving solo
Shabiba Chief Editor is Ahmad Al Zadjali; Editorial Director: Saif Al Muzaini; Editor: Issa Hassan; Design Director: Adonis Durado‎‏, Associate Design Director‎‏: Nasser Al raisi
TheMarioBlog post #1327