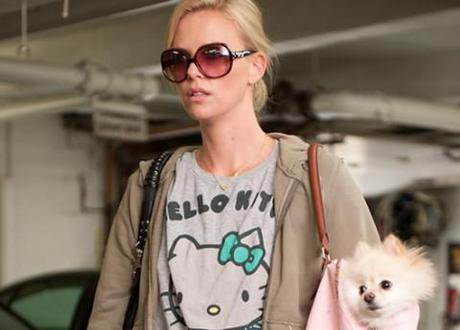 Charlize Theron in Young Adult.

Screenwriter Diablo Cody and director Jason Reitman, who collaborated on the Oscar-winning Juno back in 2007, have teamed up once again to produce Young Adult, a satire of self-delusion starring Charlize Theron. But is this black comedy just a little bit too dark?
Theron stars as Mavis Gary, a recently divorced ghostwriter of teen fiction and functioning alcoholic, who decides to distract herself from her writer's block by revisiting her hometown in order to win back her high school boyfriend (Patrick Wilson). Not only is he happily married, but he is also father to a newborn baby. But Mavis is not one to shy away from a challenge, and enlists the help of Matt, played by Patton Oswalt, the former fat kid at school who was left disabled after a high school beating.
A lot of love for Charlize.  The Guardian's Peter Bradshaw admired Theron's "poignant performance" as "one of the least sympathetic heroines imaginable, and one of the funniest". Metro's Colin Kennedy agreed: "[Y]ou will not see a more fearless or technically flawless performance from an A-list actress in 2012 –Theron is a riot." Mavis may be impossible to like, but David Edwards at The Mirror noted that the character seemed to loathe herself as much as everyone else – and added that the biggest of all the Oscar surprises was Young Adult being overlooked.
"It's fascinating to see an actress immersed in a role that undermines her glamorous screen persona without requiring her to 'ugly up'," said The Telegraph's Robbie Collin.
A little bit different.  Robbie Collin on The Telegraph appreciated how Diablo Cody's "pared-down, thrillingly efficient script" subverted the standard nerd/jock/babe arrangement and the city-girl-learns-home-truths narrative. However, The Oxford Times' Damon Smith wasn't so sure: "Her determination to avoid convention catches the eye but doesn't quite seduce the heart" while The Daily Mail's Chris Tookey was more harsh: "Cody strives to be bracingly honest, but just comes across as smart-alecky."
Too much mean?  OK said, "[T]his is deep, dark stuff with uncomfortable moments, as well as some unsettling psychological insights", The Telegraph's Robbie Collin (him again!) described the film as "a mouth-wateringly sour anti-romantic comedy" and Metro noted there was "no precocious cuteness to soften the sour jibes here". But the overall impression is that this has produced a "brave, edgy comedy". There is just one downright negative review to be found; The Daily Mail's Chris Tookey labelled it a "satire that's too mean to be funny" that he found "creepy and unpleasant to watch".
"The only joke, obvious from the opening frames, is that our heroine is a cold-hearted, scheming sociopath with an unwarranted superiority complex," complained Chris Tookey on The Daily Mail.
A little lacking in ending.  Young Adult's edge towards the dark side keeps you guessing at the ending, but The Independent's Anthony Quinn was disappointed to be left with "a hopeless fizzle" – as a result he described Young Adult as a very good film, "too bad it could have been a great one." The Mirror's David Edwards thought the "only drawback" of the film was the absence of character development; Mavis doesn't have an epiphany and change her ways. However, it does seem that these critics might have slightly missed what the writer was trying to achieve, and what attracted the actress to the film; Charlize Theron told fem.com that "Diablo created a protagonist who learns a lesson in life but doesn't necessarily change her life. That felt very real, very human to me."