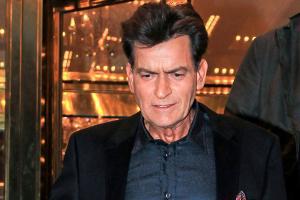 Charlie Sheen, 50, in early 2015
A week ago, after being outed by National Enquirer, actor Charlie Sheen admitted on NBC's Today show that he has HIV.
The latest news is that in addition to his wanton promiscuity with as many as 5,000 sexual partners, including hookers, strippers and porn "stars," there is another way for Sheen to be infected with HIV:
Unprotected sex with men
We already know about his sex with pre-op transsexuals, i.e., men in drag. Now RadarOnline claims to have seen a bootleg video of Sheen smoking crack cocaine and performing fellatio on a man.
The videotape was the evidence introduced by the plaintiff in a $20 million lawsuit against Sheen which the actor later settled for millions of dollars.
The "J. Roe v. John Doe" lawsuit alleged that in Las Vegas on April 1, 2011, an "A-List celebrity," identified only as someone of "substantial international fame," orchestrated a "nefarious plot designed to lure Plaintiff into his luxurious hotel room to serve his prurient desires". Radar determined that Sheen was the "A-List celebrity".
The lawsuit claimed that "John Doe" gave the STD herpes to "J. Roe". Although Sheen had herpes, he  told "J. Roe" he had "no venereal diseases". The two men watched porn and engaged in "mutual oral copulation, mutual self-gratification, rubbing and massaging each other, play-wrestling, licking and (unprotected) intercourse."
As part of the hush money pay off, Sheen secured the original videos and ordered them destroyed, believing that the video "could destroy his life if it ever got out," said a source. But a bootleg copy exists, which was shown to a Radar editor late last week.
See also "Charlie Sheen may face criminal prosecution, 8 years in prison".
~Eowyn