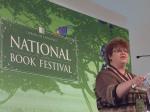 Charlaine Harris appeared at the National Book Festival in Washington, D.C. over the weekend. Earlier today, she shared some pictures from the event – where fans received her autograph and got to ask her questions.
At this time, we're not sure what was said, but as soon as we have more we'll be updating this post. So stay tuned…
Until then, feel free to check out Charlaine's pictures below.





If you would like to see more pics – please visit Charlaine's  Facebook page.
Looks like everyone had a great time and were lucky to have nice weather too!