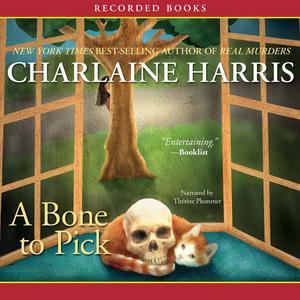 A Hallmark Movies & Mysteries Original Movie World Premiere of Charlaine Harris'"A Bone to Pick: An Aurora Teagarden Mystery,"  will air on Sunday, April 19, (9pm ET/PT, 8C.)  The film stars Candace Cameron Bure with  Marilu Henner.
The film, is the first in the Aurora Teagarden Mysteries based on the books by bestselling author Charlaine Harris. Bure and Henner lead an all-star cast that includes Lexa Doig ("Continuum"), Bruce Dawson ("The Killing"), Peter Benson ("Heartbeat"), Sonya Salomaa ("Intruders"), Dan Payne ("The Cabin in the Woods"), Miranda Frigon ("A Cookie Cutter Christmas") and Stephen Huszar ("Paradise Falls").
"Audiences are going to love seeing Charlaine Harris's exhilarating 'whodunits' on TV, led by one of Crown Media Family's own, the very talented Candace Cameron Bure," said Michelle Vicary, Executive Vice President of Programming, Crown Media Family Networks. "We're also so fortunate to have award-winning actress Marilu Henner starring in the film, her chemistry with Candace as mother and daughter is unbeatable."
A librarian with a sharp mind for murder, Aurora Teagarden is known around her small town as a master sleuth. When her friend Jane unexpectedly dies and leaves Aurora everything in her will, she also leaves a troubling murder mystery haunting her neighborhood. It is up to Aurora to piece together the clues—including a skull, its missing skeleton and a suspicious group of neighbors—and solve the murder before she becomes the unlikely killer's next victim.
"A Bone to Pick: An Aurora Teagarden Mystery" is an iCandy Production in association with Muse Entertainment and HF Productions. Jim Head, Joel Rice, Michael Prupas, Candace Cameron Bure, Charlaine Harris, Martin Wood and Shawn Williamson are the Executive Producers. Jamie Goehring is the producer. Martin Wood directs from a teleplay by Teena Booth, based on the book by Charlaine Harris.
Purchase the book in several formats by clicking on the links below:
Hard Cover
Paperback
Kindle
Audio Download
source: tvbythenumbers.zap2it.com