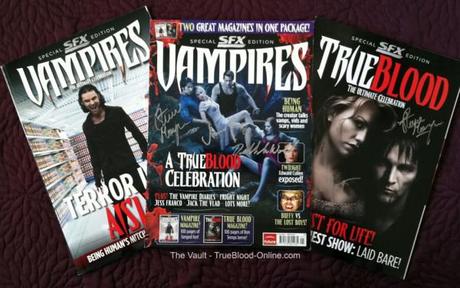 Another 3-day auction quickie to celebrate the last episode of True Blood's fourth season.
Next up for auction to benefit Facing The Atlantic is:
SFX UK Magazine: double vampire and True Blood issue signed by Deborah Ann Woll, Anna Paquin and Stephen Moyer.
SFX Collections Special Edition Vampires consists of 2 magazines inside a cardboard outer sleeve. One magazine is a special on Vampire shows and movies the other is a True Blood special with interviews, complete guide to season 1-3, Bon Temps tourist brochure and much more. Each magazine is 100 pages. This special edition was not available outside the UK. For more info about this magazine see our post.
The outer sleeve is signed by Deborah Ann Woll, Anna Paquin and Stephen Moyer. The True Blood magazine is signed on the cover by Anna Paquin and Stephen Moyer and signed inside by Deborah Ann Woll. That is a total of 6 autographs.

Visit the auction listing and place your bid: http://r.ebay.com/EUQ656
The auction ends on September 12, 2011.
All proceeds minus fees of these auctions are donated to Facing The Atlantic.
For more information visit http://www.allstephenmoyer.com/fta/
Check out the other upcoming auction here.