THE CHAOS STORIES
by Charles O'Keefe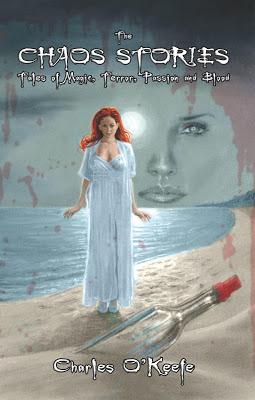 GENRE
: Supernatural/Fantasy/Sci-Fi
BLURB:
Here you'll find nine new short-stories, some which have been from my life, or things that could have happened. One is inspired from the many games of Dungeons and Dragons I've played over twenty years while another is from the Call of Cthulhu role-playing game. Some are even some from other authors, who kindly contributed to my collection.
As a treat for fans of my series, I have included six deleted chapters, two from each of the three Newfoundland Vampire novels, which have been all cleaned up and have been made better than ever for your reading pleasure.
I have also included not one, but two chapters from the upcoming fourth book in the Newfoundland Vampire series, War of the Fangs. I've filled this collection with tales that will make you laugh, or will scare you, and will hopefully make you think a little about the world around us and the people in it.
EXCERPT
"I'm not leaving you behind, no man gets left behind, GET MOVING!" Marlon screamed the last part at the top of his lungs and they bolted forward. It wasn't easy with all the roots and holes in the ground. Larry fell once as did Marlon, painfully twisting his ankle so that now Larry had to help him but they moved on, spotting one mark on a tree and chalk on another. The mist had started to rise, it was at their ankles now.
"Mar I can't feel my feet, it feels as if I'm running on blocks of ice.  We need to get out!" Marlon looked about frantically, the trees were still thick, he couldn't see the tall grass from where they had started this morning. Everything felt tight, his chest felt like it was going to explode, his heart felt like it would leap out through his throat at any second. The trees seems to be closing in on them, he felt like he was back in France, just waiting for the first bullet to split the air.
Marlon looked down for a second, legs are numb up to my knees but somehow I'm moving, I don't feel the pain in my ankle. "We'll get out, you are the best woodsman I've ever seen. I know you can do it." Larry nodded and Marlon was glad to see a small smile creep onto one side of his face, he pointed with his right arm to a mark, an arrow pointing to the east, the way they were going. You better be, he thought, I'll be damned if I die in a forest by some mist, I made it out of the war, I'll make it out of here!
REVIEW
5 STARS
The stories in this collection are all very short which makes it the perfect companion when you just have a few minutes and feel like resting your brain with a bit of fancy or fantasy.  I actually read this book over the course of about 15 days.  Each of the concise short stories was entertaining though there were a couple that felt unfinished to me; I wanted more closure than was provided.
A couple of stories really stood out as my favorites of the group.  "Footprints" is a two-part story and by far the longest in this eclectic collection.  It's considerably different from my usual taste in literature, but for some reason I found the entire tale engaging and especially riveting.  I thought the telling of the story, pacing, and suspenseful atmosphere was exceptionally well-done. My absolute favorite story is "Life Model Copy", a thinly disguised political spoof, that's funny and irreverent.  I read it twice!  Besides the nine short stories, the author included some deleted scenes from several of his vampire novels.  I expected to just sort of skim through them, but instead, ended up reading every word – caught up in the drama.  The deleted scenes were a satisfying addition.  Each scene was complete enough to be its own little short story.
Finally, the book ends with a couple of teaser chapters from the upcoming book 4 of the Newfoundland Vampire series. 
This quirky collection called The Chaos Stories was well-worth the time to read.  Some of the stories were thought-provoking, some terrifying, some hilarious.  A peculiar assemblage, to be sure, but a pleasant reading experience none-the-less.Reviewed by Laurie-J
AUTHOR Bio and Links: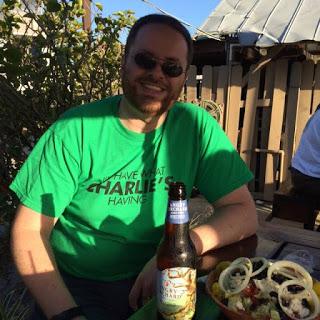 Charles O'Keefe lives in the beautiful province of Newfoundland, Canada, with his wife and two feline 'children,' Jude and Eleanor. He is a part-owner of a beauty wholesale business. He enjoys many hobbies and activities that include reading, gaming, poker, Pilates, Dungeons and Dragons, and of course, fantasizing about vampires. Charles is the author of three books in the Newfoundland Vampire series, but this is his first collection of short-stories. Look for the fourth Newfoundland Vampire book sometime in the near future.
To find out more about Charles or his other books, go to Twitter and Facebook or visit his web site at http://www.charlesokeefe.com
https://twitter.com/TheNLVampire
https://www.facebook.com/charles.okeefe.75
https://www.amazon.com/Chaos-Stories-Tales-Terror-Passion/dp/1775046508/
https://www.smashwords.com/books/view/739546
https://www.barnesandnoble.com/w/the-chaos-stories-charles-okeefe/1126899838
GIVEAWAY
Charles O'Keefe will be awarding a $15 Amazon/BN GC to a randomly drawn winner via rafflecopter during the tour.
a Rafflecopter giveaway