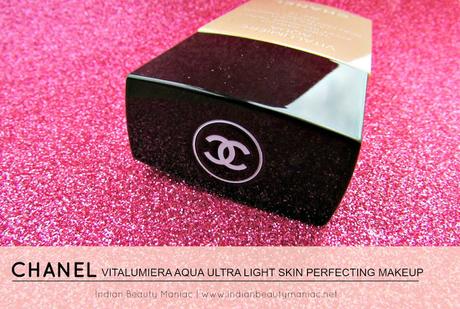 CHANEL Vitalumiere Aqua Ultra-Light Skin Perfecting Makeup - Review
I wanted a foundation which was light enough for everyday use and yet gave some coverage. My MAC foundation started feeling little heavy for everyday use and it was then Nisha recommended me to try this chanel foundation. I fell in love with this product the very moment the MUA applied it on one side of my face. It looked like a second skin and I bought it immediately. Now after about four months of regular use, I am here with its review.
Read about the product and the shades available here
REVIEW
The foundation comes in a plastic rectangular opaque bottle with a nozzle. The plastic bottle comes in handy during travel.
The shade I was matched to was 40 Beige (I am NC 40 in MAC) and it is a perfect match. The foundation is slightly on the runnier side when compared to my other daily use foundations and on application it does feel a little watery. It sets to a satin finish.
I have little pigmentation and acne scar marks here and there in my face and this foundation does not cover it in entirety. Even with its sheer-medium coverage, it makes my skin look super pretty and nice. And yes, I don't personally prefer perfect blemish-free skin on myself. It looks artificial.
The MUA suggested me to use this foundation with a flat foundation brush. The foundation does not require much effort to blend. And it does not look fake or cakey on layering too. I don't prefer using this foundation with any sort for sponge applicators like the beauty blender or real techniques miracle complexion sponge as I tend to waste the product. I prefer using it with my Real Techniques Foundation Brush and I use the beauty Blender only when I am going in for a second layer which I normally don't. The foundation is buildable.
Only a tiny pea sized quantity is required and one bottle will last easily for almost an year with every day use. Since I have combination-dry skin that leans more towards dry during winters, I don't set my entire face with a powder. These days, I use Kryolan Translucent powder only my T zone.
The foundation easily stays throughout the day on my skin (9 AM - 6 PM). Since the weather is pretty dry, i am not facing any oiliness in my T-Zone as of now. I may be required to touch up with a compact or blot my face after 5-6 hours in summers. 
It does not emphasize the dry areas or cause breakouts.
It is not waterproof and has SPF 15 in it.
The only negative thing I have to say about this foundation is, like all the usual foundations, over a period of time, the formula starts separating and we need to shake it well before use to avoid that.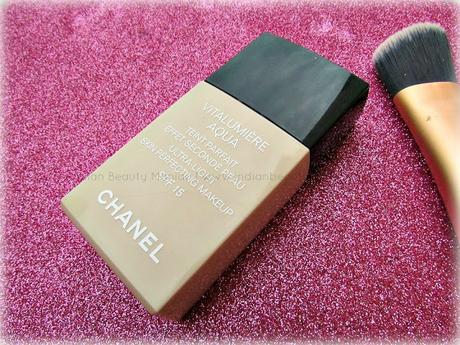 CHANEL Vitalumiere Aqua Ultra-Light Skin Perfecting Makeup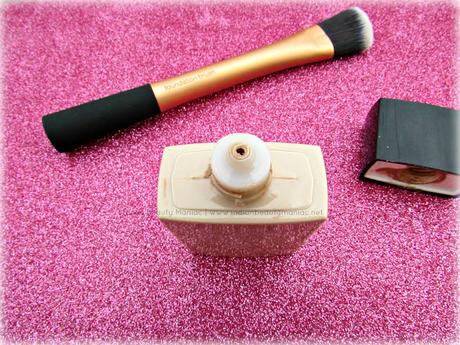 CHANEL Vitalumiere Aqua Ultra-Light Skin Perfecting Makeup - Nozzle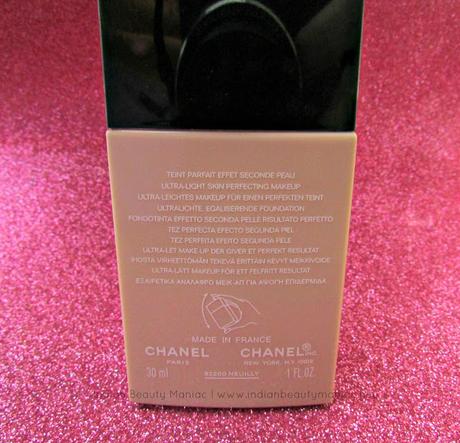 CHANEL Vitalumiere Aqua Ultra-Light Skin Perfecting Makeup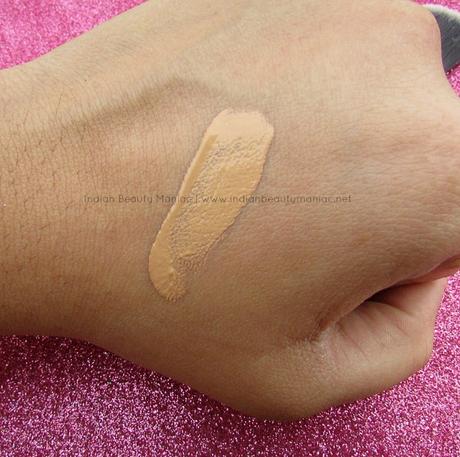 CHANEL Vitalumiere Aqua Ultra-Light Skin Perfecting Makeup - 40 Beige Swatch
I love this foundation and it has replaced almost all the base makeup I use over this four month period.
I highly recommend this foundation for dry skinned ladies and it is worth every penny spent.
Price: $ 48/- and I paid around INR. 2,500-3,000/- for 30 ml. 
I will definitely continue repurchasing this product and i also want to try their loose powder as it looked fab when the MUA dusted it on after applying this foundation.