I treated myself to a little something about 2 months ago when I made the long 2.5 hour drive to the nearest David Jones to my little town. Since I made the long drive, I just could not leave empty handed right? So I took the plunge and treated myself to some Chanel.
I was looking for a highlighter and there it was in all its glory on the display stand, beckoning me to pick it up. This was again, one of those unresearched and impulsive buys. But luckily, I have been very happy with it.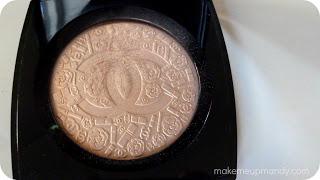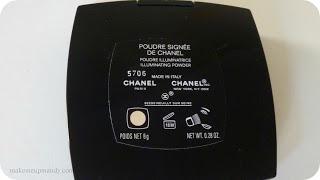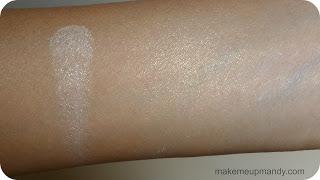 This illuminating powder is a really soft pinkish beige with some gold specks as seen in the pic above. I did hesitate as I am rather tanned and gold-toned highlighters usually work better on my skin instead of pinkish beige ones. However, when I swatched it and tried some on my face, it was so sheer that the pinkish tone did not show up as significantly unnatural on my skin. And besides, who can resist that beautiful embossed pattern?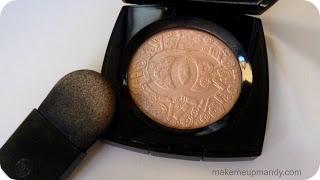 It comes in a gorgeous Chanel velvet pouch as usual and with a large sponge applicator which I have never used for a highlighter before. I have been using it on and off and do find it very effective for precise highlighting especially for the nose bridge. However, I still prefer using my brushes; just an old habit. One thing though is that you can pick up more product with the sponge applicator than with brushes because the powder is so finely milled. Hence, the bad thing about using a brush is that I end up swirling it a little too harshly to pick up more product which has resulted in defacement of the beautiful embossment in a very short 2 months!! But that is just me…
This Chanel illuminating powder is really sheer but that was exactly what I was looking for and I love that I am able to control and buildup to the desired effect. It does have a little shimmer which you need to be mindful of as overapplying can lead to over-shimmering. To prevent that, I now check in natural light before deciding to apply a little more or not.
Overall, I find this a really unique illuminating powder. I was pleasantly surprised that such a pink-beige tone highlighter worked for my tanned skin and I love the sheer, subtle effect. If I'm not wrong, this is a limited edition product too.
*This product was bought with my husband's money. As a treat to myself. Yes.