It seems true that once you have been high, you always want to go higher (and  that is coming from someone who hates heights, freezing temperatures and exposed, risky edges.) Chamser Kangri is one of the many 6000m peaks in Ladakh that are less risky in that it is regarded as a so-called trekking peaks. That sounds about right for me, altitude is enough to deal with. We climbed it in September 2013, when conditions were perfect, except for the chill of autumn.
Besides the lure of hiking, higher than ever, the  Tso Moriri lake is a spectacle of Ladakh that I have always wanted to see. An inky blue, high altitude lake surrounded by crumpled mountains on the Changtang (high northern plains) at 4600m. It is also the highest and largest lake in the region some 19km long, 3km wide and a maximum depth of over just 100m. It is fed by glacial streams, the outlet is now blocked which has resulted in the lake being slightly saline.  Due to time constraints we hired a jeep to travel the 6- 7 hr trip from Leh up the Indus river and over a pass to this amazing wetland system that is recognised by Ramsar and is also the breeding ground of various high altitude species like the Black necked crane and Bar headed goose.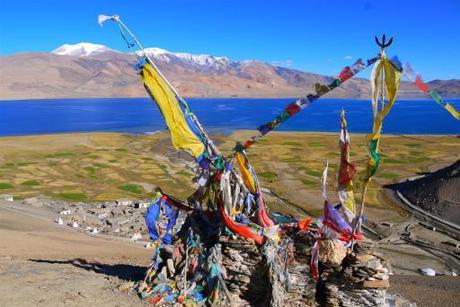 The dazzling Tso Moriri with Chamser Kangri  (6622m) in the background viewed from the only village in the area Korzok at 4600m.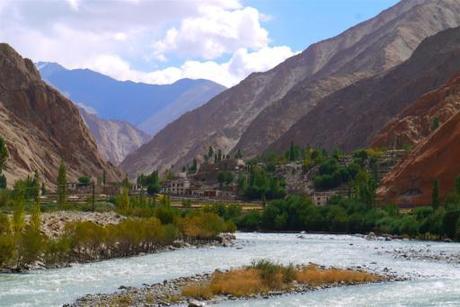 We traveled 240km up the Indus valley to the high altitude Tso Moriri.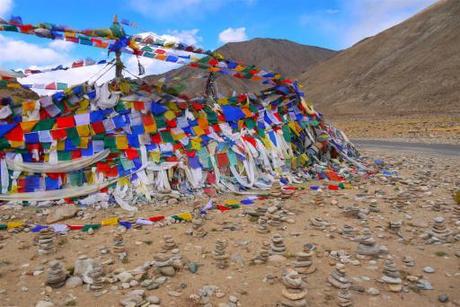 The prayer flag strewn pass before descending to the lakes.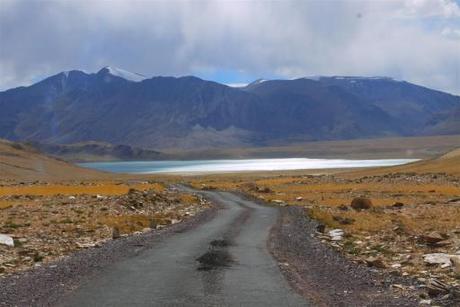 First glimpse of one of the outer lakes.

First views of the majestic Tso Moriri.

More sweeping views, astonishing!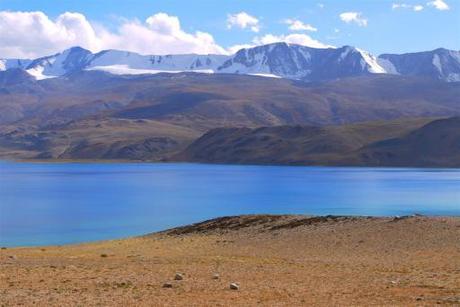 We continued around the West side of the lake where our jeep dropped us off a few km before an army checkpoint. Some vague pointing was made by our driver, who fortunately happened to have climbed the peak. He helped to ensure that  we followed the valley where we wouldn't run into any army permit checkers!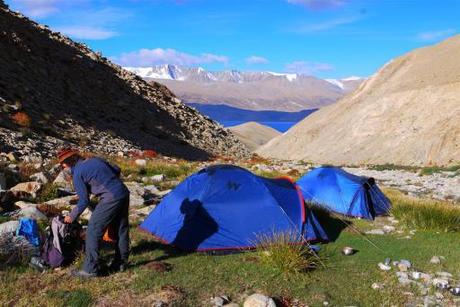 And so our 3 day trek began, fortunately a little elevated at 4600m. Our campsite on the first day.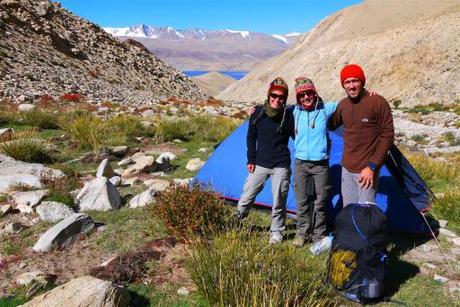 Happy campers Kat (our cycling pal) me and Feran, Carlos's friend from Barcelona who he met in our Drakensberg!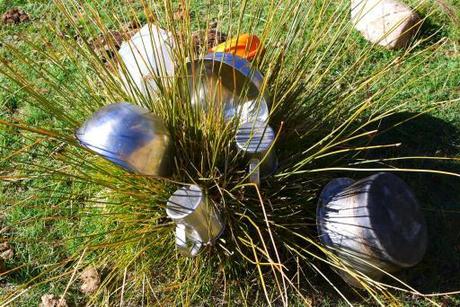 Drying up rack!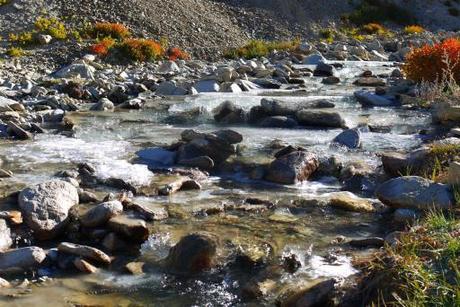 The next morning we were awoken to the sound of a cracking frozen stream…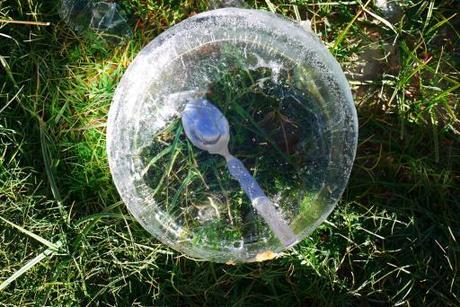 Frozen soaking pots with trapped spoons.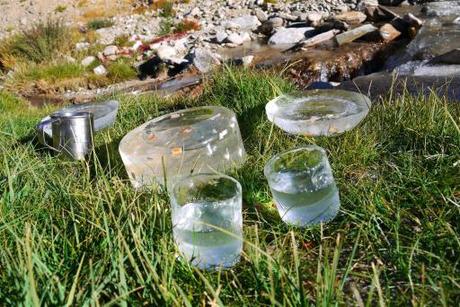 …all made for a bit of fun as we now had glasses and bowls for our breakfast. Rather Andrew Goldworthy-ish!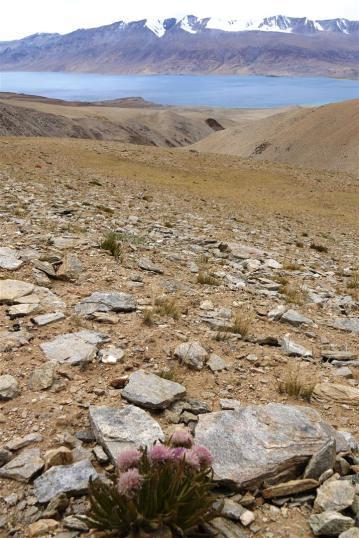 We began a long and slow slog up the pathless valley, always looking back for views of the majestic blue…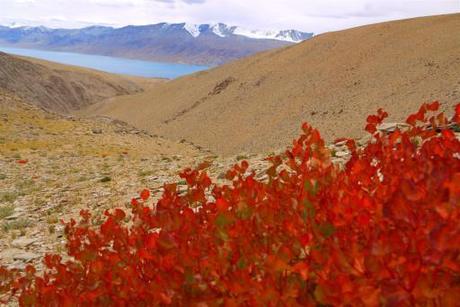 I focussed on the number of different plants species I could count from 5000m onwards.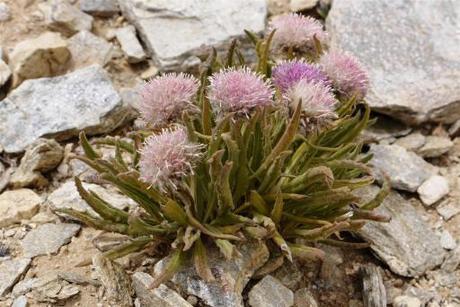 Beautiful lilac chive-like succulents.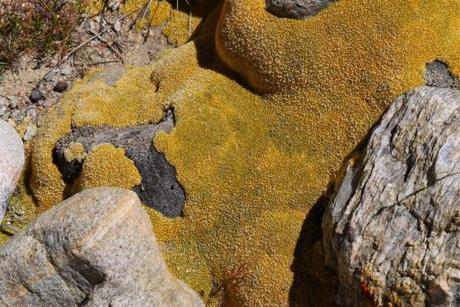 Incredible luminous lichens.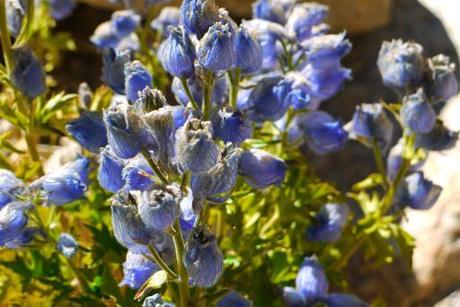 My favorite 'Anenomes' grow at nothing less than 5000m.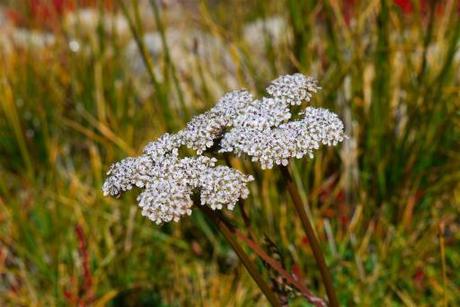 I counted 17 different species between our 5000 -5600m where we arrived at our base camp.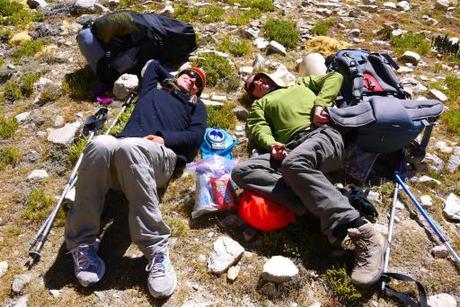 A cat nap with Kat on the way up… its was a slog for sure..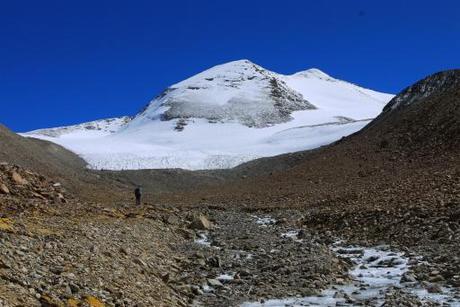 And there before us stood our Chamser Champion… looks so much easier in the photos! (it took all of 8hrs to get up and down that bump)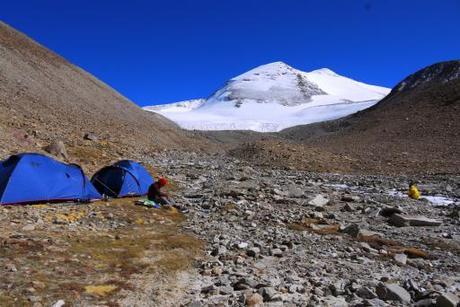 Our base camp 5600m. Despite the brilliant and dazzling sun, it was one hellavu chilly spot!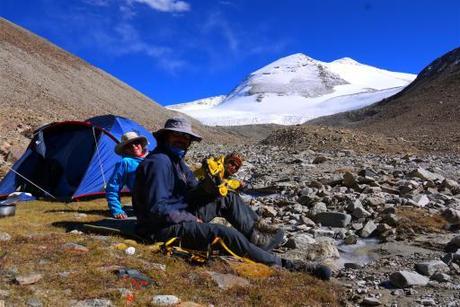 Carlos, me and Feran soaking up the last rays of afternoon sun!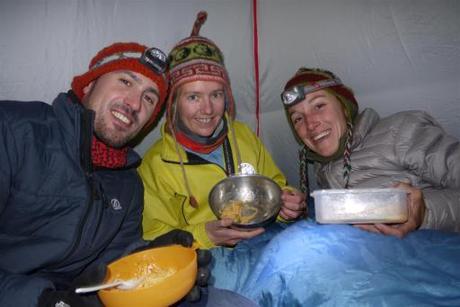 Pasta supper that night, Feran, me and Kat.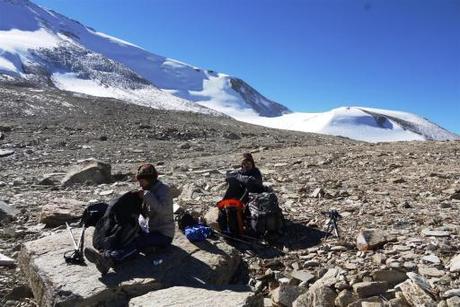 And so the real trek and climb began. We headed over these rocks and up the snowfield on the right, then headed left along the 'ridge' line.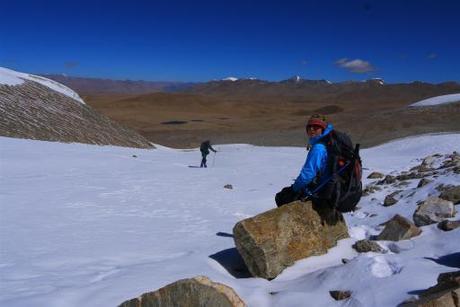 Taking a break after some serious slogging through this snowfield at around 5900m.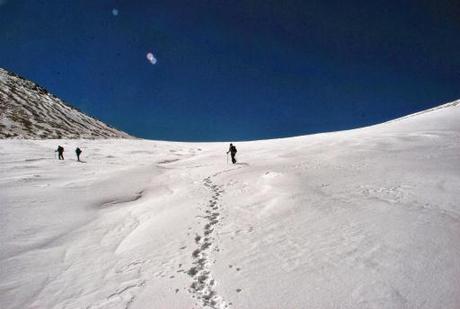 Was much harder than it looks! (photo: Feran)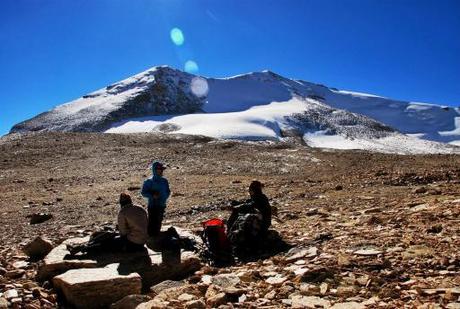 Still a looong way to go!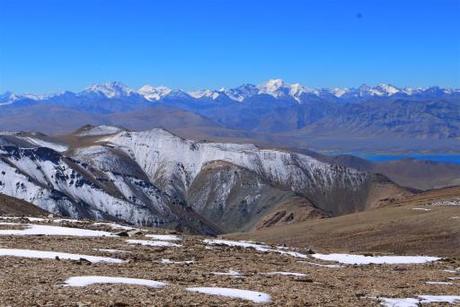 The higher we got the more mountains loomed into site, Tso moriri still in view.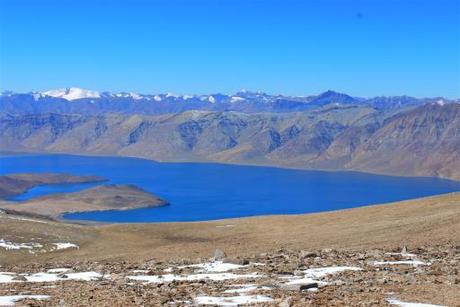 .
Thanks to Wedgewood's Race Food… it really helped and kept spirits up!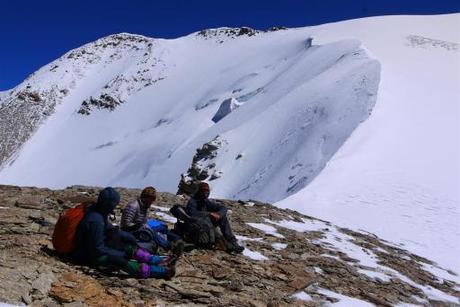 A rest before the final assault – another 200m vertical and another hour of 'cramponing' up this dubious slope filled with holes.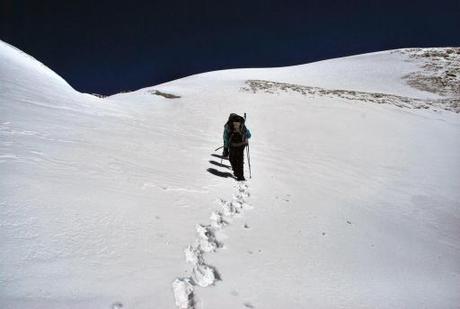 The final 200m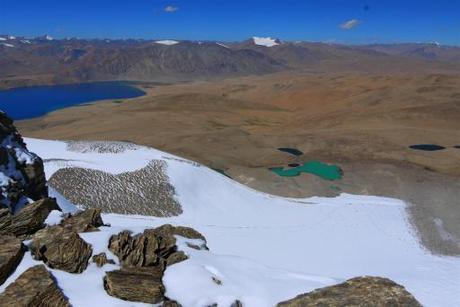 More views of blue and green lakes.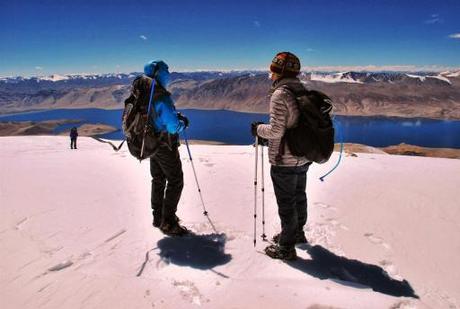 Kat and I take time to check out the amazing views (Photo: Feran)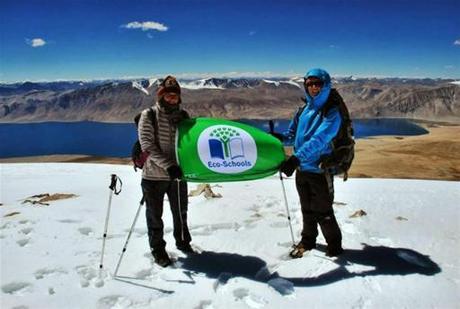 And fly the Eco-Schools flag, the highest its ever been! (photo: Feran)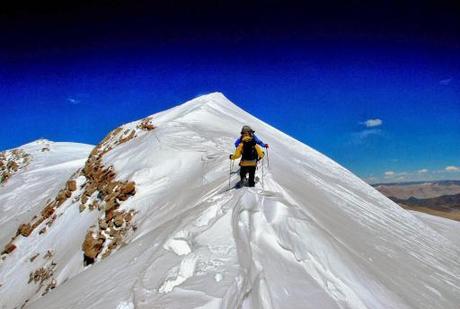 The final cornice to 6622m… (Photo: Feran)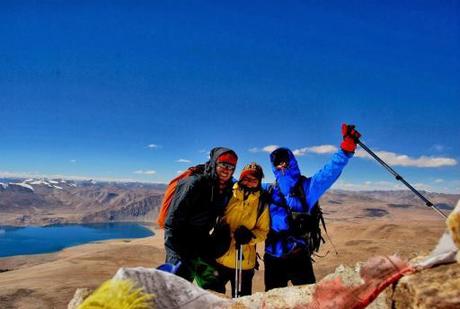 The Summit – Chamser Kangri (6622m) Feran, Kat, Carlos.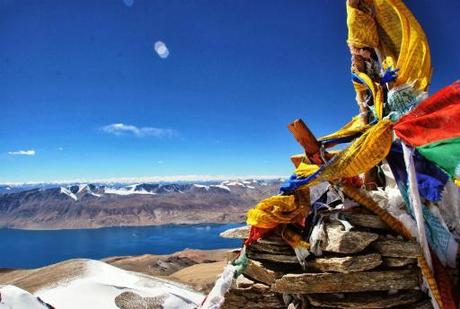 Moon-Sun view!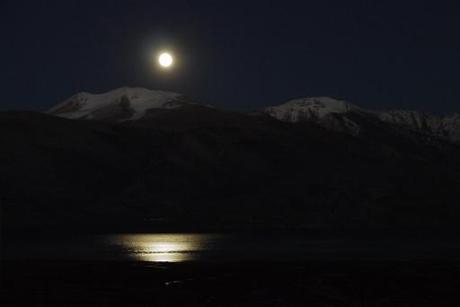 It took us almost 8hrs from our 5600m base camp to reach the 6622m summit.. a freezing epic, I am not sure I would like to repeat. We made it down to Korzok the following day and were graced with the most beautiful full moon rise over the Kangri (snow peak) we had just summitted!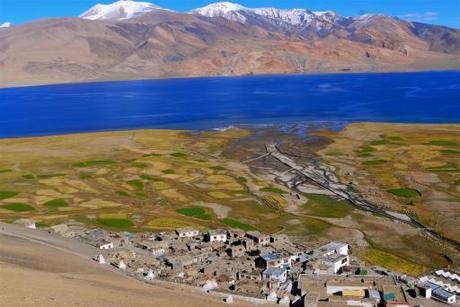 Enjoying exploring the surrounds of Korzok village, back-dropped by Chamsar.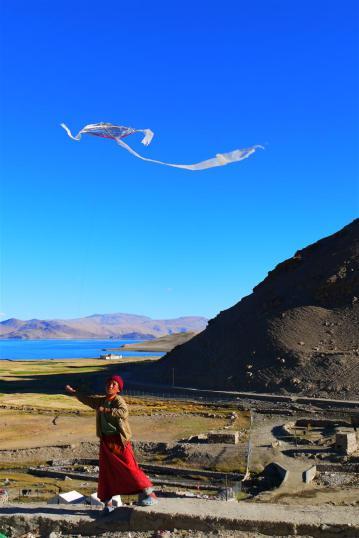 Little lama playing with his homemade kite, Korzok.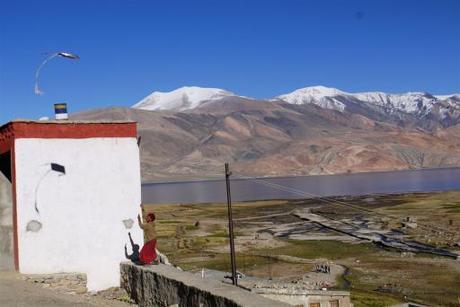 Kite shadows.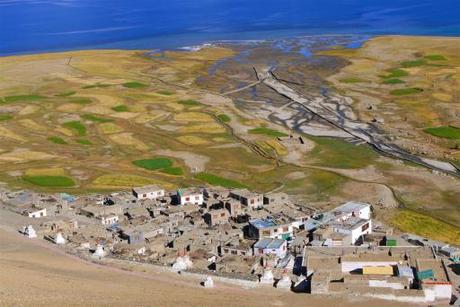 Korzok village, has a monastry of over 300yrs old of the Drukpa lineage and is home to about 30 monks.