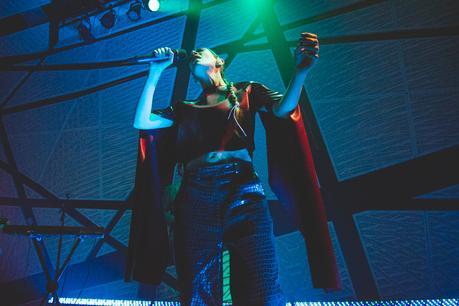 Photos by Julia Drummond
It's been 4 years since Chairlift released Something, but they're finally back with Moth, their most polished, bright and joyful record to date. As Caroline Polachek explained in an interview with Pitchfork, they liked the idea of a moth being "a metaphor for vulnerability, for something that's fragile but relentless at the same time". She also mentioned that it's a very New York record, and celebrated that by kicking off their tour with a show at the recently opened National Sawdust in Brooklyn.
DJ Prince Language, who has worked with Chairlift previously, warmed the crowd before they went on. Then, after a short delay by the fire alarm due to an extensive use of smoke machines, Patrick Wimberly took the stage along with saxophonist Danny Meyer and Brooklyn based guitarist Starchild. Caroline appeared moments after, wearing an angular, dark burgundy leather cape, resembling a moth herself.
The new album is really colorful and dynamic, which translated into a beautifully vibrant and energetic performance, punctuated by Caroline's Bollywood inspired choreography. The crowd seemed really responsive and danced along with Polachek. "I've never seen a New York crowd dance so much," she confessed grinning widely. They played the record in its entirety, diluting with a few crowd pleasers from the past.
Moth couldn't have come at a better time. Considering how gray the city it at the moment, it's exactly what we all need, more color and more dancing. They will be back soon, so be sure to catch them at Music Hall of Williamsburg on April 10.