All things Italian fascinate me to no end – their style of fashion, cute way of pronouncing certain words and of course their choice of incredible food! And delightedly, Dubai being a sea of nationalities, offer a wide variety of pearls from each country so that one doesn't miss home as much as they would have otherwise. Nestled between the tall towers of Dubai Media City, spotting Radisson Blu isn't really a dilemma and inside this world famous hotel sits an Italian gem whose reviews have had me hooked since I heard the joining of Alessandro Esposito as a Head Chef (a soft spoken man under that traditional chef's uniform who paid a visit on each table as we dined). Certo is one of those authentic Italian restaurants in a chic part of Dubai serving not only pizzas and pastas but traditional French cuisine alongwith exotic selection of wines.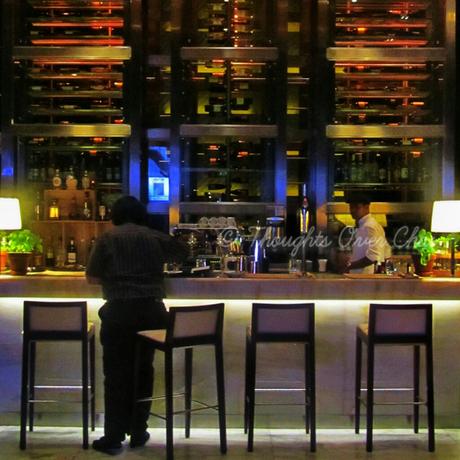 As we walked into Certo, positive vibes across the place and soothing melodies in the background instantly made us feel more lively and into the moment. The restaurant has its own charm – modern dark furniture, dramatic decor, dim lights, ground to ceiling wine cellar and people in deep yet cheerful conversations. The whole setting was truly exemplary for indulging in one of our best Italian feasting experiences in the city. Enough for us to sit and quickly place our orders for the evening, a sommelier walked to our table with wine suggestions before we studied the food menu. Taking his word, I went for Bellini – white sparkling Italian wine with peach puree. I ain't so much into alcohol, however, the one I had that day was truly one of the best cocktails in the entirety! We started by breaking some warm Foccacia – a thin crust pizza bread with tomato sauce and rosemary as we clinked our glasses of wine.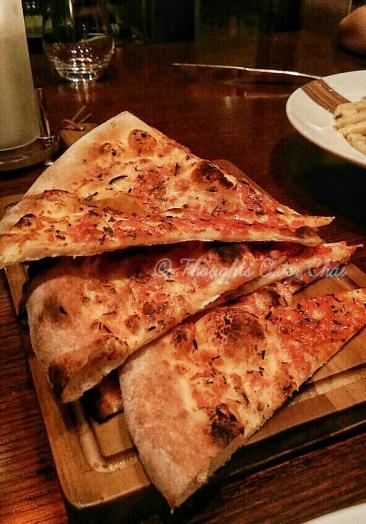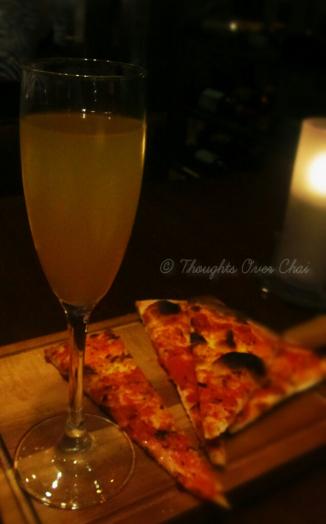 Though their food menu may look limited at first, I love how they've covered array of options from Antipasti, Salads, Soups, wooden fried Pizzas, Pasta to mains offering variety of choices between meats and vegetables. We settled down with Mixed Garden Salad before ordering for a main dish for each of us as we were just beginning to fit into the groove of Certo. Loved how the salad had fresh ingredients and a crunchy sound to every bite. A simple olive oil dressing over cucumber, lettuce, cherry tomatoes, arugula and carrot didn't overpower the taste of healthy greens and raw vegetables – a point that marks my highest rank in any salad because dressing can either make the ingredients taste good or bad.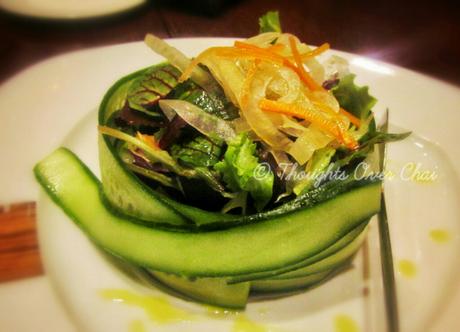 Our sever, John, had an excellent knowledge about the menu and the ingredients involved in each dish. He took good care of our food that day and also threw in some great insight about the dishes we were not too sure about, the one being Orata. Keeping up with the simplicity of use of  quality ingredients than elaborate presentations, Orata was a revelation of its kind – an oven baked sea bream fish roasted with thinly sliced potatoes and zucchini that formed the beautiful crust, paired well with stir fried broccoli and cherry tomatoes. Though they may say the portion is for one, the dish can perfectly be shared between two adults if you are going for another main.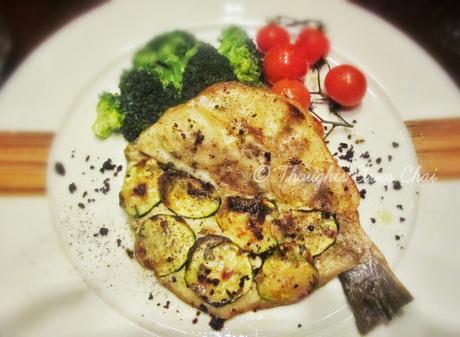 An absolute risotto lover, husband called for
Risotto Asparaghi 
just as we were contemplating to call for more food or not. Minutes later, John walked to our table with a huge portion of lavish looking risotto. A combination of asparagus and tiger prawns added a gorgeous crunch to the already opulent creamy risotto. A winner for sure, this swanky plate of rice meal!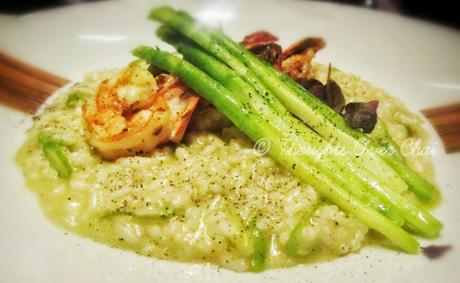 We went back at discussing about wooden fried pizzas, but we were so full with the enormous portions we already had, it was only reasonable to give them a miss. May be we got a reason for returning back to Certo only for their Pizzas in the future.
No meal is complete without a dessert, isn't it? Bring on a bowl of Classic Tiramisu and it is as authentic as it can get. A spoon sliding through creamy mascarpone and scooping out the moist-rich coffee flavored savoiardi biscuits was so much worth a celebration of every single moment at Certo – an excellent pick-me-up dessert from a food coma that we were slowly pushing ourselves into.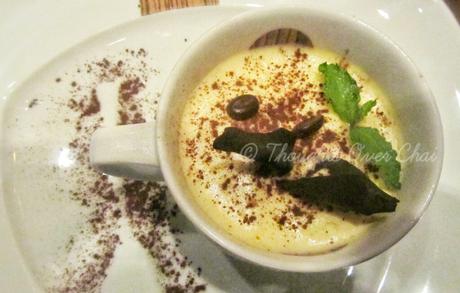 Certo
is certainly one of those places that lets you forget all about the outside world and make you enjoy the very moment through its exquisite Italian style of fine-dining. When you think of traditional in mind, add a new favorite to your list of restaurants and simultaneously a visit to this restaurant is highly recommended. We surely will be back for their crusty wooden fired pizzas very very soon!
Location : Dubai Media City, Radisson Blu, Lobby Level (enter from the second tower)
Website : http://www.radissonblu.com/hotel-mediacitydubai/restaurants-and-bars
Contact : + 971 4 366 9111