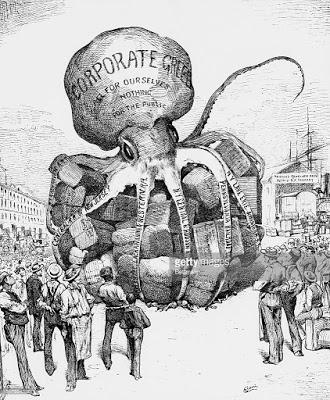 Donald Trump and his Republican cohorts in Congress are still trying to convince Americans that cutting taxes radically for corporations will be good for all Americans. They say the corporations will use the tax money they save to hire new workers and raise worker salaries.
That has never been true when corporate taxes were cut in the past, and it's not true now. And corporate CEO's admit that the tax savings will NOT go to new jobs or higher wages. Instead, it will go to investor dividends and the corporate buy-back of their stocks. In other words, the rich will see the benefits -- not workers or middle class Americans.
Consider this part of a Bloomberg News article (written by Toluse Olorunnipa):
Major companies including Cisco Systems Inc., Pfizer Inc. and Coca-Cola Co. say they'll turn over most gains from proposed corporate tax cuts to their shareholders, undercutting President Donald Trump's promise that his plan will create jobs and boost wages for the middle class.

The president has held fast to his pledge even as top executives' comments have run counter to it for months. Instead of hiring more workers or raising their pay, many companies say they'll first increase dividends or buy back their own shares.

Robert Bradway, chief executive of Amgen Inc., said in an Oct. 25 earnings call that the company has been "actively returning capital in the form of growing dividend and buyback and I'd expect us to continue that." Executives including Coca-Cola CEO James Quincey, Pfizer Chief Financial Officer Frank D'Amelio and Cisco CFO Kelly Kramer have recently made similar statements.

"We'll be able to get much more aggressive on the share buyback" after a tax cut, Kramer said in a Nov. 16 interview.

U.S. voters disapprove of the Republican tax legislation by a two-to-one margin, according to a Quinnipiac University poll released Nov. 15, and corporate promises to return any windfall to investors aren't helping the White House sales effort. The Trump administration has appeared flummoxed. At a Nov. 14 speech to the Wall Street Journal CEO Council by Trump's top economic adviser, Gary Cohn, the moderator asked business leaders in the audience for a show of hands if they planned to reinvest tax cut proceeds. Few people responded.

"Why aren't the other hands up?" Cohn asked.

Trump has insisted that the Republican tax plan cut the U.S. corporate rate to 20 percent from 35 percent. Another provision would impose an even lower tax rate on companies' stockpiled overseas earnings, giving them an incentive to return trillions of dollars in offshore cash to the U.S. That money is also unlikely to spur hiring because companies are already well-capitalized and can bring on as many employees as they need, said John Shin, a foreign-exchange strategist at Bank of America Merrill Lynch.

"Companies are sitting on large amounts of cash. They're not really financially constrained," Shin, who conducted a survey of more than 300 companies asking their plans for a tax overhaul, said in an interview. "They're still working for their shareholders, primarily."