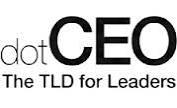 CEOTLD Pty Ltd, the registry operator of the new dotCEO top level domain, has announced that its Sunrise period will open on February 10th.
During Sunrise, "trademark owners can register dotCEO domains, thereby protecting and enhancing their brands and company names".
Specific dotCEO Sunrise details can be found on the ICANN Website.
dotCEO is positioned as the only TLD to convey authority and power. dotCEO will be marketed to brand leaders, business leaders (20M CEO's globally) and companies that service the CEO community in a partnership with social analytics company PeopleBrowsr.
Jodee Rich, CEO of dotCEO TLD said: "For the very first time, domain addresses will be bundled with access to a powerful and exclusive new Social Network called dotCEO. Network members will drive demand for domains by inviting their professional contacts to join. As the first TLD to embed social network virality into the domain buying process, we are excited to offer a viral sales funnel for every registrar and reseller who sells dotCEO."
Trademark holders can register dotCEO domains through corporate registrars such as Safenames, MarkMonitor, LexSynergy, 101Domains and Webnames.ca. Leading retail registrars ­ Name.com and GoDaddy – as well as new gTLD registrar Minds & Machines will also be offering dotCEO domains.
dotCEO is working closely with Neustar, Architelos and Attorneys Karen Berstein and Mike Rodenbaugh.
The dotCEO Landrush Period will commence on March 17th, and will be open to the public. Contested applications submitted during this period will be subject to an auction. The General Availability phase will operate on a first come, first served basis commencing on March 28, 2014.
dotCEO TLD is a division of PeopleBrowsr, the registry for dotBEST (Sunrise early March 2014) and dotKred. Over the last 5 years, PeopleBrowsr has developed cloud and application based social analytics and social network technology, as well as a social datamine which includes a global database of Twitter and Facebook conversations and profiles. The Datamine is one of the largest in the world and contains one trillion conversations and over 500 million social media profiles. In January 2012 PeopleBrowsr began development of the next generation social network platform Social OSTM. It integrates social network capabilities and technology into very large customer datasets. The Social OSTM and related applications have been deployed for a major US government department and in the process of being rolled out for a major Australian Bank. dotCEO will be the world's first top level domain to run on Social OSTM
…