New to little Indiana? Subscribe for free to my RSS feed. Thanks for stopping by!
Corydon, Indiana: Cellar on the Square Sign
Corydon, Indiana has an amazing downtown. So many unique shops and stores–and beautiful buildings, too.
In fact, for all of you who are into brewing your own beer and wine, you'll want to check out Cellar on The Square. It's an Indiana wine and brewing supplies shop!
Corydon, Indiana: Cellar on The Square
This was a first for little Indiana. I had yet to see a brew your own beer and wine store. I was intrigued!
Brewing supplies galore. Wine corks and wine bottles, beer bottles, brewer's years, and all sorts of supplies. There was a lot of stuff. Really neat stuff.
While I am not a beer brewer or wine crafts-person (I don't think stomping grapes with my feet counts here, skilled though I may be) it made me really want to try!
Indiana Wine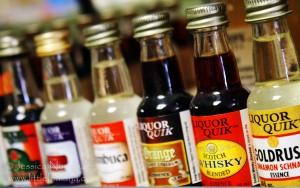 Corydon, Indiana: Cellar on The Square
Now that Indiana wine is the big thing (and after sampling more than a few varieties, I can see why) there's no better time to try your own!
Now you know where to go to get started! Cellar on The Square even offers classes to help you dig in and figure out what you're doing.
When you have that first bottled creation? You'll find plenty of interesting bottles to showcase your results! Unique wine racks? That's here, too.
Everything You Need
But, more than just wine and beer, you'll also find an assortment of snacks and other food items. The perfect accompaniment to your own brew!
Head over and check it out. It's really a neat place to poke around in.
See more Cellar on The Square images and other pictures in Indiana on my Flickr photostream.
Cellar on the Square
110 Elm Street
Corydon, Indiana 47112
812.968.5510

View Larger Map
little Indiana: Where to Stay, Play, and Eat in Small Towns in Indiana. Discovering Indiana's best small towns! Now get little Indiana on your Kindle.
New! Offering affordable online advertising for your small Indiana business! little Indiana Businesses is the online presence that you've been looking for.