Crazy how the days go by! So swiftly with time ...It's Wednesday again!
Celebrity Street Styles of 2014 ...As you all know me all to well I follow Rihanna and her choices in street clothing or styles she wears on a daily basis.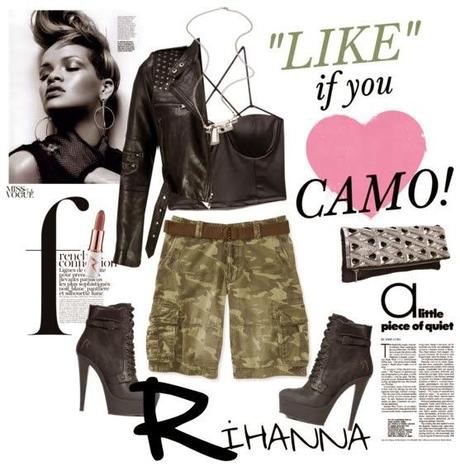 One particular favorite of hers; the trendy camo prints that are being design and created by popular fashion brands from cargo pants, to cropped denim jackets, to skirts and dresses.
So today; I created a fashion collage illustrating a fashion street style I believe Rihanna would probably wear.
We've seen Rihanna in her edgy "cropped leather biker jackets", and River Island high stiletto heels.
But add a "strappy faux leather bustier" and a pair of "belted camo cargo shorts" and there you have it. Now I can imagine one more piece to created a little attitude. A baseball cap; put on backwards. Now that is Rihanna ...
What do you think? She is always wear a baseball cap ... for her it totally works for a Celebrity Street Style.