Happy Wednesday My Lovelies

...
We'll over at Polyvore; they are running a contest for the "The Best Celebrity Street Style of 2013". I choose to submit a fashion collage illustrated around celebrity, recording artist, actress, and fashion designer "RIHANNA" in short nick named "Ri Ri" by the media. Read more below image...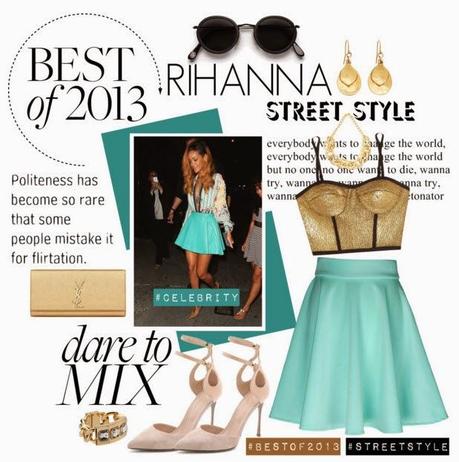 I was so thrilled this morning when I logged into my Polyvore account and found that my fashion collage was chosen for "TOP Set" of the day December 4th, 2013.
You know how I love Ri Ri's edgy celebrity street style!
In the celebrity shot above "Ri Ri" is wearing a mint flared skirt. Then she has also has on a Balmain mixed print blouse. I really didn't want to copy her whole street look. So I switched it up a little. I chose a "metallic boucle bustier". There something about the fit look of the bustier with a flared skirt that make the whole street style just "POP".
Then to make the celebrity street style sizzle; I added a pair of Sergio Rossi ankle strap pumps and a envelope gold textured clutch.
I could wear a celebrity street style like this...I love the soft color tones of mint and light pink; then mix it up with the gold metallic...
Could you wear a street style look like this? Love to hear about it!