Since childhood, I was fascinated by the cinema and the film stars. My favourite is Shahrukh Khan and Kareena Kapoor, and I hope to meet them at some point in my life.
Apart from them, I admire other actors and celebrities too in various fields. I always wished to see them, meet them, but never got the opportunity until I moved to Delhi.
Pune being my hometown is close to Mumbai still didn't have any chance. Meanwhile, destiny had something else planned, not for a moment I thought I would live in Delhi and my long wish of meeting celebrities would become real.
This post is just the epitome of my happy moments and not bragging. Delhi gave me an exposure to social media and my marriage gave me wings that made it possible to have my Fan moment.
1) Delhi IPL team – 2017
This has been my first ever meet and greet session with cricketers/celebrities. I had won an online contest and got the golden opportunity to meet the Delhi IPL team.
I was excited and the event went fantastic. My favourite cricketer was Zaheer Khan, so it was a pleasure to meet, but I didn't feel a warm feeling.
It was Corey Anderson from the team who met us with a cheerful smile and made our day.
View this post on Instagram

Meeting my fav cricketers make me happy .#gilma2017moment . . The handsome #Anderson , lifetime memories . . . #happy #allhumdullilah #followforfollow #likesforlikes #time #fun #cricket #ipl #delhidaredevils #delhi #event #zaheerkhan #tup21 #withpepsi

A post shared by Jenifer $ayyed (@shaandaar_jenie) on May 15, 2017 at 9:57am PDT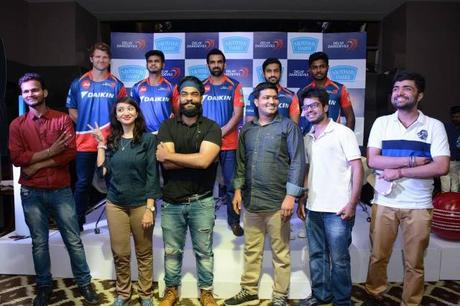 2) Badshaho movie star cast – 2017
Yes, I got my fan moment and one more memory added to my collections. This too, I got the chance of winning an online contest. All of them were humble and met all their fans delightfully.
I must say you, Imran Hashmi look more handsome in real and Ileana Dcruz like a Barbie doll.
View this post on Instagram

Yes I got my #Fan #moment #gilma2017moment . . Ecstatic – u can see it from my over smile & one more memory added to my collections. . . #allhumdulilah #baadshaho #ajaydevgan #emraanhashmi #eshagupta #ileanadcruz #movie #delhi #promotion

A post shared by Jenifer $ayyed (@shaandaar_jenie) on Aug 31, 2017 at 9:57am PDT
3) Chef Harpal Sokhi – 2019
The celebrity chef of Turban Tadka- Harpal Sokhi was in Delhi to promote a brand and I was invited as a blogger to be part of it.
The Namak-Shamak fame chef gave us an insight into healthy cooking and interacted with all his fans. He was wise and humble which made the session memorable.
4) Chef Saransh Golia – 2019
The celebrity chef was in the capital to launch the finest menu for foodies to Cinepolis theatres across India.
As he had himself curated the new dishes, we got the first and live cooking session to view and taste. We had a delectable time.
5) Fashion Designer Rohit Bal – 2019
Oriflame has collaborated with legendary fashion designer Rohit Bal for their exquisite Guldistah collection. The launch happened in the capital in the presence of media and bloggers.
We got to see the fashion show of this new Guldista collection which was stunning. After the brief, we got to meet Rohit Bal and had some selfies.
These were the few celebrities whom I met and have the picture with them in one frame. I also got to see a few other celebrities too- Bhumi Pednekar, Isha Kopikkar, Rahul Dev, but didn't have the chance for a selfie.
I am indeed grateful for these fan memories and I hope the list keeps getting increased. You may think am a crazy fan, but I don't mind

Who is your favourite celebrity and why?
---
You May Also Like To Read:
Selfie Lovers: Beware of "Selfie Wrist" Injuries
Things to Do When In Pune
Chill out at The Chillout Zone Adventure Park Near Delhi