As we are ending all that was 2014 and looking forward to 2015, we will remember both the good and the bad. When we look back at celebrity fashion throughout a year filled with red carpets, movie premiers, or just a glimpse of their street style, a few stand out in our minds for their fantastic fashion sense, but more are remembered for their fashion no-no's.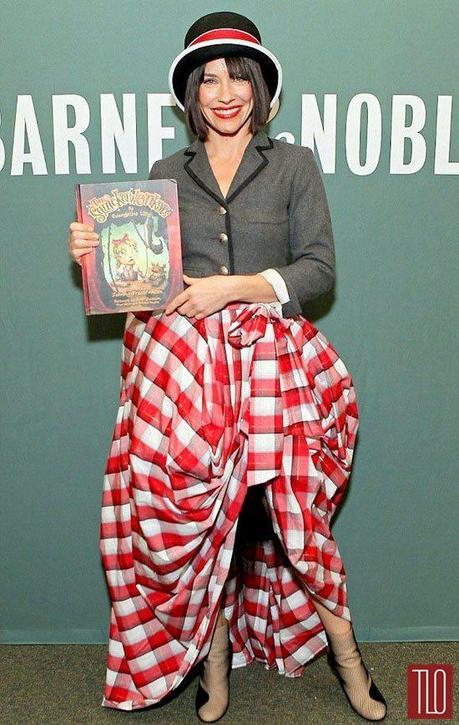 To start off that list is actress/author Evangeline Lilly, who has starred in recent films like the last two Hobbit series and also just recently has been promoting her new children's book, "The Squickerwonkers". She showed up a book signing at Barnes and Noble in what looks like a table cloth from some Italian Restaurant that is tied in odd places to expose a little leg, also with a soft-sided grey suit jacket. Unusual for sure, but, I do like Evangeline's bi-colored leather boots and tri-colored bucket hat.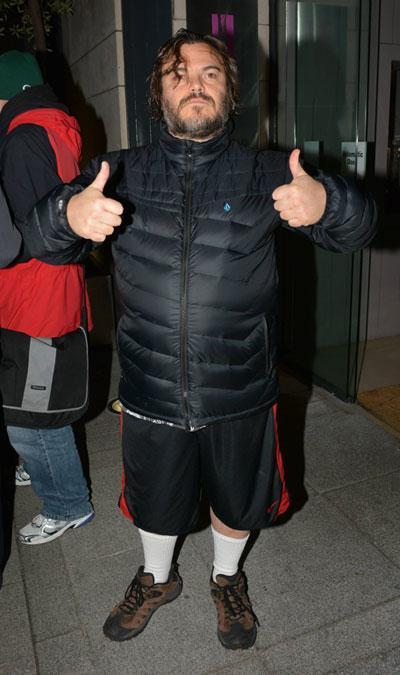 Next, is a photo of Jack Black and I hope he is coming from the gym. With his black and red basketball shorts, white socks, and brown hiking sneakers he will definitely not make the pages of GQ. Even Jack's black puffer jacket, that is trending high this year, is off the mark because it has such a long body that it makes him look unproportionally short. However, I do give him an "A" for his enthusiasm.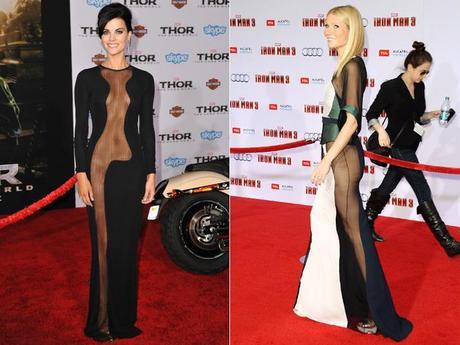 Taking a look at the red carpet arrivals for 2014, it was definitely true that skin was In. There were lacey gowns, strapless dresses, and short skirts galore, but some of the mesh ones went a little overboard. The first one is actress Jaime Alexander, who arrived on the red carpet of the movie premier "Thor: The Dark World" in this sleek black dress with a strategically-carved mesh area from neckline to hemline. She has a fantastic shape, but I think that being able to see Jaime's tan lines took away from the elegant look. It also must have taken yards of "Hollywood Tape" to secure that mesh area, in order to avoid a wardrobe malfunction. In the opposite photo, Gwyneth Paltro is also strolling the red carpet of "Iron Man 3" also in a sheer nightmare, however, this one is even made more confusing with the multiple colors, sheer side panels, and mesh sleeves. These are two examples of "less is not more".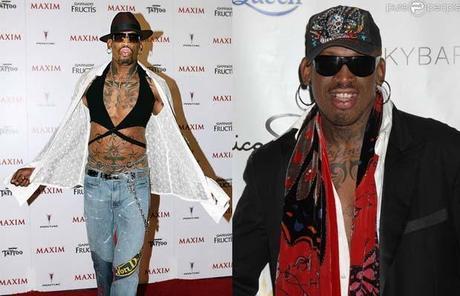 To end the look back upon fashion "no-no's" is none other than Dennis Rodman, who is always known for his unusual style, but this outfit from last year takes the cake with his black halter top, white lace vest, and patchwork jeans. Of course, what would the look be without the chain belly-belt, shades and fedora.